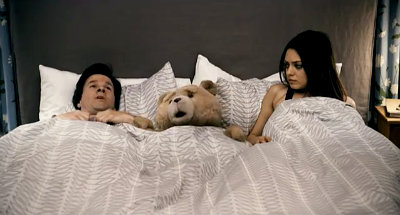 You should watch this trailer with your headphones on. It's got a lot of F-bombs and looks ridiculously stupid. But if you're into the demented Family Guy humor, you may like this.
The movie "Ted," the film debut of the man behind "Family Guy" and "American Dad," is about a grown man (played by Mark Wahlberg) and his best friend, a living teddy bear who came to life as a result of a childhood wish, and their very bromantic relationship (a lot of cursing, drugs and trying to get with women). Mila Kunis plays Wahlberg's new love interest who is not so keen about his "other" roommate (who happens to sound like Brian the dog from "Family Guy").
Kunis has been working with Macfarlane since 2000 as the voice of the oldest child of the Griffin family of "Family Guy," loser daughter Meg, who is often ridiculed by her family members.
The red band trailer (again, NSFW due to language) shows that this one could either be a hit or a fluke for Kunis and the rest. See for yourself: