For persons below a certain age, the idea that "any person" could be sent to jail for using "any drug, medicinal article, or instrument for the purpose of preventing conception" must seem preposterous.
Nevertheless, it took the Supreme Court's 1965 decision in Griswold v. Connecticut, the anniversary of which we celebrate on June 7, to toss such laws out. The court's decision reflected a broad consensus on married couples' right to privacy in accessing birth control and laid the groundwork for decisions and laws which soon followed, affirming each individual's right to privacy in family planning decisions.
Five years later, President Richard Nixon signed into law Title X, the federal program that still funds family planning programs across the nation. Introduced by then-Rep. George H.W. Bush, it had bipartisan support. Shortly thereafter, in 1972, Medicaid was established, which then provided health care, including contraception and other reproductive health care services, to eligible low-income women.
Taken together, these federally-funded programs have enabled tens of millions of women to exercise their own judgment when making private healthcare decisions, providing them the ability to control when they have, or choose not to have, children.
In March 2010, President Obama signed the landmark Affordable Care Act, which promises to provide access to health care for the vast majority of the American population. Fulfillment of this promise depends on the design of the law's implementation, and one of the many things on the table is how the Affordable Care Act will treat contraceptive services for women.
This summer, the Committee on Preventive Services for Women at the Institute of Medicine will make recommendations to Kathleen Sebelius, Secretary of Health and Human Services, about what preventive services for women should be covered under the law by insurance plans with no cost-sharing. That in the 21st century we have to ask whether reproductive health care services should be covered on the same basis as other health care services is a measure of the difficult times we are in.
Today 99 percent of American women who have ever had sex have used some form of contraception. Contraceptive use across members of all religious denominations is the rule, not the exception.
And by helping women plan the timing and spacing of their pregnancies, contraceptive use results in positive health, social, and economic outcomes for women, their children, and their families.
Yet somehow, we are struggling to ensure that reproductive health care is treated as an integral part of health care for women – a struggle that harks back to the efforts to prevent Margaret Sanger from distributing her pamphlet, Family Limitation, in 1912, nearly100 years ago.
Notwithstanding public opinion to the contrary, the House of Representatives recently voted to defund Title X altogether in the 2011 federal budget, a move directed primarily at Planned Parenthood, the largest single recipient of funds to provide reproductive health care and other services women need — pelvic exams; pregnancy testing; screening for cervical and breast cancer; for sexually transmitted infections (including HIV); for high blood pressure, anemia, and diabetes; as well as referrals for other services. While the Senate did not follow suit, is likely the House will try again when it votes on the 2012 budget. Some states have also debated funding cuts for reproductive health care despite public support; New Jersey eliminated all family planning funding in 2010.
In this atmosphere, guaranteeing insurance coverage of contraceptive services on the same terms as other needed preventive services governed by the Affordable Care Act is a vital step for women both practically and symbolically.
Not only would such inclusion address concerns about women's access to the birth control method that works best for them, but it would reiterate the federal government's commitment to ensuring that all women, regardless of their financial circumstances, have access to affordable reproductive health care. It would enable all women to make their own decisions about their reproductive lives, relying on their own moral, ethical, and religious beliefs. It would honor Griswold, and ensure that women will continue to enjoy the constitutional rights affirmed by the Supreme Court 46 years ago for centuries to come. Secretary Sebelius must provide such a guarantee. Anything less will be a victory for reaction and a defeat for gender equality.
Support the New York Jewish Week
Our nonprofit newsroom depends on readers like you. Make a donation now to support independent Jewish journalism in New York.
Nancy K. Kaufman is the chief executive officer of the National Council of Jewish Women (NCJW)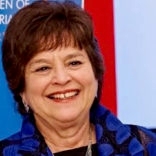 is immediate past CEO of the National Council of Jewish Women and served as executive director of the JCRC of Greater Boston for 20 years. She is currently an independent consultant and serves on the board of the New York Jewish Agenda.
The views and opinions expressed in this article are those of the author and do not necessarily reflect the views of NYJW or its parent company, 70 Faces Media.