Thousands of New York Jews had a taste of the Israel historical experience last night at Radio City Music Hall, from confrontation (they first had to pass loud protesters across the street from the theater, many of them young Jews, proclaiming "Free Palestine," and calling Israel a murderous state) to remembrance (the Israel at 60 program began with prayers for the state's fallen soldiers and terror victims, and a bittersweet song by Amit Farkash, the sister of a young Israeli pilot killed in the 2006 Lebanon War). And finally, to celebration, with more than three hours of music from some of Israel's top performers today.
This was not your mother's Israeli music at the major community-wide tribute, co-sponsored by the Israeli Consulate, UJA-Federation of NewYork, Dor Chadash, and others, including The Jewish Week. There were no nostalgic tributes to Naomi Shemer's shimmering ballads or nods to "Feenjon" and other songs sung around kibbutz campfires in the early days of statehood.
Rather, more than 5,000 celebrants in the audience were treated to the sounds of contemporary Israel pop, including performances by Idan Raichel (who had the crowd on its feet), Yael Naim (at times waif-like, at times brassy), Rami Kleinstein (whose big number sounded like an Israeli Bruce Springsteen blast), Habanot Nechama (a female trio with tight harmonies) and David Broza (who re-energized the crowd toward the end of the evening with his aggressive, joyful sound).
It was clear that a large percentage of the audience was Israeli when so many voices were heard singing along with the Hebrew lyrics during the evening. (Another indication: a tall fellow in front of me who not only was on his cell phone most of the night, but kept standing in the aisle whenever he used it, perhaps to get better reception.)
Other musical highlights of the program, flawlessly produced by Michael Dorf, David Azulay, Moishe Rosenfeld and event chair David Borowich, was a soulful reggae tribute to Israel by Matisyahu; a rousing Yiddish spoof by Paul Shaffer and comedian-actor Richard Belzer; and an exuberant but all-to-brief performance by Jewish gospel singer Joshua Nelson as part of the grand finale, Leonard Cohen's "Hallelujah."
Along the way, there were filmed greetings from both President Bush and Israeli Prime Minister Olmert; Bush was more eloquent and received more applause. Israel's UN Ambassador Dan Gillerman touched the crowd when he thanked the Jewish community for its support and said, "I walk with my head held high (in the halls of the UN), knowing I represent a country far better than most (member states)." And Mayor Bloomberg was warmly received, telling the crowd to party on into the night but that he was leaving early because "some of us are older than Israel."
But the two biggest charmers of the night were 26-year-old actress Natalie Portman, the surprise guest host who flashed a bit of her native Israeli Hebrew in her remarks, and especially Gov. David Patterson, whose warm words about Israel – "I am part of the 12 Tribes tonight," he said, adding later: "We felt on Sept. 11 what Israel feels every week" – were all the more impressive because they were delivered without notes, since he is legally blind.
In all, it was an authentic Israeli evening – at times sad, at times joyful, and imbued throughout with a sense of deep pride.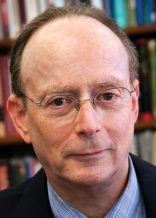 was editor and publisher of The Jewish Week from 1993 to 2019. Follow him at garyrosenblatt.substack.com.
The views and opinions expressed in this article are those of the author and do not necessarily reflect the views of NYJW or its parent company, 70 Faces Media.