As Israel makes the case for its military actions in Gaza, international attention is focused on the United Nations, where a newcomer to the world of diplomacy has been thrust front and center.
Less than four months removed from a quiet academic life at home in Israel, UN Ambassador Gabriela Shalev, whose political leanings are perceived to be on the left, is defending her country's air strikes on Hamas centers, noting in an urgent letter to UN Secretary-General Ban Ki-moon on Saturday night that Hamas "holds the sole responsibility for the latest events" and that "Israel is taking the necessary military action in order to protect its citizens from ongoing terrorist attacks."
In the days leading up to Israel's counter-attack, Shalev issued written warnings to the Secretary-General that after enduring rocket attacks on its communities in the South for seven years, Israel's patience was running out and that it would respond to the ongoing attacks.
"It's a nightmare," sighed Shalev, in a rare interview three days before Israel launched its air attacks, noting that the state of limbo at the end of a six-month Hamas-Israel cease-fire "won't last long."
"We are hoping Hamas will renew the state of calm," she said, pointing out that Palestinians are being deprived of truckloads of humanitarian aid due to the increase in attacks. "Their children are suffering, too."
Shalev, 67, acknowledges that she brings a maternal perspective to her post as her country's first woman UN ambassador. She believes she was appointed by Foreign Minister Tzipi Livni in part "to show a different face of Israel, that we are not just about war and terror" but rather about the effort to make peace, promote human rights and emphasize Israel's expertise in areas like medicine, agriculture and high-tech, along with its willingness to lend assistance to other countries.
For now, though, her efforts are geared to insisting that the bloodshed the world is seeing in television footage is the sole responsibility of Hamas.
"It's tough, very tough," she said on Monday, having spent three virtually sleepless nights trying to convince fellow diplomats of Israel's case.
"You know that the Security Council is not balanced, and now even the Russians" are siding with the Arab states.
"This is a diplomatic war and it's not easy," she said, expressing gratitude for White House support and the efforts of the American Jewish community.
Shalev spent most of Monday doing "eight or nine television interviews," noting that a number of questions focused on why there were so many more Palestinian than Israeli casualties.
"But the issue is not proportionality," she said she told reporters. "Let them look back at eight years of terror attacks" Israelis in the south have endured. "And we never target civilians; Hamas wants to murder our children."
Support the New York Jewish Week
Our nonprofit newsroom depends on readers like you. Make a donation now to support independent Jewish journalism in New York.
She asserted that Hamas, and Iran, are "not only enemies of Israel but of the Western world."
Not A Celebrity
Shalev's appointment broke the mold in several ways, in addition to gender. She has no professional experience in diplomacy or politics, but rather is a highly respected professor of law, with four decades of teaching at the university level in Israel and the U.S., specializing in contract law. By temperament Shalev is modest, soft-spoken and direct — not the characteristics most associated with the UN post.
While well-known in the legal community, having taught and lectured at a number of universities in Israel, the U.S. and Europe — she was a professor for many years at Hebrew University and was most recently rector of Ono Academic College in Kiryat Ono—Shalev acknowledged that she was "a private person" and that it has "taken me time to understand that the media is part of my job."
Her appointment was a source of controversy in Israel, where Prime Minister Ehud Olmert and others were said to favor Alon Pinkas, a popular former Israeli Consul General in New York, and foreign ministry officials wanted to see a career diplomat in the UN post.
The Israeli press speculated that Livni, who made the appointment, wanted to show her independence by not going along with Olmert's choice, and reported that she was close to Shalev.
In truth, Shalev said, she hardly knew Livni and was, in fact, a friend of Olmert's.
"I see myself as the representative of the government of Israel, not of Livni," she explained, "and it wouldn't change for me if [Likud Party leader] Bibi [Netanyahu] was the prime minister. Israel is my beloved country."
She said she is proud to serve in a post that was held by, among other notable figures, Netanyahu ("a great ambassador"), Abba Eban, Chaim Herzog and, most recently, Dan Gillerman, whom she acknowledged was an outgoing and highly popular envoy.
"That makes my job easier," she smiled, and noted that each of her predecessors "brought their own personalities and views to the job, and saw themselves as representatives not only of Israel but of the Jewish People."
She said that "you do diplomacy all of your life in your roles as a friend, spouse, mother and teacher. It's about reaching out, explaining," adding that her career in law prepared her because it is about "getting to the truth, communicating and negotiating." Contract law, she said, "is about getting to a solution," often dealing with adversaries.
Friends and colleagues give Shalev high marks for her intellect, her calm demeanor and her strong work ethic.
Support the New York Jewish Week
Our nonprofit newsroom depends on readers like you. Make a donation now to support independent Jewish journalism in New York.
"She is very intelligent, focused, solid and articulate," noted Abraham Foxman, national director of ADL.
"She does not have a celebrity persona and she doesn't see her role as playing the public relations card. The feedback I hear from other ambassadors is that she is very respected and professional."
'We Have A Mission'
Noting that some pro-Israel advocates feel Jerusalem should leave the UN rather than remain its prime source of condemnation, Shalev said her country has a role to play in the international body. "We have a mission here to represent Israel as best we can," while acknowledging that progress comes slowly. "It's like a big ship on the ocean, and we try to change the direction a little bit at a time."
She distinguished between how she and her government are treated "in the corridors" of the UN and "in meetings" of the Security Council and General Assembly.
On a personal level, Shalev said she is treated with respect and dignity by most ambassadors, "even those we don't have relations with," and "we have friendly relations with the Egyptians and Jordanians."
She has even invited the Palestinian Authority observer to lunch. But there is no contact with representatives from Iran and Libya — "I won't talk to them, either" — and Lebanon's envoys walked out when Israeli President Shimon Peres addressed the General Assembly this fall.
When proceedings move to the General Assembly or Security Council, Shalev said, the tone and content turns distinctly negative. "We don't have too many supporters on security issues," she noted.
Contrary to reports in the Israeli press that Shalev was active in B'tselem, an Israeli human rights organization often critical of the government, she said "it is a legitimate organization but I have never been involved with it," or any other political group, she added.
"I did my own work," she said, referring to her teaching, writing nine legal books, and participating on a number of boards, including the Israel Democracy Institute and Bank Hapoalim.
Shalev said she misses her family in Israel, reading books and listening to classical music, and finds herself "working hard, 20 hours a day, seven days a week," even before last weekend's crisis, "but I'm not complaining."
More difficult, she said, was dealing with "Orwellian double speak" at the UN after a lifetime of "always looking to the truth of the matter. Here," she said of the UN, "I know things operate on a completely different level."
Support the New York Jewish Week
Our nonprofit newsroom depends on readers like you. Make a donation now to support independent Jewish journalism in New York.
At one point during our conversation, she pointed to two photographs, side by side, on a wall of her office. One is of a strikingly handsome young dark-haired man, Shalev's husband, an Israeli army officer who was killed, at 33, in the Yom Kippur War, leaving her to raise two young children alone.
The other photo is of her grandfather, Siegfried Manheim, a well known German attorney who survived World War II and settled in Israel. Her other grandparents perished in the Nazi gas chambers.
"They remind me what an honor it is to represent Israel, the survivors of the Holocaust, the Jewish People," she said quietly. "I am not alone here."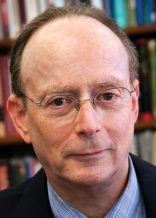 was editor and publisher of The Jewish Week from 1993 to 2019. Follow him at garyrosenblatt.substack.com.
The views and opinions expressed in this article are those of the author and do not necessarily reflect the views of NYJW or its parent company, 70 Faces Media.