Dan Smokler, a 31-year-old Yale graduate, ordained rabbi and former labor organizer, wears the mantle of the Jewish campus community's equivalent of The Great White Hope with an easy grace.
As the innovator and central figure of a two-day national conference sponsored here last week by Hillel, the Jewish campus organization, and the Jim Joseph Foundation, he stood to address 130 Jewish educators from 60 campus groups, organizations and synagogues, and share with them his goal of using Torah study as a major way of engaging college students and providing the meaning and wisdom they seek in their own lives.
It's a radical concept for Hillel, which has long focused on trying to attract increasingly disenfranchised young Jews with a more universalist message. Yet the idea is as ancient as Judaism itself, drawing people in through the depth and breadth of religious texts.
Five years ago a Hillel strategic plan concluded that the organization needed to both broaden and deepen its reach; Rabbi Smokler's approach, which led to the creation of the Senior Jewish Educator Initiative, of which he is educational director, embodies the "deep" tactic, placing the kind of emphasis on Judaic texts that many Hillel directors had long avoided for fear of further distancing themselves from students uneasy with their Judaism.
But the initiative, which has doubled in the last several years to now include senior Jewish educators on 10 college campuses, has made believers out of some former skeptics. An independent evaluation of the project last year, based on a survey of more than 2,800 students, found it "clearly an effective strategy for broadening the reach of Hillel in engaging students" on campus. 
Hillel is considering rolling it out more widely across the country, and the implications on campus and beyond is major.
This national conference, then, had a lot of resources and ideology riding on it, raising questions about whether placing sacred texts front and center in engaging young people will attract or repel them.
Looking around the room, it was clear that Hillel, partnering with Jim Joseph, one of the largest Jewish foundations today seeking to engage and inspire young Jews, has invested heavily in Rabbi Smokler's strategy.
In his opening day talk, Rabbi Smokler employed the language of contemporary psychology and sociology, applying it to Jewish themes. Smokler asserted that for Jews, "the commons" — the shared space of public life, be it Main Street or a Central Park — is not a place but a text, namely the Torah, and that the community needs to re-engage in an ancient but constantly evolving conversation.
"We need to find our way back into the conversation, into the heart of life," he said of a generation that is increasingly alienated from its past. And quoting from both ancient rabbis and leading current secular educators, he made the case for self-directed learning, with the help of mentor-teachers, that will encourage young people to explore "the big questions" in their life and find their way "back to the Torah."
While Smokler's rhetoric may sound abstract, if not fanciful, his proven record of success over the last several years in seeking out, engaging, studying with and empowering young Jews on campus led directly to last week's program, entitled "Toward a Third Space: A New Dimension in Jewish Education for Emerging Adults."
Support the New York Jewish Week
Our nonprofit newsroom depends on readers like you. Make a donation now to support independent Jewish journalism in New York.
(The "third space" reference is to the community-building notion of that place between home and work that leads to creative interaction.) 
 'Tell Me Your Story'
During the conference, several educators pointed out that much of the outreach from the Jewish community on campus is focused on recruiting students for off-campus experiences, from camping to weekend retreats to stints of service in Third World countries to Birthright trips to Israel. 
More needs to be done in providing meaningful Jewish encounters and experiences on the campus itself, they said, particularly as a follow-up to students who have participated in Birthright and other off-campus programs.
Enter Rabbi Smokler, who also serves as senior Jewish educator at the Bronfman Center at New York University, insisting that direct engagement with students is the best path for both the young people and the community.
A native of Ann Arbor, Mich., raised in a Conservative home (his father, Irving, is president of the American Jewish Joint Distribution Committee) and tutored for years as a youngster by a local devotee of the late Rabbi Shlomo Carlebach, Smokler became increasingly observant and studied in Israel, where he received private ordination from Rabbi Zalman Nechemia Goldberg in Jerusalem.
He also graduated cum laude from Yale, and worked for several years as a labor organizer. 
In an interview during a break in the conference, he explained how he applied the techniques he learned in his labor job to making Jewish inroads on campus.
"I started dabbling with the labor union model," he said, "where you don't approach people and simply ask them to join the union, but rather you say, 'Tell me your story, and then we'll see'" where this leads.
Wayne Firestone, president of Hillel, recalled in an interview that Rabbi Smokler, back in the U.S. from Israel and living in Los Angeles, approached the campus organization about five years ago with his outreach plan and talked himself into a job. 
Firestone suggested he start with several large commuter schools in the Los Angeles area, which he did before moving on to UCLA's Hillel the following year. 
Rabbi Smokler said he was able to reach students through "affinity groups," like one made up of Persian Jewish young women in which he interested them in Jewish texts about balancing a father's will in raising his daughters with their own career desires.
Support the New York Jewish Week
Our nonprofit newsroom depends on readers like you. Make a donation now to support independent Jewish journalism in New York.
He said he met with 12 distinct groups — including fraternity members who met weekly to smoke cigars, burgeoning actors, and gay men — in each case trying to find appropriate Jewish texts that would provide a point of conversation and engagement, as a gateway toward talking about questions and issues of importance in the students' lives.
But, Smokler told me, "the end goal is Torah.
"I'm not trying to make them frum [observant], but to engage them in a serious way and get them to re-enter the conversation of Torah. I want them to have an encounter with Torah as a living thing."
Acknowledging that he uses an approach that has brought much success to Chabad Lubavitch outreach efforts on campus and around the world, Smokler said he tries to "educate people where they're at and elevate them from the pursuit of the self" to the "noble mission" of responsibility.
"I want people to understand what's demanded of them. We don't know the answers, but the need to wrestle and struggle — that's the good path."
When the traditional text rubs up against liberal Western values, Smokler says he points out "contradictions and challenges" and asks students to "experience paradox" and think about what each system can learn from the other. 
"The religious personality I encourage them to cultivate is one who can experience multiple voices and not be torn apart."
Officials of the Jim Joseph Foundation, told of Rabbi Smokler's work at UCLA, met with him and were impressed enough to help fund the initiative, given that enough other young educators able to straddle the worlds of campus life and Torah study could be found and trained. 
Unlearning And Re-Finding God 
The size of last week's conference and professional level of its attendees suggested much progress has been made. While the focus of the first day was on understanding the behavior of "the emerging adult" as a distinct time of transition between adolescence and full maturity, the second day was devoted to what Torah study looks like in practice for the initiative, featuring several senior Jewish educators conducting concurrent sessions ranging from "The Universe of Obligation," dealing with one's personal responsibility, to "Unlearning God," toward developing an adult theology. 
The session I participated in, along with about 20 other people, was led by Rabbi Michael Uram, director of Hillel at the University of Pennsylvania, and was titled "'Do I Believe In God?' is the Wrong Question: Moving from God to the Godly."
Using an English text from the Book of Kings which describes a difficult encounter between the Prophet Elijah and God, participants offered thoughtful observations about viewing God as an experience rather than an object.
Support the New York Jewish Week
Our nonprofit newsroom depends on readers like you. Make a donation now to support independent Jewish journalism in New York.
"You find God when you're in touch with the feelings inside you," said Rabbi Uram, who noted that he finds the passage useful in helping students "to find their own voice."
At another session, several students spoke of what appeals to them about the Torah study they have engaged in this past year through the initiative. Sam Cohen, a rising sophomore at NYU, said he enjoys the stimulation of being able to raise questions in an open-ended way, unlike the goal-oriented direction of college classes.
I came away from the conference feeling energized about the quality and seriousness of the participants, the initiative concept, and the potential for it to have a significant positive impact on at least a small percentage of Jewish college students.
The senior Jewish educators now try to build educational relationships with at least 180 previously uninvolved Jewish students each year. The initiative also supports the work of 12 paid student interns on each campus who connect peers to Jewish experiences. Rabbi Smokler, who tracks his meetings and speaking engagements, said he meets face-to-face with about 850 students during the course of the year, and last year taught or learned with — at least three times — a total of 254 students.
He said he is purposefully vague — he calls it "expansive" — about defining concepts like "the third space" and "Torah." But that left me a bit fuzzy about the parameters of "Jewish text" being discussed.
What is clear is that Hillel's goal is to expand the initiative to other campuses, but Jennifer Zwilling, who directs the program, said the current focus is on sustaining funding for the 10 schools that now have it in place. The five-year Jim Joseph Foundation grants total $10.7 million.
She said the primary purpose of the conference was "to talk in a serious way about education and about what has grown out of Dan's work."
While it's doubtful that phrases like "Torah learning" and "beit midrash" will resonate in a positive way with most Jews on campus, using sacred texts as a way to open up discussions with students about the search for meaning in their lives is a key to why Judaism has survived for thousands of years.
You can't fault Hillel for striving to engage young Jews both through tikkun olam-service projects and sacred text. The proof, though, will be in the level of commitment to each. In the meantime, those in our community worried about continuity would do well to pay close attention to this effort, and contribute their support and encouragement as well. 
 E-mail: Gary@jewishweek.org
Read Gary's "Between the Lines" blog here, and be sure to check out the Jewish Week's Facebook page and become a fan!
You can also follow the Jewish Week on Twitter: start here.
Support the New York Jewish Week
Our nonprofit newsroom depends on readers like you. Make a donation now to support independent Jewish journalism in New York.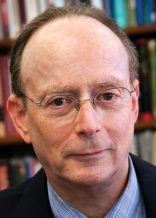 was editor and publisher of The Jewish Week from 1993 to 2019. Follow him at garyrosenblatt.substack.com.
The views and opinions expressed in this article are those of the author and do not necessarily reflect the views of NYJW or its parent company, 70 Faces Media.