Rabbi Shmuley Boteach was scheduled to take part in a discussion/debate at the American Jewish University in Los Angeles on Feb. 16, on the subject of the afterlife, along with authors/atheists Christopher Hitchens and Sam Harris and rabbi/author David Wolpe.
But Rabbi Boteach was disinvited from the event, after (or before, depending on who you believe) raising a private and then public stink about who was being paid what to participate. And therein lies a confusing tale about business ethics, fair pay for speakers at Jewish events, how rabbis are treated, the consequences of aggressive complaining, or all of the above.
What seems clear, though, is that when Rabbi Boteach wondered aloud in his weekly column why AJU pays atheists so well and rabbis so little, the conflict was out in the open, big-time, and reconciliation was impossible. (Rabbi Wolpe, who is affiliated with AJU and a close friend of AJU president Robert Wexler, had agreed to participate pro bono.)
Here's a chronology of the breakup, though timelines and reactions differ among the parties.
Rabbi Boteach told me that he initiated the program with Hitchens, the pair having debated the same topic in New York in October, and that when he offered it to AJU officials in Los Angeles, they agreed after requesting that Rabbi Wolpe, spiritual leader of LA's Temple Sinai, and Sam Harris, the author of the best-seller "The End of Faith," be added to the program.
Some back and forth about payment ensued, and Rabbi Boteach accepted $4,000 after being told that AJU had little money for the event. But he balked when the AJU officials denied his request to pay $400 for his air travel, and then learned that both Hitchens and Harris were being paid $17,500, plus travel.
Rabbi Boteach says Hitchens, with whom he has debated four times in front of large audiences, deserves the fee because he is a big draw, but that Harris is not.
Others say that Harris has attracted larger audiences than Rabbi Boteach in Los Angeles.
Responding to my inquiry, Wexler took the high road, e-mailing me to say "we do not have any issue with Rabbi Boteach. We discussed his possible participation in one of our many programs, but we were unable to reach agreement on terms."
He added that "naturally, we regret that he is disappointed. For our part, we certainly appreciate all of his efforts on behalf of the Jewish community."
But those close to the situation say the exchange of letters between Rabbi Boteach and the AJU officials leading up to the break were many, and heated, at least on the rabbi's part. He accused his would-be hosts of unethical behavior and a violation of intellectual property based on his having coming up with the idea for the program, which he says has been stolen from him.
Rabbi Brad Artson, a vice president of AJU, was added to the Feb. 16 program in Rabbi Boteach's stead.
Support the New York Jewish Week
Our nonprofit newsroom depends on readers like you. Make a donation now to support independent Jewish journalism in New York.
One version has it that the dispute could have been resolved had Rabbi Boteach not gone public when he did.
According to that scenario, AJU, in response to the rabbi's complaints, had decided to up his fee to $10,000, but before Rabbi Boteach received the offer, he published his column, which complained that "the tiny budget" for the event "seemed to apply only to the religion…side of the debate" rather than "the atheist side."
The column mentioned by name Wexler and Gady Levy, a vice president of AJU who deals with programs and events.
Rabbi Boteach wrote that the incident was an example of "Jewish insecurity and not valuing our own."
Apparently angered by Rabbi Boteach's decision to air his grievance, AJU withdrew their invitation to him.
Rabbi Boteach, who mentioned the conflict in a second column and is still smarting from the incident, maintains that he went public with his grievances after he was disinvited.
He says the two columns were among his best received ever, and that issue transcends the specifics of this one event and speaks to the fact that rabbis are treated as second-class citizens in the community.
Others say the conflict was more about his aggressive style of behavior.
There is merit to both sides; it seems disingenuous for AJU, which received a $33 million gift for its adult education programming in 2007, to claim lack of funds as an excuse in its dealings with Rabbi Boteach. And it is not surprising that the rabbi's decision to make his complaints public would offend AJU to the point of breaking off contact.
While the Feb. 16 event will focus on the afterlife, it might be a good idea for a future program to deal with how Jews deal with each other in this world.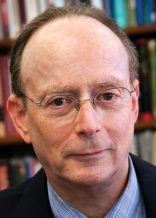 was editor and publisher of The Jewish Week from 1993 to 2019. Follow him at garyrosenblatt.substack.com.
The views and opinions expressed in this article are those of the author and do not necessarily reflect the views of NYJW or its parent company, 70 Faces Media.