The American Jewish community spends a good deal of time and money worrying about campus life these days, particularly regarding how Israel is criticized, attacked and delegitimized by professors, students and outside agitators.
But our community makes little sustained effort to hear from Jewish students themselves – about what they are thinking, how they choose to identify (or not) as Jews, and their views on Israel. And so it is that the Jewish Student Press Service, which publishes the lively online magazine New Voices (www.newvoices.org), the only national magazine written for and by Jewish college students, is once again facing a financial crisis, unable to meet its grand annual budget of $90,000.
Editor Ben Sales notes that Jewish organizations want to connect with students on campus, but "very few of those groups take Jewish students seriously enough to listen to what they have to say. And these are the future leaders of the community."
Sales is proud of the journalism New Voices posts online each week, courtesy of student journalists from campuses around the country. (Founded 20 years ago, the publication made the switch from print to online magazine a year ago.) He says New Voices was first to report that Jewish Voice for Peace – the group whose members heckled Israeli Prime Minister Netanyahu at the GA in New Orleans in November – was as the forefront of the BDS (boycott, delegitimization, sanctions) movement against Jerusalem. And recent articles explored Jews in ROTC programs, the green movement on campus, and how Orthodox students deal with gay and lesbian friends.
With college students reporting and writing personal essays, it's not surprising that New Voices has a liberal tone, sometimes criticizing Israel and the Jewish establishment. But there's a conscious effort for balance, Sales says, and a sense of authenticity in the writing.
New Voices has served as an important training ground for budding journalists and has played a role in the effort to create a national Jewish campus community. So it's more than a shame that it has always been seen as a marginal endeavor, always seeking a few more dollars to scrape by from year to year.
Sales, one of New Voices' two employees, hasn't paid himself over the last two pay cycles as he concentrates on raising funds. It's embarrassing — for him and for a community that prides itself on doing all it can to strengthen the Jewish future.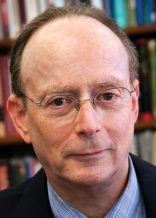 was editor and publisher of The Jewish Week from 1993 to 2019. Follow him at garyrosenblatt.substack.com.
The views and opinions expressed in this article are those of the author and do not necessarily reflect the views of NYJW or its parent company, 70 Faces Media.