In the past few weeks, we have seen letters criticizing and defending The Jewish Week over its story on the Shomrim. However, I have yet to see this statement: keep up the great work Ms. [Hella] Winston.
Brooklyn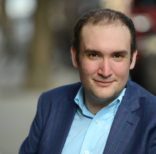 has written on Israeli politics and U.S.-Israel relations for The New York Times, Haaretz, the Forward and The Jerusalem Post.
The views and opinions expressed in this article are those of the author and do not necessarily reflect the views of NYJW or its parent company, 70 Faces Media.