Women got the vote 91 years ago this month, but too many of us are still not exercising this most precious right. Single women, in particular, don't vote in the same numbers as their married sisters, yet are in greater need of government policies and programs that will ensure them a brighter future. Indeed, in 2010, according to exit polling data, the "marriage gap" — the difference in voter participation and voter behavior between married women and unmarried women — was 30 points. These differences have gone largely unmeasured by the major electoral polling companies, which typically don't include a marital status question in their surveys.
Those of us who support a women's agenda must work harder to make sure that women recognize that elections — and their votes — matter immensely. The 2012 election will be an important one for women. The candidates we elect for local, state and national office will determine how we address our nation's most pressing challenges — and those decisions will disproportionately impact women. Here's what I mean:
Challenge No. 1: Creating jobs.
The current economic downturn was dubbed the "mancession" by some, because male unemployment has remained higher at 9.5 percent than unemployment among females, now at 8.5 percent. But since 2008, job losses have increased more among women have increased more among women than among men. In fact, men have gained jobs as the recovery progresses while women's unemployment rate has actually increased. This recession is the first since 1970 in which women have lost jobs even as men have gained them — a disparity yet to be explained by economists. Women desperately require both an answer to their particular employment situation and the development of programs that address their needs. For example, a federal program rebuilding infrastructure is surely a good idea, but it is not clear it will help women nearly as much as men.
Challenge No. 2: Fulfilling the promise of health care for all.
Women will get a huge boost from the new rules adopted for the implementation of the Affordable Care Act. Preventive services, including birth control and standard cancer screening tests will be included without additional fees in the standard package of care offered on the insurance exchanges to be created under the new law. Women need to vote in 2012 to preserve these changes. Since many more married women are covered by family policies that already have these provisions, it is single women without such private insurance that are at most risk of losing out should an election reverse health care reform.
Challenge No. 3: Preserving the social safety net.
Perhaps most of all, women need to worry about the many efforts to undermine the social safety net, including proposed reductions in Social Security, Medicare and Medicaid, in the name of deficit reduction. Women rely much more heavily than men on these programs. Take away Social Security, and nearly half of all elderly women — 8.5 million — would slip below the poverty line. More than three million children receive Social Security benefits that enable families to remain in their homes and pay their bills when a breadwinner has died; 6 percent of all Social Security beneficiaries are children.
Women make up 56 percent of Medicare beneficiaries 65 and older, and 62 percent of those 80 and older. Three-quarters of Medicaid beneficiaries are women age 18 to 64. Forty-one percent of all births in the U.S. — 1.68 million — are paid for by Medicaid. And, more than 4.5 million older, low-income women on Medicare rely on Medicaid to cover their long term care services and Medicare cost-sharing. Many, many middle class families rely on Medicaid to pay for an elderly relative in need of long-term care — care that is not covered by Medicare.
The stakes for women in 2012 are incredibly high. The women who grasp this fact and vote accordingly can sway the results. If candidates who campaign for women's votes based on women's interests win, then we can truly celebrate the anniversary of women's suffrage.
Nancy K. Kaufman is the chief executive officer for the National Council of Jewish Women (NCJW), a grassroots organization inspired by Jewish values that strives to improve the quality of life for women, children, and families and to safeguard individual rights and freedoms.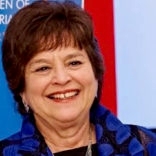 is immediate past CEO of the National Council of Jewish Women and served as executive director of the JCRC of Greater Boston for 20 years. She is currently an independent consultant and serves on the board of the New York Jewish Agenda.
The views and opinions expressed in this article are those of the author and do not necessarily reflect the views of NYJW or its parent company, 70 Faces Media.