The newswire is abuzz with the recent class-action lawsuit filed against Hebrew National by a group of plaintiffs alleging that Hebrew National's hotdogs and other meats failed to live up to their lofty billing. Contrary to its advertising, the plaintiffs claim, Hebrew National meat is not 100 percent kosher "as defined by the most stringent Jews who follow Orthodox Jewish Law." Or, put differently, Hebrew National has failed to live up to its well-known tagline — to "answer to a higher authority."
Besides general bemusement, the public reaction to the lawsuit has been largely skeptical. How can a secular court pass judgment on whether or not food is kosher — let alone denominationally specific claims like "Orthodox Jewish Law?" If Otto von Bismarck was correct that "Laws are like sausages — it is better not to see them being made," then surely kosher laws about sausages should not be the subject of investigation, least of all by secualr courts. Or at least so goes public sentiment.
Indeed, this impulse is captured in the generally accepted interpretation of the First Amendment, which prohibits government "establishment of religion." As conventional wisdom goes, courts cannot resolve disputes on matters of religious doctrine or practice because doing so would align government with a particular religious view and thereby — by extension — amount to something akin to "establishing" a religion.
And yet, the claims of the plaintiffs in the Hebrew National lawsuit persist. Is it really so true that a court is incapable of resolving this dispute? It is not as if resolving the dispute would impermissibly trespass on the rights of religious groups to resolve their own internal disputes or govern their own internal politics. Indeed, nobody would confuse the issues at stake in the Hebrew National litigation with the divisive debates instigated by the contraception mandate. Cases like the Hebrew National lawsuit represent a whole new set of legal claims — cases where religion and commerce meet — complicating the pervasive view that courts have no role to play in resolving these religious disputes. 
To be sure, the overlap of religion and commerce is quite ancient. But recent years have seen the increased sophistication of religious individuals who incorporate religious traditions and practices into contemporary legal and commercial instruments. More and more, courts are faced with religious commercial documents, including Islamic mahr contracts — executed as part of the Islamic marriage process, and Jewish heter iska agreements — which restructure commercial transactions to avoid Jewish anti-usury laws, not to mention Sharia-compliant finance, religious arbitration agreements, and sundry other religious contract forms. And with these trends towards religious commercial transactions, it is not surprising that contemporary courts also have to deal with religious commercial contracts, and also related religious tort claims such as professional religious defamation and consumer fraud.  
The growth of religious commercial transactions brings extraordinary pressure to bear on this pervasive, but somewhat unreflective argument that courts should not be resolving such matters. While proponents of this argument claim that religious disputes are too complex for courts, or that courts lack the institutional knowledge to address religious claims, such reasons are hard to square with the wide range of complex matters we already expect courts to handle.
Moreover, worries that judicial resolution of such claims will draw the court into religious debates — and lead to government's endorsement of certain religious institutions over others — seem overstated. Indeed, asking courts to resolve religious commercial disputes looks a lot more like asking courts to apply contested legal rules in discrete private litigation — something courts do all the time when asked to resolve cases that involve foreign law. Thus, for a court to decide that Hebrew National was not providing the product it promised its consumers might very well just require asking various experts to educate the court as to what such standards look like.
To adopt the alternative to letting courts resolve disputes over religious commercial transactions would be deeply troubling. It would mean that individuals who are the victims of contractual breaches and tortious conduct might not have any opportunity to secure redress for financially onerous harms.
In fact, closing the courthouse doors to religious commercial claims is particularly dangerous given the increasing reliance within religious communities on commercial instruments to protect their simultaneously legal and religious interests. If we are to protect members of religious communities from legal wrongs, we need to recognize that these disputes do not simply float in the religious ether beyond the jurisdiction of our legal system. To the contrary, in a world of growing religious commercial conduct, we must ensure that religious communities have access to justice — which often means requiring that parties answer to a "lower" authority.
Michael A. Helfand is an associate professor at Pepperdine University School of Law and associate director of Pepperdine University's Diane and Guilford Glazer Institute for Jewish Studies.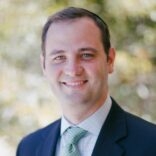 is the Brenden Mann Foundation Chair in Law and Religion and Co-Director of the Nootbaar Institute for Law, Religion and Ethics at Pepperdine Caruso School of Law; Visiting Professor and Oscar M. Ruebhausen Distinguished Fellow at Yale Law School; and Senior Research Fellow at the Shalom Hartman Institute.
The views and opinions expressed in this article are those of the author and do not necessarily reflect the views of NYJW or its parent company, 70 Faces Media.