On Passover we ask The Four Questions. At year's end here are four lessons I learned (among many) from events over the last 12 months.
The Military Option On Iran Is Israel's, Alone
I fully understand why President Obama is backing away from military confrontations in the Mideast, first with Syria and now with Iran. He leads a country weary of foreign intervention after two long, deeply painful and at best inconclusive wars, in Iraq and Afghanistan. Their cost in lives, dollars and national identity cannot be calculated.
By nature and political inclination, Obama opts for diplomacy and negotiation rather than force, an approach that seems eminently reasonable. The problem is that when it comes to Iran he is dealing with an unreasonable adversary, one whose government is revolutionary and whose religious ideology calls for the defeat of Western culture in general, and Israel in particular.
Israel has learned all too well that the conduct of diplomatic relations that gains respect and proves beneficial in the West — compromise and candor — is seen as a sign of weakness in much of the Arab and Muslim world, where strength is all.
I fear that the U.S. and its Western allies are no match for Iran, which remains wholly committed to achieving the ability to produce nuclear arms. The global leader in exporting terror still insists its nuclear goals are peaceful; all the world knows that's a lie. And the six-month agreement makes no mention of Tehran's terror agenda. Yet the spinning centrifuges have only been put on pause as the West's economic sanctions are eased. Score one for Iran.
Surely Benjamin Netanyahu — and Ali Khamenei, Iran's supreme leader — have concluded that the U.S. is not going to intervene militarily in Syria or Iran. The calculation the Israeli prime minister must make now is of enormous importance — about whether, and when, to prevent a nuclear-armed Iran, and at what price.
You Can't Always Trust Your Instincts
The news last summer that William Rapfogel had been fired from the Metropolitan Council on Jewish Poverty, later charged with stealing millions of dollars from the organization he led for more than two decades, sent shock waves throughout the community. And they still reverberate.
Known to all as Willie, the executive director was admired and respected by many, including me, as a dedicated, talented and successful leader of an organization that had grown over the years in scope and stature, providing a wide range of social services to the needy.
I had gone with him on several one-on-one tours through Brooklyn neighborhoods, visiting various agencies and individuals aided by Met Council. I considered him one of the good guys in our community, doing tireless work with great energy.
Support the New York Jewish Week
Our nonprofit newsroom depends on readers like you. Make a donation now to support independent Jewish journalism in New York.
In hindsight, the tight and enmeshed personal and political connections Rapfogel enjoyed should have warranted more scrutiny. Going forward, the Met Council scandal should draw attention to the responsibility of the boards of all nonprofits to be scrupulous in overseeing finances and personnel, all the way up to the top. This sad episode should remind each of us to remain vigilant and not rely on our trusting instincts.
On Religious Leadership, We Can Learn From Others
It seems that at every Jewish conference I attended this year the world figure most widely praised by the participants was Pope Francis, as in, "Why can't we have a religious leader like him?"
It's easy to understand the sentiment.
The new pontiff from Argentina seems determined to focus on healing his flock rather than exacerbating spiritual and political differences among them. It's not that he's an ideological liberal. Far from it. It's just that rather than harp on concerns about divorce, homosexuality, abortion and other Church prohibitions, he stresses his sense of humility and asks, as he famously did when called on to comment on gays, "Who am I" to criticize people of good will who are in search of God?
Clearly, the rabbinic leadership of the Jewish state could learn from his example. Regrettably, after a bruising and embarrassing election for the Ashkenazi and Sephardic chief rabbis this summer, the two winners, assured of a decade-long tenure, are not about to make the kind of changes required to make Judaism appealing to the majority of Israelis, rather than a negative force in their lives.
While Pope Francis, who plans to visit Israel next spring, has initiated investigations into the corruption-plagued Vatican bank and appointed a commission to deal with sex abuse among priests, there likely will be no bold steps by the Israeli Chief Rabbinate to end fraud in kashrut supervision or a grand effort to encourage hundreds of thousands of Israeli Russians to convert to Judaism.
Sadly, when crises arise in our synagogues and communities, we may be hearing sincere men and women ask, "What would Francis do?"
Post-Pew: Don't Focus On The Numbers
The Pew Research Center's report on Jewish Identity, released this fall, confirmed what other studies have been telling us lately. That an increasing number of American Jews, consistent with Americans in general, are becoming either more fundamentalist in their religious identity or are moving away from that identity altogether. And the old-school center is decreasing.
There are those who take comfort in seeing that American Jews are proud of their heritage and that the community is growing, thanks to the liberal definition of who is Jewish. Others bemoan the fact that interfaith marriages are on the rise, and assimilation patterns point to a Jewish community a few decades from now that is much smaller and predominantly Orthodox.
I would like to see us focus less on the statistics and more on what we do to ensure that the next generation of American Jews is engaged, educated and inspired to preserve an age-old heritage and tradition. Not just as a reminder of the past but as a meaningful way to live our lives.
Support the New York Jewish Week
Our nonprofit newsroom depends on readers like you. Make a donation now to support independent Jewish journalism in New York.
That's our challenge; our future depends on it. 
Gary@jewishweek.org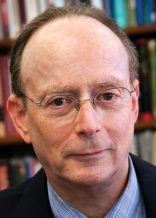 was editor and publisher of The Jewish Week from 1993 to 2019. Follow him at garyrosenblatt.substack.com.
The views and opinions expressed in this article are those of the author and do not necessarily reflect the views of NYJW or its parent company, 70 Faces Media.