Washington, D.C. — A black revivalist minister leads thousands of people, who are out of their seats and clapping their hands, in a rousing spiritual and praises the American Israel Public Affairs Committee (AIPAC), the traditionally pro-Israel lobby; Latinos and African-Americans describe their love for the Jewish state; 2,300 high school and college students give full voice to their solidarity with Jerusalem; and Democratic and Republican leaders of Congress outdo each other in expressing their unyielding commitment to the people and state of Israel.
Welcome to the AIPAC Policy Conference, the three-day annual event that transforms the Washington Convention Center into a pro-Israel Garden of Eden for huge numbers of faithful supporters – more than 14,000 this year, a record. The theme, featuring photos of dozens of people, young and old and of every race, is "I am Pro-Israel. I am AIPAC."
It's a massive and impressive advocacy event, so sophisticated in its multi-media presentations, so on-message in its talking points for participants who will spend the last conference day lobbying on Capitol Hill, and so crisp and well-organized from timing to crowd control that it's hard to believe it's being staged by a Jewish organization.
You also have to keep reminding yourself that you are in a bubble, a place where people of different religions, politics and colors share an abiding sense of care and concern for Israel. So while polls and surveys show that Israel support is strongest among older, white males who vote Republican, here at the policy conference one encounters a bipartisan, multi-cultural experience with college students just as fervent as their parents and grandparents in celebrating Israel.
J Street? Open Hillel? Massive indifference to Israel's challenges? Not here. A sense that AIPAC has lost the Iran sanctions legislation battle to the White House? Not on the public agenda.
And while other major Jewish or Mideast-oriented conferences may pride themselves on offering a wide range of viewpoints on the crises of the day and how to respond, the speakers at dozens of breakout sessions here tend to present a perspective that ranges from A to B – that is, a robust support for Israel's position on being tougher on Iran, including new sanctions in Congress; putting the onus on the Palestinians for the lack of progress on Mideast peace talks; and implicitly or explicitly expressing deep reservations about a naïve Administration that appears far more committed to diplomacy on Iran than backing it up with the threat of force.
Not that I disagree with much of that message, I hasten to add. But don't come here looking for the other side of these complex issues. And they got a great deal more complicated with President Obama's tough message to Prime Minister Netanyahu on the eve of their White House meeting Monday.
In a rude welcome to the U.S., Obama set the tone for a showdown, telling journalist Jeffrey Goldberg that it is up to Israel to make peace with the Palestinians before the window of opportunity closes. The interview, posted on Bloomberg View on Sunday, suggests that Palestinian Authority President Mahmoud Abbas is ready to make peace – no mention of his refusals to recognize Israel as a Jewish state, compromise on the right of return, or speak out against the continuing demonization of Israel among his people – and that it is Netanyahu, and the settlements, that block the path to a brighter future.
Obama invoked Hillel the Elder in his message to Netanyahu: "If not now, when? And if not you, Mr. Prime Minister, who?"
No doubt the takeaway for the Israeli leader, in the face of this verbal affront, is the first half of Hillel's aphorism: "If I am not for myself, who will be for me?"
It should be noted that the interview took place last Thursday, prior to the outbreak of the Russia-Ukraine conflict. That crisis complicates the U.S. efforts in dealing with both the Iran and Mideast talks, where Russian support is vital. It is likely that had the invasion of Ukraine already taken place, Obama would not have been so confrontational with Netanyahu, given the president's more immediate problems. That is borne out by the fact that when the U.S. and Israeli leaders met at the White House on Monday, the tone, at least in their public comments, was cordial and respectful.
Support the New York Jewish Week
Our nonprofit newsroom depends on readers like you. Make a donation now to support independent Jewish journalism in New York.
Still, Obama's comments in the Goldberg interview reflect his sense that the onus is on Israel to be more forthcoming in the peace talks, and Netanyahu has responded by insisting that Israel, not the PA, has been the flexible party willing to make compromises.
In the prime minister's address to AIPAC Tuesday morning, he emphasized the benefits that peace could have throughout the region and urged Abbas to "stop denying history" and recognize Israel as the nation state of the Jewish people.
"President Abbas, recognize the Jewish state, and in doing so you would be telling your people that – while we might have a territorial dispute, the right of the Jewish people to a state of their own is beyond dispute.
"I hope the Palestinian leadership will stand with Israel and the United States on the right side of the moral divide, the side of peace, reconciliation and hope," Netanyahu said.
'Forceful Diplomacy'
AIPAC officials struggle mightily to maintain a bipartisan approach to the Mideast, sometimes showcasing Republican and Democratic leaders of Congress addressing the crowd from the same podium, stressing their common concern for Israel. But disappointment with Obama, at least on foreign policy, runs through the crowd and was acknowledged implicitly by several Democratic officials in their remarks. Jack Lew, the Jewish secretary of the treasury, made a strong case for the effectiveness of the current sanctions and asserted that "Iran is not open for business." Applause from the delegates was polite and measured. He and Sen. Chuck Schumer of New York emphasized the president's rock solid support for Israel, the unparalleled level of military and intelligence cooperation between Jerusalem and Washington and Obama's commitment to preventing Iran from obtaining a nuclear bomb.
This point was made most effectively by Secretary of State John Kerry, who was passionate in his assurances of employing "forceful diplomacy" to protect Israel's security on both the Iran front and in the peace talks with the Palestinians.
In dealing with Iran, the U.S., he said, "is guided by a simple bottom line: No deal is better than a bad deal. We get it, we understand the existential threat in our gut." He said America's stance was "not a favor to Israel but in the interest of the U.S."
Kerry, who has Jewish lineage, made an effective case for diplomacy, and his well-crafted remarks received more than polite applause at times. Alternating between policy assurances and personal anecdotes, he asserted that the U.S. will oppose boycotts of Jerusalem and that Israel must be recognized by the Palestinians as "the nation state of the Jewish people" and he described his first visit to Masada when he and other visitors were invited to shout "Am Yisrael Chai" [the people of Israel live] into the air and heard "the haunting echoes of chai, chai…something I'll never forget."
I suspect that many in the audience, like me, wanted very much to believe Kerry. Unlike a year ago at this conference, no one was calling for a military strike on Iran. Everyone would prefer to prevent a nuclear Iran through talks. And the secretary certainly seemed sincere when he spoke of his tireless efforts and said that U.S. negotiators on Iran have their "eyes open wide," that the talks are "not about trusting Tehran but about testing Iran," and that America's first priority in the Mideast negotiations is Israel's security.
But rhetoric can only go so far. And ever since Obama backed off his own "red line" pledge last fall on punishing Syria for using chemical weapons against its own people, his deep resistance to the use, or real threat, of military force has been palpable.
According to Goldberg, speaking at a session analyzing the current Mideast situation, the question now is "to what degree is Obama uninterested in projecting American force in the Mideast and beyond?"
Support the New York Jewish Week
Our nonprofit newsroom depends on readers like you. Make a donation now to support independent Jewish journalism in New York.
Fellow panelist Robert Satloff, executive director of the Washington Institute for Near East Policy, asserted that the negotiations on Iran are about "how much time we'll have to figure out that Iran is cheating. It's not about denying Iran the ability to cheat" or preventing its nuclear efforts, he said, adding: "In a fundamental way Iran has won."
Bolstering that impression, at a session on "Inside Iran: The Politics of the Islamic Republic," the two key speakers, both natives of Iran now working at the Foundation for Defense of Democracies in the U.S., were pessimistic about negotiations on Iran's nuclear program. Ali Alfoneh and Emanuele Ottolenghi agreed that President Hassan Rouhani is a milder, more sophisticated leader than his predecessor, Mahmoud Ahmadinejad, but that he is not a reformist and does not represent a strategic shift in Iran policy.
At a panel on Israeli public opinion, Ari Shavit, the Haaretz correspondent and author of the best-seller, "My Promised Land," said that Israelis are caught in a bind, willing to make concessions to the Palestinians but only if their own security is assured.
Israelis are afraid of U.S. pressure, he said, and realize they must change the status quo to avoid being further delegitimized by the rest of the world. While insisting on a deal that would include recognition of Israel as a Jewish state, Shavit called for "changing the dynamic" in ways that "take the high moral ground" for both strategic and moral reasons.
"The ice is thin, we're on the edge, and if we don't change, we're in trouble, especially with young people," he said.
After touring U.S. campuses for much of January, Shavit observed that Israel is seen as "tribal and as human rights violators," even among many Jewish students. He called for "a love offensive to win the hearts and minds" of young people, saying it is "the most important battle of all."
The large audience applauded and then went on to other sessions preparing them to lobby a Congress highly sympathetic to their concerns.
It's the White House that AIPAC and its supporters need to worry about.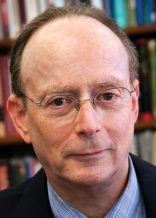 was editor and publisher of The Jewish Week from 1993 to 2019. Follow him at garyrosenblatt.substack.com.
The views and opinions expressed in this article are those of the author and do not necessarily reflect the views of NYJW or its parent company, 70 Faces Media.