It's every author's dream. And nightmare.
The chance to address several hundred people from around the country who, deeply attentive, have come to New York for three days and one purpose — to find speakers for their local Jewish community book fairs, sisterhood luncheons and other cultural programs.
The annual spring "Meet the Authors" event, sponsored by the Jewish Book Council, is a golden opportunity because it gives writers a platform to promote their work at a time when the publishing industry, hurting financially, is doing less and less to support its authors.
But there's a catch.
Since there are 274 authors on hand, each having written a book this year, they must make their pitch — choose me, choose me — within two minutes.
Not two minutes and two seconds, mind you. Two minutes. And if you go over your allotted time, the timekeeper gets up and stops you.
This year's event was held May 27 through 29 in the lovely sanctuary of Hebrew Union College-Jewish Institute of Religion in the Village. I was there as both observer and participant, and let me tell you, there is no better way to empathize with the intense pressure an author feels in being given such a short time to make a distinct and positive impression — while describing his years-long effort, motivation, subject matter and unique selling points — than to try it yourself.
More on my own experience later.
The whole set-up — all those authors giving two-minute spiels, adding up to a nine-hour-and-eight-minute assembly line of words over three days — sounds like some kind of literary game show gone wild. Jeffrey Goldberg, the journalist and author, memorably described the experience as "somewhere between JDate and a camel auction." But this is serious business. And over the last 17 years, since the creation of what is simply called the Network — the Council's program to connect authors and community representatives from JCCs, synagogues and other organizations — it has featured about 1,400 authors, helped launch the careers of such novelists as Jonathan Safran Foer, Nicole Krauss and Nathan Englander, and established the Council as a player to be reckoned with in the publishing world at large.
Virtually everyone connected with the Council, whose stated purpose is "to encourage the reading, writing and publishing of books of Jewish interest in the English language," credits its success to director Carolyn Starman Hessel. A powerhouse in the publishing world, she took over the nonprofit group two decades ago when it was a sleepy organization — little known and with little clout. By now authors know she can make or break their career, depending on her impression of them and their book.
Hessel, who plans to step down as director next year, demurs from talk about her influence, noting instead that the Network continues to attract more authors every year and that "publishers and publicists know about us — we're a service organization and we serve the Jewish people."
Support the New York Jewish Week
Our nonprofit newsroom depends on readers like you. Make a donation now to support independent Jewish journalism in New York.
There's nothing comparable to the Council among other religious or ethnic communities, reinforcing the notion that American Jews play an oversized role when it comes to reading and buying books.
'Bring The Community Together'
While the authors and community reps pay a registration fee to join the Network, none of the authors get paid to appear at the various events around the country. What draws them is the chance to sell their books, not only when they visit the communities but also through the related publicity and media attention, which often boosts online and hard copy sales.
Host communities commit to provide good hotels as well as meal expenses and car service during the author's stay. In return, as Marilyn Hassid, director of the Houston JCC Arts and Culture program for more than three decades, explained, talented authors help fill the seats at events. Her goal, she said, is to produce quality programming, help authors "and bring the community together."
At the end of the spring marathon of spiels, the community reps (made up of lay and professionals, primarily from JCCs and overwhelmingly women), submit a list of authors they'd like to invite, often a mix of newcomers and veterans. The Network staff then spends several weeks sifting through these lists, making up proposed schedules for those authors who receive invitations.
(Network officials say most authors get at least a couple of invites; a few fortunate ones get dozens.)
Then the authors decide which they want to accept. The busiest season is late fall, since November is Jewish Book Month and there are a number of major Jewish book fairs around that time. Among the most successful fairs are Houston, San Diego, St. Louis, Detroit, Atlanta and Cherry Hill, N.J. Popular authors can find themselves flying back and forth across the country within a couple of days.
Wide Range Of Authors, Themes and Quality
Hot topics may vary from year to year, but Holocaust themes (now written increasingly by the children of survivors), self-help, cooking and sports books seem big this year, along with several works related to art forgery.
Hessel wished there were more books on Israel, and others noted a fall-off in texts on Jewish history, commentary and philosophy.
Each of the three days, broken up into two-hour sessions, offered a wide range of authors, themes and quality. There was, for example, Tulane University's president, Scott Cowen, discussing his book, "The Inevitable City," which describes his leadership in dealing with the devastation of Hurricane Katrina and helping to rebuild New Orleans; three-time Poet Laureate Robert Pinsky, reciting a Robert Frost poem by heart in noting that his new book, "Singing School," instructs that "poetry is more like singing and dancing"; and S. Bear Bergman using humor to describe "Blood, Marriage Wine and Glitter," a memoir about a family based on being one of two trans fathers raising a young son.
We also heard food-blogger Cathy Barrow discuss her book of recipes and techniques for year-round preserving, veteran New York Times reporter Joseph Berger on his collection of Times articles on chasidim in America, and novelist Rachel Cantor on the time-travel adventures of a pizza chain employee who goes back to 13th-century Rome to meet a Jewish mystic.
Support the New York Jewish Week
Our nonprofit newsroom depends on readers like you. Make a donation now to support independent Jewish journalism in New York.
And those talks took up just 12 minutes.
I spent more time than I'd anticipated preparing my own pitch for "Between The Lines," my collection of about 80 Jewish Week columns from the last two decades. Getting my message down to about 360 words was tough. But Joyce Lit, the helpful Council Network associate who preps each of the authors in advance of their presentations, was encouraging.
"Let them know you've been observing and commenting on the Jewish scene for four decades, that you've seen it all," she said. "Tell them what's changed and what's remained the same. And use your humor, they'll like that."
So I kept tinkering — adding here, cutting there. When I read my talk to Joyce over the phone a week before my big day, it came in at 1:57. Great, but I told her I wanted to inject more humor. She warned that "laugh time counts on the clock," and suggested that even if I got a laugh I should just keep going.  (That's not easy — forgoing the chance to milk every second of a positive audience response.)
In the end it seemed to work out OK, though it went by in a blur. I summarized my book, got a few laughs, and no trap door opened under me to indicate my time was up.
Now I wait, along with the hundreds of other authors, to see who gets invited where.
Gary Rosenblatt has been the editor and publisher of The Jewish Week for 20 years and has written more than 1,000 "Between The Lines" columns since 1993. Now a collection of 80 of those columns, ranging from Mideast analysis to childhood remembrances as "the Jewish rabbi's son" in Annapolis, Md., is available. Click here for details.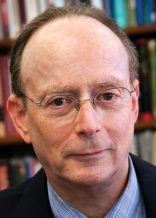 was editor and publisher of The Jewish Week from 1993 to 2019. Follow him at garyrosenblatt.substack.com.
The views and opinions expressed in this article are those of the author and do not necessarily reflect the views of NYJW or its parent company, 70 Faces Media.