One of my most prized possessions is a small black clock that hasn't been used in decades and no doubt is commercially worthless.
It's a pre-digital, electric timepiece, at least 70 years old. When I found it, tucked away in a drawer while cleaning out my mom's home after her death five years ago, it brought back a flood of happy memories from my childhood, and I still smile every time I look at it. That's because for many years it was used as a "Shabbos clock," a timer that switches off and on electrical appliances plugged into it, common in observant homes. But there's more to the story of this one.
The clock sat atop the television console in the living room of our family's small apartment in Annapolis, Md., and later, after we'd moved across the street from the newly built synagogue in the suburbs, in the den of my parents' home. Mostly it was used to switch on and off the main reading lamp in the room each Shabbat and yom tov, or Jewish festival, since we did not turn on lights on those nights and days.
But on a few rare, memorable occasions — specifically when the Brooklyn (and later Los Angeles) Dodgers were in the World Series and playing on Shabbat or Sukkot, and for the annual Army-Navy football game (after all, this was Annapolis) on a Saturday afternoon in the fall, the TV was plugged into the clock in advance so we could watch the games.
Remember, this was the 1950s and early '60s, when mainstream Orthodoxy was practiced in a more relaxed manner than today, especially in small towns far from New York City. In those days it was common, even in nearby Baltimore, for Orthodox congregations to have annual dinner dances (though men and women danced only with their spouses); and decisions on which packaged foods one could eat — long before kashrut labels like the OU and others came to be — were based on a careful perusal of the printed ingredients.
I think one of the first, and certainly favorite, phrases I learned to read as a child was "made with vegetable shortening."
My dad was the rabbi of the only synagogue in town, so we were discreet about the extracurricular use of our Shabbos clock. We watched because Dad was a serious Dodger fan, having grown up in Brooklyn, and especially proud that the team had broken baseball's racial barrier by giving Jackie Robinson the chance to play in the major leagues. (Dad himself played a key role in successfully advocating for social change in the Annapolis of the 1950s, when the public schools as well as civic clubs and beaches were still segregated.)
As I grew older I came to believe that rooting for the Dodgers was in some ways an expression of Jewish values. While the New York Yankees represented excellence, they were white, corporate and all business, winning championships year after year. Being a Yankee fan seemed like rooting for IBM.
The Dodgers, by contrast, were authentic, gritty, of the people.
They didn't have flashy superstars, they defied bigotry (and suffered for it) in hiring the game's first African-American player, and as perennial runner-ups they inspired a motto evocative of a pious Jew's belief in the eventual arrival of the Messiah: "Wait 'til next year."
Next year finally came in 1955, and even though my dad invited me to skip class and watch the seventh game of the Series with him that fateful Tuesday afternoon — I often walked home for lunch when I was in elementary school — I went back to my fourth-grade class, reluctantly, fearful that any disruption in my daily routine would offend the Baseball Gods and ruin the Dodgers' chances after five World Series losses to the Yankees going back to 1941. (I guess my logic worked; the team won its only World Series as the Brooklyn Dodgers that October day.)
Support the New York Jewish Week
Our nonprofit newsroom depends on readers like you. Make a donation now to support independent Jewish journalism in New York.
In Annapolis, home of the U.S. Naval Academy, the annual Army-Navy game is more than a football game. Going back to 1890, the intense rivalry is not only played out on the field. It's a ritual and rite of passage whose outcome determines the mood at West Point and Annapolis for a whole year. "Beat Army" is drilled into the heads of the 4,000 midshipmen — and "Beat Navy" into those of the cadets'  — on a daily basis.
Freshmen ("plebes" at both schools) are the subject of additional (and already intense) hazing for the rest of the year if their school's team loses the big game.
As a kid I was fascinated by the Naval Academy. Its vast, majestic grounds are separated from the town by a physical wall, but its spirit of patriotism and can-do discipline permeate the charming colonial confines of Maryland's capital city. I would read up on the history and traditions of the Academy and even tried to offer my talents as a guide to visitors on occasion. Some compassionate souls would give me a few coins when I offered my services, no doubt to get rid of this annoying kid rather than in gratitude for my eagerness to share my insights of Naval lore.
The Army-Navy contest was a must-see in town, especially in the heady playing days of Navy's only two Heisman Trophy winners, halfback Joe Bellino (1960) and quarterback Roger Staubach (1963).
My ticket to their heroics, and to memorable World Series moments from Dodgers like Duke Snider, Gil Hodges, Peewee Reese and Sandy (The Catch) Amoros, were all made possible by that black Shabbos clock, which I think of as a kind of magical bridge between the world of religious tradition and modern life. It still enjoys a place of honor in my home.
May it "tick on, olam."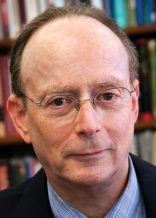 was editor and publisher of The Jewish Week from 1993 to 2019. Follow him at garyrosenblatt.substack.com.
The views and opinions expressed in this article are those of the author and do not necessarily reflect the views of NYJW or its parent company, 70 Faces Media.