As another case of alleged rabbinic impropriety emerges, I am most concerned with how the community moves forward. Our focus at this point in time should not be on the individual; rather we should focus on collective responsibility. What could we have done? Where do we go from here?
There are two critical takeaways from this recent revelation about Rabbi Barry Freundel, who was arrested this past week for voyeurism. First, the community should support the decision of the board of his Washington, D.C., Orthodox congregation, Kesher Israel, to notify the authorities on hearing allegations of his misbehavior. (He is alleged to have used a hidden camera to watch women in the congregation's mikveh.) In all Jewish institutions we need to understand that safety is first. 
I have heard too many stories about synagogues being too afraid of the publicity that will ensue should they notify the police about such allegations; they are concerned about the possible tarnishing of the shul's reputation, and are so afraid of what people will say that they can resemble a deer frozen in headlights when faced with a potential scandal. The real fear should be what would happen if actions and precautions were NOT taken. I am sure that this is a trying time for the community of Kesher Israel, and we should be fully supportive of their responsible reaction to the allegations. It truly is better to be safe than sorry.
Secondly, our community needs to atone. We need to create policies that would prevent abuses in the future. I am talking about our women. I am talking about our mothers. I am talking about our daughters. I am talking about our sisters. I am talking about the people we sit next to in shul. We need to ensure that women navigating the trying process of conversion are safe. We have a chovah, a halachic obligation, to ensure their physical, sexual and emotional safety.
While there have been intense debates between rabbinical organizations in America and the Chief Rabbinate in Israel about the standards for accepting converts — with our Jewish brothers and sisters who converted to Judaism serving as pawns in this power struggle — we need to put the politics aside and remember the cardinal rule of safety. 
Where are the conversations about ensuring the well-being of converts? Although this should have been discussed and implemented decades ago, now is the time to set safety guidelines.  For example, why not make it a policy that a woman be present during the conversion ceremony? This is often, but not always, done. A woman's presence wouldn't pasul, negate, a conversion.  For conversion of a woman to be kosher, the presence of a woman should be required as a witness and protector of the convert.  Women should be a part of conversion committees in leadership capacities developing these guidelines. 
On a similar note, the mikveh needs to be a safe space. There is a larger conversation to be had here. As someone who participated in the kallah training program of JOFA (Jewish Orthodox Feminist Alliance) and as a wife of a rabbi, I have comforted countless women who have had extremely negative experiences with mikveh policies. For their privacy, I cannot share details in this piece. The development of programs for women to become advanced scholars in Jewish law, particularly regarding family purity and laws regarding mikveh, like the Yoetzet Halacha program at Nishmat in Israel, Yeshiva University's Graduate Program for Advanced Talmud Study and Yeshivat Maharat, have alleviated some of the problems.
The commitment to holy work among these women needs to be applauded and publicized. They should be visible in the community so that they are as effective as possible and our community is properly benefitting from their knowledge and experience. 
While many women are more comfortable discussing intimate details with women rather than men, there is still more work to be done. Women need to be on the boards of all Orthodox mikvaot.  Women need to have power to set policies in partnership with halachic authorities, not simply under their auspices. Women should feel safe in all areas dealing with mikveh, from making an appointment to asking questions to preparing for immersion. It is a board's responsibility to make that happen. 
Women can feel particularly vulnerable when dealing with mikveh and/or conversion. These can be beautiful experiences, but they can also produce great anxiety. The Torah teaches that if a homicide is committed and the murderer's identity is unknown, the religious leadership of the community must conduct a ceremony that signals its responsibility for the death. It involves a prayer for the atonement of the entire community for having created an environment where such evil could be present. 
As we as a community are emerging from a time of personal reflection and atonement following the High Holy Days, let us come together as a community to do the same — to protect our daughters, wives, sisters and loved ones.
Support the New York Jewish Week
Our nonprofit newsroom depends on readers like you. Make a donation now to support independent Jewish journalism in New York.
Sharon Weiss-Greenberg is the executive director of JOFA, the Jewish Orthodox Feminist Alliance.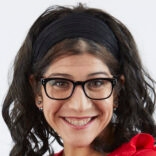 is Director of Education Partnerships for My Jewish Learning. She is the former Director of Development and Communications at ELI Talks and former Executive Director of JOFA, the Jewish Orthodox Feminist Alliance. Sharon also has served as the Rosh Moshava (Head of Camp) at Camp Stone, as the first Orthodox woman chaplain at Harvard University, and as a day school educator. She earned her doctorate at New York University. Sharon is an alumna of the Wexner Fellow/Davidson Scholarship graduate program and a Schusterman ROI Member. She studied at The Drisha Institute for Jewish Education and received her B.A. and M.A. from Yeshiva University.
The views and opinions expressed in this article are those of the author and do not necessarily reflect the views of NYJW or its parent company, 70 Faces Media.