Do Orthodox rabbis abuse the power they have over women?
The case of Barry Freundel, the influential rabbi of Congregation Kesher Israel in Washington, D.C., who was arrested last week on charges of videotaping women undressing to use the synagogue's mikvah, has catapulted the issue of rabbinic abuse of power into the headlines. It has generated widespread emotions of anger, distrust and disgust, and raised questions about men's influence on female use of the mikvah for family purity and in the conversion process. It has also prompted calls for new communal policies to give women a greater voice in Orthodox life.
"His apparent behavior casts aspersions on all of us," one rabbinic leader said of Rabbi Freundel, adding: "We're in crisis mode this week."
The crisis appears to be wider than the alleged errant behavior of one rabbi, who was suspended by his congregation and by the Rabbinical Council of America (RCA), the central policy-making body for Orthodox rabbis, where he played a key role in dealing with conversions. Media reports indicate that he hid video equipment in a clock radio in a room adjacent to the synagogue's mikvah and had the names of many women on files in his computers, which were confiscated by the authorities. He pleaded not guilty last week to charges of voyeurism, a misdemeanor that carries a sentence of up to six years in jail.
The arrest took place after a woman using the mikvah noticed a red light in the clock radio and alerted some synagogue board members. The board alerted authorities and the rabbi was arrested  Oct. 14. He is scheduled to appear in court Nov. 12 for a status hearing.
In a series of interviews, rabbis, communal leaders and women active in the Orthodox community, including converts, mentioned concerns about the abuse of power by men in control of women's ritual observance. Virtually all saw the scandal as an opportunity to advance the cause of women in terms of rituals and practice.
"Bottom line, we women are excluded from making decisions in Orthodox Jewish life," asserted one prominent Orthodox educator, who asked not to be named due to her professional ties in the community. "On every level — rabbinic, lay, philanthropic, etc. And that creates a feeling of alienation."
Acknowledging the anger in the community, the RCA responded with unusual speed in announcing this week a policy for all of its dozen or so Beit Dins, or religious courts, in the U.S. to "appoint a woman (or group of women) to serve as ombudsman to receive any concerns of female candidates to conversion."
In addition, the RCA will appoint "a commission made up of rabbis, lay leaders and mental health professionals (including men and women)" to review the organization's current conversion process "and suggest safeguards against possible abuses."
Several women interviewed expressed appreciation for those steps, but even leaders of the RCA noted that additional change is needed.
Rabbi Efrem Goldberg, a vice president of the RCA and spiritual leader of the Boca Raton Synagogue in Florida, wrote on his blog that "the suspicion and distrust of leaders, particularly of rabbis, that has rapidly swelled is understandable. After all, the perpetrator was trusted, admired and respected."
Support the New York Jewish Week
Our nonprofit newsroom depends on readers like you. Make a donation now to support independent Jewish journalism in New York.
He added that "calls for safeguards, improved supervision and greater input and leadership by women are important and welcome."
But in acknowledging that a previous RCA investigation two years ago into Rabbi Freundel's "inappropriate" behavior, albeit not of a sexual nature, did not result in action taken against him, the organization left itself open to criticism for lax standards.
An RCA official explained that conversion candidates were among those, including Kesher Israel congregants, whom Rabbi Freundel persuaded to "perform clerical work for him in his home office … and to contribute financially to the running of the Beit Din" he headed in Washington.
In addition, "it was discovered that he was a co-signer on a checking account with a conversion candidate."
The rabbi was given a warning against the behavior at the time, but the RCA did not inform his synagogue leadership.
No doubt that investigation, and reports now coming out that he encouraged female conversion candidates to undergo "practice immersions" in the mikvah, only add to growing calls for more rabbinic accountability.
The Holiest Space
For centuries the use of the mikvah, arguably the holiest space in Jewish life, has been associated with modesty and privacy, the place where a woman is spiritually cleansed to mark the time when she can resume marital relations with her husband.
The mikvah is also used as the final step in the conversion course. For a female conversion candidate who has been deeply reliant on a man — an Orthodox rabbi — over an extended period of time, and then to feel less than trusting or safe at a moment when she is most vulnerable, physically and psychologically, can cast a pall on the entire process of accepting the Jewish faith.
"The whole conversion process is so vulnerable to issues of power," noted one female convert, who requested anonymity. "It's the rabbi who decides how long your conversion course lasts, what knowledge and actions you need to become a Jew. It's all up to him."
Rabbi Freundel, 62, married and the father of three, played a key role in crafting and putting into practice the system of conversion for Orthodox Jewry in America. And as chairman for more than six years of the RCA conversion committee, he was the chief go-between in its dealings with the chief rabbinate in Israel on issues of conversion. While some criticized the RCA for caving in to stringent demands by the chief rabbinate — including disallowing conversions performed by several highly respected American rabbis — Rabbi Freundel defended the Israeli system. At a conference two years ago at the AJC seeking to reform the chief rabbinate, Rabbi Freundel was a lone voice calling for working with the institution of the chief rabbinate rather than antagonizing it. He acknowledged problems with the system but insisted he knew how to deal with key officials in Israel and was able to effect change "behind the scenes."
Support the New York Jewish Week
Our nonprofit newsroom depends on readers like you. Make a donation now to support independent Jewish journalism in New York.
Colleagues and congregants have described him as arrogant, imperious and gruff in his relations with them, though he is widely respected for his intellect.
Ironically, though the RCA this week announced that the Beth Din of America, with which it is associated, has concluded that all conversions performed by Rabbi Freundel prior to his arrest "remain halachically valid," the Chief Rabbinate in Israel that he long defended and dealt with, initially said it was going to study the issue before making a decision on the validity of his conversions. It rescinded that statement a day later.
Still, reports of Rabbi Freundel videotaping women who used the Kesher Israel mikvah regularly, or for conversion, had the victims, and other women, reeling from a sense of shock and betrayal.
'A Sense Of Violation'
Stephanie Doucette, a 22-year-old graduate student of international affairs at George Washington University, is one of Rabbi Freundel's potential victims in the ongoing investigation. In an interview with The Jewish Week on Monday she said she began the conversion process with him in 2013, but stopped after the rabbi repeatedly commented on her appearance. She is also left Kesher Israel after the incidents.
"On several occasions, he made comments that I'm a young, attractive female," said Doucette, who added that the remarks continued for several months and became more frequent as time went on.
Rabbi Freundel asked Doucette to perform two "practice dunkings" at the local mikvah. According to Doucette, the rabbi personally escorted her to the changing area, and explained what she was supposed to do. A female mikvah attendant supervised the actual dunking.
When the allegations became public, Doucette said she was shocked, but not surprised.
"I felt something was wrong with him for a long time," she said in a phone interview. "I never quite looked up to him like everyone else because of the comments he made to me. I never expected something of this scale, though. When I heard, my first response was anger."
She was not alone.
"The issue that has come across most strongly to me this week," said one Orthodox woman scholar who works closely with RCA members, "is women feeling a sense of violation, and questioning whether men have overstepped their power. Why is it routine, for example, that men chair the boards of the local mikvahs? Maybe it's time for women to take back the mikvah."
A new group of Orthodox women scholars, community leaders, and educators known as the Orthodox Leadership Project (orthodoxleaders.org), is crafting a document this week suggesting reforms in the areas of mikvah protocol, conversion and rabbinic organizations. They say they are invested in creating consensus among a spectrum of Modern Orthodox leaders about what changes need to be made and how to implement them. Among their suggested initiatives: "all mikvah boards should include female leadership and oversight," with women deciding who is qualified to be a mikvah attendant; appointing a qualified woman rather than a rabbinic scholar to guide women conversion candidates through the conversion process; having a female emissary of the Beit Din "during the actual immersion so that no man is present in the room"; and establishing a lay-led committee of men and women to provide checks and balances for rabbinic organizations.
Support the New York Jewish Week
Our nonprofit newsroom depends on readers like you. Make a donation now to support independent Jewish journalism in New York.
The group plans to put its proposal online and welcome input and suggestions. It hopes to collaborate with key Orthodox institutions in implementing these suggestions.
"The continued exclusion of women and their leadership from these issues will only perpetuate a system that leaves women vulnerable to abuse," the statement said.
More Women Scholars
Reflecting a new openness, at least among some in the Orthodox community, there are a growing number of young women scholars  of Jewish law, with a particular emphasis on intimate issues like niddah (family purity) and the use of the mikvah.
Some communities now have Yoetzet Halacha, female consultants in Jewish law, who field questions from women more comfortable consulting with a female expert rather than a rabbi about such personal matters. But many rabbis feel threatened by this development.
The notion of women studying Talmud on an advanced level has become increasingly accepted in the Orthodox community, though, with Yeshiva University offering a graduate program for women, and Yeshivat Maharat the first yeshiva to ordain women as Orthodox clergy, among other programs.
One question now is how far women can go in terms of advanced roles in religious life within the bounds of halacha (Jewish law) — will they, for example, be fully accepted as rabbis or as qualified members of a Beit Din?
Given the current sentiments stirred up by Rabbi Freundel's alleged misdeeds, his rabbinic colleagues are feeling vulnerable themselves. Rabbi Goldberg, the RCA vice president, wrote on his blog that Rabbi Freundel's behavior "has placed a stain on the rabbinate and given rise to … a mood of …distrust toward rabbis in general." He cautioned, though, against "sweeping indictments of rabbis and promoting a culture of suspicion towards all leaders," which he called "unfair and counterproductive."
Rabbi Yosef Blau, mashgiach ruchani (spiritual advisor) at Yeshiva University, noted that while "we need to find a better way to involve women in the process of mikvah and conversion, rushing to make systemic change is not the solution."
He noted that including a woman as part of a Beit Din "would be halachically very complicated."
Another issue is whether the community is willing to be more open in welcoming converts without feeling that such acceptance signals an increasing tolerance of intermarriage.
Support the New York Jewish Week
Our nonprofit newsroom depends on readers like you. Make a donation now to support independent Jewish journalism in New York.
A woman new to Judaism, and uncomfortable with speaking out publicly, noted the unhealthy silence that she feels surrounds converts in synagogue life. She said there is a fine line between respectful privacy, not prying, and a silence that connotes secrecy and further isolates the convert. "It can become stigmatizing," she said.
She hopes the current scandal, as painful as it is, can prompt a larger communal discussion on conversion that takes the issue out of the shadows. She suggested appointing mentors within synagogues to help converts adjust to the rhythms and nuances of Jewish life.
"We need more transparency about the process," she said. "And we need to have hard conversations about mikvah, conversion, women's roles, untouchable rabbis. But one reason I'm Jewish," she added, "is we are a people with a long history of having hard conversations. Abraham argued with God. And we preserve the minority opinions in the Talmud. So the discussions are never over."
Web editor Helen Chernikoff and staff writer Hannah Dreyfus contributed to this report. Hannah Dreyfus is the also the wife of last year's rabbinic intern at Kesher Israel.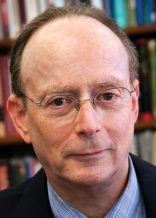 was editor and publisher of The Jewish Week from 1993 to 2019. Follow him at garyrosenblatt.substack.com.
The views and opinions expressed in this article are those of the author and do not necessarily reflect the views of NYJW or its parent company, 70 Faces Media.