Chaim Korsia, thrust into the international spotlight as the chief rabbi of France in the past year, was the center of attention as scholar-in-residence at Park East Synagogue here last weekend.
Many came to hear the 51-year-old former French military chaplain gauge the level of his community's fears in the wake of last month's terror attack in Paris, and respond to Israeli Prime Minister Benjamin Netanyahu's call for European Jews to "come home" to the Jewish state in large numbers.
But at a well-attended Sunday morning breakfast at the synagogue, I came away intrigued by the passionate remarks from those in the audience, made up largely of French-born and French-speaking Jews now living here, in contrast to the rabbi's comments, which were decidedly diplomatic, and at times made for a mixed message.
Yes, there are "moments of fear" among Jews, he said, but daily life goes on as normal. Anti-Semitism continues to come from the right and is now joined by those on the left, primarily in the Muslim community; but terror attacks on Jews "can happen anywhere." Rabbi Korsia said, "We have to be for the Muslims, but we have to be strong." And he said the community was grateful for the government providing 10,500 police and soldiers to protect our synagogues, schools and other Jewish institutions, "but we need our own security."
A number of those who spoke up during a question-and-answer session with the rabbi, and chatted among themselves after the 90-minute program was over, felt strongly that France has failed in assimilating its large population of Muslim immigrants, many of whom channel their anger at Israel and at Jews in general.
Rabbi Korsia asserted that in the wake of the kosher supermarket killings, French leaders now understand, finally, that such attacks are aimed not just at Jews but also at the government, and all it stands for.
He said this response was a dramatic and welcome change. "We [the Jewish community] are now the symbol of France," and it is understood that "anti-Semitism is not just against Jews but against [French] society." This support will make Jews feel "less alone now."
Alternating between speaking in an eloquent (I am told) French and a choppy English, Rabbi Korsia, whose manner is gentle and sincere, praised French leaders for their statements of support for the Jewish community, the largest in Europe (estimated at about 600,000). And he chose to avoid a direct response to Israeli Prime Minister Benjamin Netanyahu's inference that European Jewry is in great danger, with Israel its salvation. Instead, the rabbi noted that "he [Netanyahu] has his job, and we have ours," which he described as giving French Jews "a real choice — and to have a real choice you have to feel secure, safe."
He acknowledged that the thousands of soldiers now guarding Jewish sites in France are doing so on a temporary basis. On several occasions he stressed the need for his community to provide its own security, from cameras to prevent cemetery desecrations to guards to protect Jewish institutions. Some say one of his goals in visiting New York this past week was to fundraise, and when an audience member asked the rabbi who will pay for this effort, he quickly and emphatically replied, "you," with a smile.
Rabbi Korsia described his host, Rabbi Arthur Schneier of Park East, as a mentor, and cited several of the senior rabbi's homilies. He also noted that Park East spends about $500,000 a year on security.
Rabbi Schneier had invited me to conduct a public interview with Rabbi Korsia as part of the program, during which I tried to elicit direct answers to my questions about the level of fear among French Jewry today. But the chief rabbi's responses were somewhere between generic and evasive, often focusing on the need for unity and fraternity in France.
Support the New York Jewish Week
Our nonprofit newsroom depends on readers like you. Make a donation now to support independent Jewish journalism in New York.
He did emphasize, though, what he felt to be a significant statement by French President Francoise Hollande, made Jan. 27 at a Paris ceremony commemorating the 70th anniversary of the liberation of Auschwitz. Hollande asserted that anti-Semitism is "nourished by hatred of Israel," and he vowed to combat anti-Semitism.
Rabbi Korsia sounded optimistic about this new level of commitment, though some in his audience, citing their own experiences in France, were less sanguine.
"I think it's too late," one young man told the rabbi, citing his family's experience in a French city where, he said, the Muslim population has become increasingly emboldened and hostile.
"He [the rabbi] is under conflicting pressures," another French native told me after the program. "He represents the government and as an employee of the state he is serving a Jewish community that is very worried about its future."
No doubt Rabbi Korsia is seeking to calm his people at home while seeking financial support here and in Israel for security to ensure a sense of normalcy. And the reality is that even if aliyah doubles or triples in the next several years — from 7,000 this past year — that means more than 500,000 Jews will remain in France and need their communal life to be secured and strengthened.
"Come to see us in Paris," the chief rabbi said in closing, "and tell your friends to come. Things are better there than most people think."
The audience empathized with and admired him, but didn't seem persuaded by his parting message.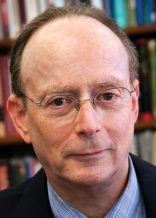 was editor and publisher of The Jewish Week from 1993 to 2019. Follow him at garyrosenblatt.substack.com.
The views and opinions expressed in this article are those of the author and do not necessarily reflect the views of NYJW or its parent company, 70 Faces Media.