If the friendship between Hanan Schlesinger, an American-born Orthodox rabbi and self-described "passionate Zionist settler," and Ali Abu Awwad, a leading Palestinian activist who served a four-year jail sentence in Israel for membership in a terrorist cell, was typical of West Bank Jews and Palestinians, we would be living in Messianic times.
In fact, Rabbi Schlesinger and Awwad know full well that their joint peace effort, known as the Roots Project, is viewed by many of their own people as naïve at best, and perhaps dangerous. It seeks to promote harmony by encouraging Jews and Palestinians to see each other as real people, as neighbors, and to understand each other's hopes and pain through discussion, interaction and joint programs.
At a time when Mideast leaders and would-be peacemakers are calling for separation between Jews and Palestinians as the only chance for a peaceful end to the longtime conflict, Awwad and Rabbi Schlesinger insist that a positive political outcome must be preceded by understanding each other on a person-to-person level.
Hope must spring from the grassroots, they maintain; it cannot be imposed from the top down, as so many failed diplomatic efforts have proved since the Oslo agreement 22 summers ago.
With the Israeli-Palestinian conflict at a dangerous impasse and no negotiations on the horizon, is it possible that the Roots leaders' vision will be taken seriously as an alternative to another round of violence?
Not likely. But still, it's worth noting, if for no other reason than to see an almost unanimously dismissed model — Palestinians and Jews channeling their mutual hatred into small steps on the road to reconciliation — actually in place on the West Bank.
At a special roundtable meeting of the Council on Foreign Relations here several weeks ago, more than 30 invited guests from the Jewish, Christian and Muslim communities seemed both inspired by and wary of the views expressed by the two visitors who live near each other in the Gush Etzion area.
"I have paid the price all my life" as a Palestinian activist, said Awwad, 43, a ruggedly handsome man, who spent four years in jail during the first intifada, was shot and wounded by an Israeli in a drive-by shooting during the second intifada, and later learned that his brother had been shot and killed by an Israeli soldier at the entrance to their village.
He said he finally reached a point where "I wanted to give up being a victim." Knowing that neither Jews nor Palestinians will leave the land where they live, he said he asked himself, "Do I want to be right or do I want to succeed?
"The hate and anger keeps eating at you so you look for a solution," he said, and he came to believe that "there can be no harmony until we [Palestinians and Jews] see the humanity of the other side."
For Awwad, that came about after participating in the Bereaved Families Forum, a grassroots group of Palestinians and Jewish families who had lost loved ones in the conflict and met to discuss their feelings.
Support the New York Jewish Week
Our nonprofit newsroom depends on readers like you. Make a donation now to support independent Jewish journalism in New York.
"Those meetings changed my life," he said.
Rabbi Schlesinger, 58, also described a personal epiphany.
With his full grey beard and large knitted kipa, he has the look of settlers often portrayed as fundamentalist bullies. But his wide grin, easy laugh and passionate declaration of remorse on learning the history of the Palestinian claim to the land sets him apart from many of his Jewish neighbors.
He explained that he left his native Long Island at 18 to settle in "the land of Biblical prophecy" because he "wanted to live where it all began." He had been taught that when European Jews came to Palestine in the 1880s, "it was empty." But he learned a year and a half ago, on studying the history of the conflict, that the land had not been empty, and that the Jewish people's triumph in the 1948 war, resulting in statehood, "was someone else's tragedy."
"It was all new to me because the overwhelming power of the settler narrative had blinded me to another truth," the rabbi said. As a result, "my whole spiritual world was undermined." He said he slowly rebuilt it by learning to "live with contradictions" and to be able to hold and value two opposing truths — that the land belongs to the Palestinians and that it belongs to the Jews, each with full rights.
Awwad and Rabbi Schlesinger say they are not asking one side or the other to compromise their beliefs of full rights to the land, but to share rather than divide it.
To many Israeli Jews, the rabbi explained, "the Palestinians are invisible. We don't see the full reality, living in our bubble, because we want to hold on" to the narrative, and to the land, and "hope the Palestinians disappear."
That began to change for him, Rabbi Schlesinger said, when he met Awwad.
Roots sponsors programs for school children and for rabbis and imams as well as a women's group and a summer camp. It also runs monthly meetings for Jewish and Palestinian neighbors who may encounter each other superficially in public spaces, like malls, but have never really met in a personal way.
Co-founded by Shaul Judelman and comprised of an executive committee of Palestinians and Israelis, Roots has hosted about 7,000 people who have visited the center on a small piece of land owned by Awwad's family, adjacent to Gush Etzion.
Yossi Klein Halevi, a senior fellow at the Shalom Hartman Institute in Jerusalem with a deep interest in Jewish-Muslim relations, has attended several Roots events at the center. He said it was "extraordinary" to see about 50 Palestinian and Jewish neighbors interacting peacefully, including children playing together.
He has great admiration for both Awwad and Rabbi Schlesinger but acknowledged that their Roots project is little known in Israel.
Support the New York Jewish Week
Our nonprofit newsroom depends on readers like you. Make a donation now to support independent Jewish journalism in New York.
Klein Halevi characterized Awwad as "the Palestinian leader we've been waiting for. He understands the psychological need of Jews for recognition and to have their legitimacy acknowledged."
At the roundtable discussion here, Letty Cottin Pogrebin, a journalist, author and longtime Mideast peace advocate, described how a number of Jewish-Arab peace dialogues she has participated make progress for a while and then reach the same obstacle.
The "natural arc" in these exchanges, she said, goes from tentative discussions to closer personal ties – "and then you hit the wall over refugees and the Right of Return," she noted, referring to the Palestinian insistence that any peace deal would have Palestinian refugees settling in Israel rather than in the new Palestinian state.
Both Awwad and Rabbi Schlesinger responded by asserting that their initiative emphasizes the personal over the political. "There are huge emotional issues behind the politics," Awwad said. "And fear is our biggest enemy." He added that both Israeli and Palestinian politicians tend to base their credibility on fear and hatred of the other side.
"Even in dialogue groups we find a competition of suffering," whether it's the Holocaust for Jews or the Nakba ("Day of Catastrophe," Israeli Independence Day) for Palestinians.
Asked in various ways how they can avoid the political discussion in their work, the two leaders said they are less focused on a one-state or two-state solution than on having citizens on both sides discover their mutual dependence.
"I have to find a way to live my narrative while making room for the other's truth," Rabbi Schlesinger said.
"We need each other — there is no other way," asserted Awwad, who said the goal of Roots was to pave the way for a political solution.
Rabbi Steve Gutow, president and CEO of the Jewish Council for Public Affairs (JCPA) who moderated the discussion, later observed that "if Palestinians and Jews can find a common ground, the politicians will come along. I am afraid that if there are no people like Ali and Hanan, we will all be talking to ourselves for a very long time."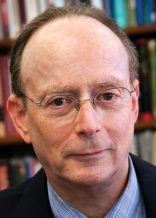 was editor and publisher of The Jewish Week from 1993 to 2019. Follow him at garyrosenblatt.substack.com.
The views and opinions expressed in this article are those of the author and do not necessarily reflect the views of NYJW or its parent company, 70 Faces Media.