It's quite possible you've not heard of the Rockland Boulders baseball team. They're not in the major leagues. They're not affiliated with the minor leagues, either. They're an independent professional team in the Can-Am (Canadian-American) League that calls Pomona, N.Y., in Rockland County, home. And as my hopes for the Baltimore Orioles making it to the post-season slowly fade amidst a succession of painful one-run and extra-inning losses, I've taken solace in — and my grandkids to — Boulders games in recent days.
An evening spent at the team's 4-year-old gem of a ballpark, Provident Bank Park, reminds a visitor of the real pleasures of baseball. Within its cozy, kids-oriented confines (4,500 seats, an outdoor playground and the chance for boys and girls to run around the bases after the game) fans are up close to the action. You can hear the pop of an occasional 90-mile-an-hour fastball as it hits the catcher's glove, the crack of the bat making contact, and even the excited comments of the players at times. Sitting in the front row near the third-base dugout, we heard a youthful slugger who appeared to be in his late teens and had just launched a majestic home run into the left field stands, exclaim excitedly to his third-base coach as he rounded the bases, "Man, I sure hit that one."
It's that combination of athletic skill and youthful exuberance that can charm a fan more used to the stoic professionalism of major leaguers on the field.
Most of the Boulders players are in their mid-20s and either were not drafted by The Bigs, released by a minor league team, or are simply talented locals playing primarily for the love of the game and hoping for a miracle. (The level of competition is said to be on a par with single-A in the minors.)
You've got to love a team that plays in a league with the New Jersey Jackals and Quebec Capitales, and whose official team hotel is the Super 8 in Mahwah, N.J.
One perk: You can take the family to the ballpark and sit in quality seats for far less than a single ticket to a Yankee or Mets game. And from that vantage point, and freed of the nervous tension associated with rooting for one's favorite big league team, you can just sit back and appreciate the beauty of the game — the ballet-like moves of the shortstop going deep in the hole for a grounder and then pivoting and throwing to first, or the grace of a fleet-footed outfielder racing into the gap to run down a sinking line drive.
Our local grandkids who attended recent games with us are 11, 10, 9, 8, and 5, with varying interests in sports. The newest addition, Ella Grace (Esther Lea Gittel) — named for my son-in-law's father, my mom and a maternal aunt — was born in June, and stayed home. Already displaying a sweet disposition, she can wait until next season to take in a ballgame, we figured.
Asher, 11, and his brother, Zachary, 9, are talented athletes who take their Little League games as seriously as their father did his in his day. They watched the Boulders game carefully, offering knowledgeable comments about the action on the field, like when to bunt or steal a base.
Their cousins were fascinated to learn there is no clock in baseball, no way of knowing how long a game will last, and that the longest professional baseball game (in Pawtucket, R.I., in 1981) lasted 32 consecutive innings, and all night. (A worrisome thought for their grandmother, a good sport at such outings, but with reasonable limits.)
Roni, 10, a budding filmmaker, chose to video the action; Noa, 8, loved watching high foul balls land in the stands or, not infrequently, go over the roof behind home plate and into the parking lot ("What if one lands on our car?" she asked); and Yair, 5, wrapped in a blanket in the cool night air, was happy just to take it all in and stay up way past his bedtime.
I look forward to taking our West Coast grandkids, Moshe Kol, 3 1/2, and his sister, Malka Nava, born in January, to their first game, perhaps to see the Los Angeles Dodgers, their paternal-great-grandfather's favorite team, though he knew them best as the loveable, sometimes infuriating Brooklyn Bums.
Support the New York Jewish Week
Our nonprofit newsroom depends on readers like you. Make a donation now to support independent Jewish journalism in New York.
Sitting on a clear, late summer night at the Boulders games, relishing the presence of my family, and now with grandkids of my own, I feel a sharp awareness of the passage of time. But the feeling soon gives way to tender childhood memories of going to the ballpark with my dad and brother, and the enduring thrill of entering the stadium and first seeing the green grass of the infield.
The kid in you still comes out at a ballgame, and baseball is special among sports because it takes its time (despite efforts to speed it up). Unlike the frenzy associated with time-bound football, basketball or soccer, there are plenty of opportunities between pitches at a baseball game to have conversations with those around you — about the game or whatever else is on your mind, or theirs.
So I'm grateful to the Rockland Boulders for taking my mind off the disappointing O's this past month and focusing it on the things that count.
Not all of baseball's best moments happen on the field, and the memories can last a lifetime — just like a true fan's ideal game, which never ends.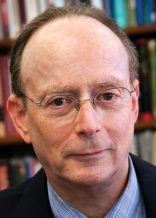 was editor and publisher of The Jewish Week from 1993 to 2019. Follow him at garyrosenblatt.substack.com.
The views and opinions expressed in this article are those of the author and do not necessarily reflect the views of NYJW or its parent company, 70 Faces Media.