Last week I found myself sitting in a hip, subterranean Jewish bar listening to a dynamic young man who founded a successful, international Jewish arts festival. He apologized that his voice was a little weak—not because of an early-spring cold, but because he had just undergone brit milah.
I wasn't in the East Village or Williamsburg. I was in Moscow. Like so many of his Russian Jewish peers, the young man only realized in his later teen years that both his parents are Jewish. Recently married and contemplating starting a family, his circumcision affirmed his strong Jewish identity.
I grew up in the 1980s, stirred by the plight of persecuted Soviet Jews. When the Iron Curtain fell, we celebrated, shelving our refusenik pairing bracelets and rolling up our posters. After bringing the majority of Jews to Israel and North America, we felt that our job was done. I never expected to witness a Jewish cultural renaissance in Russia. But now having just returned from Moscow, I realize that we still have a lot of work to do, not in ending persecution, but in sharing our identities and love for Judaism.
My trip was a rabbinic mission to Moscow comprised of a group of New York rabbis and UJA-Federation of New York CEO Eric Goldstein. Peering behind the curtains in this new Russia, we saw that Soviet-era subway terminals are still works of art, and anti-Semitism is at one of the lowest levels found today in the world. Here we discovered more than 250,000 Jews thriving and building their own Jewish identity.
In that Moscow bar, we sat with a dozen young, creative, Russian-born Jewish non-profit entrepreneurs who have started independent Jewish projects that received grassroots grants from UJA. This was the future we had prayed for when we rallied and fought to free Soviet Jewry. Tears of joy swelled as we heard about music and film festivals, bat mitzvah classes, Purim Balls, disability rights programs, and camps.
The stories we heard echoed the same refrain: 70 years of Soviet rule retained a family's Jewish nationality, but erased the Jewish identity. As one counselor trained by the Jewish Agency for Israel said, "My parents didn't teach me; I am teaching them. In my family, Jewish identity starts with me." This was the future our Jewish community envisioned when funding these programs – a rebirth of Jewish opportunity and potential.
This was evident as we walked through a dual-language Hebrew/Russian Reggio-Emilia Jewish preschool at the Nikitskaya JCC, as well as in a project where young adults and teens visit homebound Jewish seniors cared for by JDC-funded Chesed organizations, recording the testimonials of their elders and learning to cook their childhood recipes.
It is evident in a songbird-voiced woman singing Yiddish Klezmer music; a bat mitzvah class for girls; a Chabad participant writing Russian lyrics to old Jewish liturgical melodies; upscale kosher restaurants in shopping malls.
Later, I spoke to a boy who looked just like a gifted, defiant, self-proclaimed atheist I once trained for bar mitzvah in New York. As I brought Jewish philosophy and Einstein to our lessons, that American student had challenged, "Rabbi, you say Judaism is a gift. Why is it so important to you that I receive it?" I turned from philosophy to chasidut. Reb Nachman teaches that the Jewish people are like the letters of the Torah: each one of us has an important role to play, and the whole cannot be understood if the expression of even one letter is missing. Our tradition is a gift that we are handed; in unwrapping it, each of us reveals a new gem that otherwise might not have been available to our people and our world.
But there was more in Moscow than just the success of programs and grants and courage and faith. Here in America, we often take the gift of Jewish tradition for granted. We don't stop to enjoy the full potential and meaning of tradition and how it can add layers of depth and meaning to our lives. In Moscow, I saw that our Russian brothers and sisters are accepting, unwrapping, owning, and joyfully sharing the gems of Judaism with each other.
Perhaps now it is we who need them, to help us reconnect and experience the joy of seeing the gift of Judaism and Jewishness well loved and well-used.
Support the New York Jewish Week
Our nonprofit newsroom depends on readers like you. Make a donation now to support independent Jewish journalism in New York.
As we make good on our pledges of "Next Year in Jerusalem," it might be time to consider flights with a stopover in Moscow.
Rabbi Shira Koch Epstein is executive director, 14th Street Y.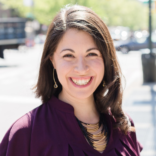 is executive director of the Center for Rabbinic Innovation, a project of the Office of Innovation.
The views and opinions expressed in this article are those of the author and do not necessarily reflect the views of NYJW or its parent company, 70 Faces Media.