Sixteen years ago, a few days before the verdict was announced in the British case in which Jewish studies professor Deborah Lipstadt stood accused of defaming Holocaust denier David Irving, she told me that though her life "had been disrupted…for several years, I feel I was blessed.
"I was given an opportunity to stand up for what I believe in, to marshal every force I have against evil," she explained in her first post-trial interview.
And she prevailed.
In the end, on April 11, 2000, almost four years after the suit was filed, and following a trial that went on for 32 days, the English High Court ruled against Irving, who was castigated by the judge as a bigot and anti-Semite. It was a major victory not only for Lipstadt, but for history, memory and truth.
Now the dramatic story of that legal battle has arrived on the big screen, and Lipstadt, already well known and highly respected in the academic world and international Jewish community, is about to become a household name.
"Denial," the feature film based on her 2006 book, being reissued as "Denial: Holocaust History on Trial" (originally titled "History On Trial: My Day in Court With A Holocaust Denier"), opens here at selected theaters next Friday. A native New Yorker, she is scheduled to appear at a showing at JCC Manhattan that morning.
The film stars Academy Award winner Rachel Weisz, who captures Lipstadt's tone and mannerisms to perfection, revealing a smart, independent and sometimes brash woman passionate about her mission – to tell the story of the Holocaust with authenticity.
But Lipstadt didn't initiate the biggest battle of her professional life, one that became a landmark case with implications for how the Holocaust will be studied for generations to come.
It was born in a brief phrase in her 1993 book, "Denying The Holocaust: The Growing Assault on Truth and Memory," which focused on those seeking legitimacy in refuting the history of the Shoah. The passage described Irving, a prolific British writer on World War II who calls himself a historian, as "one of the most dangerous spokesmen in the service of Holocaust denial." Lipstadt based her conclusion, in part, on Irving's writings that Hitler did not plan The Final Solution and that there were no gas chambers at Auschwitz.
After her book was published in England, Lipstadt was shocked to find out that Irving was suing her for libel. She was further distressed to learn that in British libel cases the burden of proof is on the defendant, who is presumed guilty unless she can prove her innocence.
Lipstadt felt she had no choice but to fight back. "If I settled [out of court], it would be admitting I libeled him and that his version of the truth is correct," she told me during a recent phone interview. The authenticity of the Holocaust narrative would be up for debate.
Support the New York Jewish Week
Our nonprofit newsroom depends on readers like you. Make a donation now to support independent Jewish journalism in New York.
Courtesy Liam Daniel/Beeker St
In telling Lipstadt's story, the filmmakers stuck closely to her account, and focused on how she struggled to rein in her take-charge nature and defer to her British lawyers in devising a strategy to defeat Irving. That meant Lipstadt not taking the stand, and the defense not calling any Holocaust survivors to testify. The attorneys felt that on cross examination, the prosecution would "pull to pieces" their testimony.
Unlike many true-life-based movies like "Norma Rae" and "Erin Brockovich," which dramatize people who don't have a voice and find one, this story is about someone who had a voice and had to suppress it.
Mick Jackson, the Emmy Award-winning director of the film, says its title has a double meaning — defeating a Holocaust denier, and requiring an act of self-denial on Lipstadt's part. She had to forego "the glory of standing up in court and speaking to this monster," he said.
Sitting in a small screening room on a recent evening, I was caught up once more in the gripping, authentic story — every word from the trial scenes is taken from the actual trial — and in the larger theme of defending objective historical truth in an age of relativism.
"There are not two sides to every issue," Lipstadt insists. "My students [at Emory University] often believe everybody has a right to their opinion. But facts are facts. Historians can debate how the Holocaust took place, but the fact is, the Holocaust happened."
 
A Matter Of Trust
 Lipstadt was first approached about having her book made into a film eight years ago, she told me. Initially skeptical, she gradually came around, impressed by the persistence, professionalism and seriousness of the producers, Russ Krasnoff and Gary Foster, who had studied her work carefully and done their homework.
"I felt a need to entrust this story to someone who cares about the truth," she said, "and they said 'we get it.'"
That trust on her part extended to allowing the producers, director Jackson, and scriptwriter David Hare to tell her story on screen. She had high praise for each, and for Weisz, "a lovely person," who spent several days with her and talked frequently on the phone. "Rachel's approach was to get inside my head, ask me how I felt at different key moments, to make her portrayal more accurate," Lipstadt said. "And I was willing."
Lipstadt was on the set for about half of the shooting of the film, which had scenes shot in London, Atlanta and Auschwitz, with permission from the Auschwitz-Birkenau State Museum for several interior as well as exterior scenes.
Lipstadt noted that producer Krasnoff flew to Poland for a day to show an almost-final cut of the film to museum officials at Auschwitz to assure its accuracy.
How will David Irving react to the film? "My guess is that reporters will interview him and he'll say the film got it all wrong," Lipstadt said, "and some people will believe him." She believes he is "still at it," writing his false version of World War II, but she hasn't tracked his career since the trial. "I have much work to do, and he stole enough of my life – my writing, teaching and personal matters."
Lipstadt is excited about the attention "Denial" is getting, but said she hopes "this hasn't changed me at all. It did change how people listen to me. It's given what I have to say more clout, and because I have a flippant side, I am more careful about what I have to say."
Support the New York Jewish Week
Our nonprofit newsroom depends on readers like you. Make a donation now to support independent Jewish journalism in New York.
She says she wants people to understand that the Holocaust "is the best documented genocide in the world." Specific aspects "but there is no denying it. It can't be debated. And that's not being close-minded; it's acknowledging the truth."
 
Gary@jewishweek.org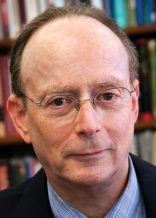 was editor and publisher of The Jewish Week from 1993 to 2019. Follow him at garyrosenblatt.substack.com.
The views and opinions expressed in this article are those of the author and do not necessarily reflect the views of NYJW or its parent company, 70 Faces Media.