When I emailed an Israeli journalist friend the other day, asking him to write a piece on what Shimon Peres meant to the Jewish state, he begged off, noting that he was still too angry over Peres' role in the Oslo Accords.
The response was a reminder, at this time of mourning, that while Peres is most remembered globally for the last chapter of his long life, when as president of Israel his memorable statements about peace and a prosperous future were embraced widely, many of his countrymen have a longer memory. His critics recall him as a naïve dreamer who received a Nobel Prize for a peace treaty that resulted in intifadas, tragic violence and a bitter Israeli-Palestinian stalemate that seems hopeless today, more than two decades after the agreement he heralded and helped craft.
In truth, Peres, the last of his generation of Israel's leaders, outlived his rivals and fiercest critics. That observation hit home for me when I watched him, at 88, bestowing the Presidential Award of Distinction on Henry Kissinger, then 89, at a Jerusalem conference in 2012, as 4,000 attendees stood and cheered. When Peres praised the former U.S. secretary of state as "a great statesman and a great Jew," I wondered if historical amnesia had seeped into the room. For here was a man who lost several elections for prime minister — he served twice, but was never voted in to the post — receiving an ovation alongside Kissinger, who was widely considered unsympathetic to Israel in brokering Mideast peace deals, sought to dissuade President Nixon from supporting the cause of Soviet Jewry, and was married in a church. But history is the past, and most of us live firmly in the present. Peres, by contrast, always focused on the future.
A hawkish defense minister who for a time supported settlements, he became the prophet of peace and compromise. Once the most mocked and mistrusted of his country's politicians, he became its most popular leader, almost certainly the best-known and most beloved Israeli in the world in this century.
In recent years the Israeli Presidential Conference — known simply as The Peres Conference — became a Jewish version of the Davos Economic Forum. It was a buzz-worthy annual extravaganza in Jerusalem that attracted thousands of delegates and dozens of world dignitaries, Nobel Prize winners, thought leaders and pop entertainers, primarily due to the aura and influence of Peres, who served as Israel's president from 2007 until he retired in 2014 as the world's oldest head of state.
Barbra Streisand hugs Israeli President at the time, Shimon Peres, at Peres' 90th birthday gala on June 18, 2013 in Jerusalem, Israel. Getty Images
Surrounded by headline-makers from Kissinger to Sharon Stone to Barbra Streisand, who serenaded him on the occasion of his 90th birthday celebration in 2013, Peres was the star attraction at the forums, sharing his charming aphorisms on subjects from the political to the personal. At the 2012 conference, near the end of a session on learning from one's mistakes, Peres said, "Close your eyes a little bit," in warning against striving for perfection. "You cannot make love or peace with open eyes."
Some would argue that he made peace with his eyes closed, winning a Nobel Peace Prize (along with Yitzhak Rabin and Yasir Arafat) for the 1993 Oslo accord that held great expectations for Israeli-Palestinian reconciliation but soon turned to seemingly endless bloodshed. His 1993 book, "The New Middle East," envisioned strong ties between Arab and Jew along with secure borders and a thriving economy.
Even when Arafat, shortly after signing the Oslo agreement, spoke out (in Arabic) against it, suggesting that it was a ruse, Peres chose to ignore the implications. "Give the man his rhetoric," he told me during an interview at the time.
But his charm, intelligence, and unwavering commitment to the cause of peace were deeply appealing. And his ability to seize the moment, with innate dignity, was remarkable. During a 2008 conference in Petra, Jordan sponsored by the Elie Wiesel Foundation and the King of Jordan, Peres spoke, and praised Anwar Sadat and King Hussein for each making peace with Israel. That prompted Amr Moussa of the Arab League to angrily take the podium and criticize Peres as "a master talker" who treated the Palestinians unfairly.
Even as Moussa was applauded, Peres calmly rose and urged the representative of the Arab League to come to Israel and make his case to the Knesset. "Tell us how you can guarantee an end to the shooting," he said.
Support the New York Jewish Week
Our nonprofit newsroom depends on readers like you. Make a donation now to support independent Jewish journalism in New York.
'Concentrate On The Future'
While some called Peres a dreamer, others saw him as a visionary. Either way, he defined himself as a man of the future; "Facing Tomorrow" was the theme of the last presidential conference he hosted as he turned 90.
Born Syzmon Perski in Poland, he came to Israel at the age of 11, and became a favored aide of Israel's first prime minister, David Ben-Gurion, credited with playing a decisive role in Israel's becoming a nuclear power. During the course of a political career that spanned almost seven decades, Peres held numerous cabinet positions, including prime minister — once in a unique, shared rotation with Yitzhak Shamir, and for seven months following the death of Rabin in 1995.
The Peres-Rabin relationship was longstanding and complex. Rabin was a military hero and introvert; Peres, though a defense minister, never served in the IDF, and was far more outgoing. Like other political contemporaries, Rabin accused Peres of being self-centered and dishonest, taking credit for the accomplishments of others. But the two men grew close serving together in the early 1990s, with Rabin prime minister and Peres the foreign minister who helped negotiate the Oslo deal.
Peres mourned Rabin's death, and though he could have held elections soon after that traumatic event and no doubt would have won, he chose to wait so as not to appear to be riding an emotional national wave of sympathy for their Labor Party and its peace efforts. That strategy backfired, though, when a deadly round of suicide bus bombings leading up to the national elections in 1996 found Israelis choosing the more hawkish Benjamin Netanyahu as their leader.
Perhaps of all the posts Peres held in his remarkable career, the most fitting and successful was as president, a non-political office that allowed him to express his views on an international platform. He came to symbolize Israel as Start-Up Nation, a leading advocate of creativity and brain power when natural resources were lacking. His enthusiasm and energy never flagged, and his optimistic nature never waned. "Concentrate all efforts on the future," he said, at 88, at one of his conferences. "You are as young as your dreams…Let the past rest quietly."
One image I will always remember with a smile is the final scene of a creative and humorous six-minute video Peres' granddaughter made with him two years ago as his outgoing presidential message — rather than "a book no one would read," she told me at the time. It features Peres job-hunting after retiring from the presidency, with short scenes of him as a gas station attendant, supermarket clerk, and pizza delivery man — delivering lines that sum up his career and philosophy. In the last scene he parachutes from a plane with a frightened young man, telling him, "The future belongs to those who dare."
Shimon Peres was a leader who dared to dream big, and, like the country he loved, he helped many dreams become reality.
May his memory be a blessing. 
Gary@jewishweek.org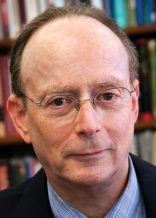 was editor and publisher of The Jewish Week from 1993 to 2019. Follow him at garyrosenblatt.substack.com.
The views and opinions expressed in this article are those of the author and do not necessarily reflect the views of NYJW or its parent company, 70 Faces Media.