Less than two weeks into his new post as editor of The Atlantic, Jeffrey Goldberg takes pride in being "the third most hated Jew in America," he says, based on the number of social media attacks he has received from apparent supporters of Republican presidential candidate Donald Trump.
"I was excited to make the Top Ten, taking the bronze [medal]," he jokingly told Julia Ioffe, a foreign policy journalist who interviewed him at a Jewish Week forum, in partnership with American Friends of Tel Aviv University, at the Temple Emanu-El Skirball Center last Thursday evening. More than 500 people were in attendance.
Goldberg pointed out that Ioffe was on "the Top Ten list" as well; her in-depth profile of Melania Trump in GQ last April was criticized by the Trumps and prompted vicious, anti-Semitic postings on the Internet against her.
"I told my kids they should be proud. If the Nazis hate us," Goldberg told Ioffe, "we must be doing something right."
Goldberg is known for his sarcastic wit, but mostly for his in-depth, insightful reporting and access to world leaders. For the last nine years he has been at The Atlantic, the liberal monthly founded in 1857. He has also written for The New Yorker and The New York Times Magazine, often focusing on Israel, Mideast terror and American foreign policy. His lengthy April cover story in The Atlantic, "The Obama Doctrine," based on a number of extensive interviews with the president, offers a remarkably detailed and thoughtful look into Obama's views on a wide range of tough foreign policy decisions he has faced in the White House.
The forum's topic was "After Obama: America, Israel, the World." While much of the discussion focused on Trump and Hillary Clinton, Goldberg noted that he thinks Obama will be glad to be done with the Middle East after he leaves office. "In my opinion, he doesn't like Arab leaders. He has great respect for and frustration with Israel. And no leader has been as frustrating to him as Bibi" (Netanyahu, Israel's prime minister).
Goldberg put "75 percent of the blame" for the two leaders' combative relationship on Netanyahu, most notably for his "reckless gamble" in attacking Obama's Iran nuclear deal in his address to Congress last year.
"It's on Israel, the client state, to repair or strengthen the relationship," Goldberg said, speculating that Obama may visit Israel in the future "to buttress his liberal views" on the Jewish state.
Discussing the upcoming presidential election, Goldberg and Ioffe gave short shrift to Trump as a serious candidate for president. "Nothing he says matters to me," Goldberg said. "He has no fixed opinions, everything is transactional. When he speaks about Israel generally, Israel is great, Obama is terrible. It's a simplistic and easy narrative. Mostly slogans."
Goldberg said he wonders what makes Jewish supporters of Trump think he will be consistent in backing Israel. "We have no idea what his policies are."
He described Clinton as "more emotionally attuned to Israel than Obama," and as "pro-Israel from center-right to center-left," including support for a two-state solution with the Palestinians. He described Israeli-Palestinian relations now as "comatose."
Support the New York Jewish Week
Our nonprofit newsroom depends on readers like you. Make a donation now to support independent Jewish journalism in New York.
After Obama: Atlantic editor Jeffrey Goldberg and foreign policy journalist Julia Ioffe at Jewish Week forum. Judah S. Harris
Goldberg predicted that Clinton "would not publicly criticize Israel, as Obama has done." He said she would "restore equilibrium" so relations would be "quieter, smoother."
Before being named editor, Goldberg played a key role in writing The Atlantic's recent editorial endorsing Clinton. It was only the third time in the magazine's history that it endorsed a candidate, the first being in 1860 in favor of Abraham Lincoln for his anti-slavery stance. Goldberg said the current endorsement was similar to the one in 1964 endorsing Lyndon Johnson over Barry Goldwater in that it was mostly about the negatives of the Republican candidate.
"Ours was more about Trump than Hillary, and not really about ideology," he said.
(When Ioffe pointed out that The Jewish Week's endorsement of Clinton this year was its first, he quipped, "first time in 2,000 years… since they came out for King David.")
Discussing media coverage of the presidential campaign, Goldberg observed that "we are at a post-truth moment," where "Trump denies saying things he actually said," and some in the media have been reluctant to point out that he is lying. "We've been slow to call things by their name," he said.
Goldberg asked Ioffe, who was born in Russia and covered Moscow for The New Yorker and Foreign Policy, to explain Trump's benign view of Russian President Vladimir Putin. She attributed it to a certain "macho affinity" the two men share. "Trump likes when people say nice things about him," she said.
Turning to the Mideast, Goldberg said that given the Syrian civil war and chaos in much of the region, the Israel-Palestinian conflict "has never been less critically important than now." He believes Clinton would not make any peace overtures early in her tenure – his assumption was that she will be elected – because "there's no percentage in it."
He predicted that she would spend the first months in office "calming our allies" through visits to countries like Japan, Saudi Arabia, Israel, Jordan and South Korea, reassuring them of American support in light of Obama's attempts at avoiding overseas conflicts and Trump's sometimes dismissive comments about the value of the NATO alliance.
As important as Israel is to Americans, Goldberg said, "NATO is our key partner" for international stability and most vital foreign policy relationship.
The major long-term concerns for the U.S., he added, are "managing China" while avoiding a military conflict, dealing with the prospect of North Korea having nuclear weapons in the next five years that could reach San Francisco and the ongoing threat of ISIS staging a large-scale attack on the U.S.
The key foreign policy issue in this presidential election, Goldberg said, is whether the U.S. will "turn inward and cease to play a role in global stability" or understand the importance of "American engagement in the world," as messy as that may be. 
At several points during the discussion Goldberg voiced deep concern about what he sees as the growing divide between Israel and American Jewry. He described the two societies as "like ships" passing "in the night," with Jerusalem, hunkering down, moving to the right, and Jews here increasingly assimilated and universalist in outlook.
Support the New York Jewish Week
Our nonprofit newsroom depends on readers like you. Make a donation now to support independent Jewish journalism in New York.
Terms like "pro-Israel" are up for debate today, Goldberg said, with liberal American Jews warning that Jerusalem's policies are self-destructive, and Israelis resisting lectures about their own self-interest.
"One day," he warned, Israeli leaders, with their settlement policy and "denial of religious freedom" to non-Orthodox Jews, may "look back and find that American Jews aren't behind them anymore."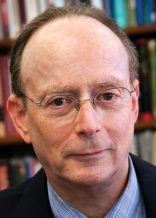 was editor and publisher of The Jewish Week from 1993 to 2019. Follow him at garyrosenblatt.substack.com.
The views and opinions expressed in this article are those of the author and do not necessarily reflect the views of NYJW or its parent company, 70 Faces Media.