A case could be made that Rabbi Ari Berman has Yeshiva University in his genes, that he was born to lead it.
In his first in-person interview the day after being elected president of YU, effective next July, he told The Jewish Week that his father and mother were presidents, respectively, of the student councils of Yeshiva College and its sister school, Stern College for Women, in the early 1960s.
In addition, Berman, 46, an engaging and affable former pulpit rabbi of The Jewish Center on the Upper West Side, is a graduate of YU's MTA high school for boys, Yeshiva College and Rabbi Isaac Elchanan Theological Seminary rabbinical school, and received a master's degree in medieval Jewish philosophy from the university's Bernard Revel Graduate School of Jewish Studies. He was also a fellow in the Kollel Elyon, YU's three-year post-ordination program for rabbinic scholars, and taught Talmud as an adjunct in the college's beit midrash program.
Voted in last Tuesday as only the fifth president of the school since it was founded a century ago, Berman acknowledged the challenges he faces, given YU's well-documented financial problems of recent years. But looking to the future, he emphasized "the enormous potential" of YU, which he described as "an institution and an idea." His goal, he said, is to embody the school's motto of "Torah U'Madah" (Torah and secular knowledge), educating young men and women to be devoted, observant Jews grounded and excelling in secular professional fields. He seeks to do so, he said, by "expanding enrollment, making clear the values" of a YU education and "reinventing ourselves" to adapt to "a world that is constantly changing."
The election of a new president of Yeshiva University is of major significance because, with 7,000 students in undergraduate and graduate programs, including a rabbinical school, YU is more than a university; it is the flagship of the Modern Orthodox community. And its president is not only its top administrator but a major figure and potential leader of the movement.
So the choice of Berman, after a year-long, shielded search for a successor to Richard Joel, who has served since 2003, is being closely observed.
Is he sufficiently learned in halacha, or Jewish law, to have the respect of the rabbinic faculty? Will he tilt Modern Orthodoxy to the left at a time when many women seek greater engagement, even as ritual leaders, in synagogue life? Or will he move to the right in an era when charedim are in ascendance? Is he a secular scholar of stature to head a university? Does he have the vision and charisma to inspire students? And most practically, does he have the administrative and fundraising skills to raise YU out of its deficit and steer its complex parts in an era when many private universities are facing major economic challenges?
Leaving Israel for YU: Rabbi Ari Berman says he is prepared to raise funds for and image of his alma mater. YouTube screenshot via JTA
"Even the most exceptional candidate can't do it all," noted Rabbi Jacob J. Schacter, university professor of Jewish history and Jewish thought at YU and senior scholar at its Center for the Jewish Future. A mentor to and close friend of Berman, he has known and admired him for more than two decades and is a major advocate. "He is totally committed to Modern Orthodoxy and religious Zionism," Schacter said of Berman, who served as his assistant rabbi at The Jewish Center in Manhattan from 1994 to 2000, and then succeeded him when Schacter took another rabbinic post. "He is passionate, very bright, warm – a wonderful exemplar of Torah U'Madah. He has a clear sense of YU and its needs."
Schacter noted that Berman has the experience and skills to make partners of those he will be working with – students, faculty, administrative staff and donors – "so that everyone should feel a sense of ownership and be ambassadors for the university. I am extremely enthused and excited about his election. YU is in excellent hands."
The rabbinic faculty, some of whose members opposed Joel's appointment 13 years ago because he is neither a rabbi nor Talmudic scholar, are pleased with the choice of Berman.
Not everyone shares their enthusiasm, though. While each person interviewed for this column commented on how likeable, bright and committed to the work Berman is, several faculty and lay leaders, who requested anonymity due to the sensitivity of the situation, questioned whether he had the experience and skillset for the job at hand. "His CV read like someone who would make an excellent yeshiva high school principal," one said, "but not president of a major university."
Support the New York Jewish Week
Our nonprofit newsroom depends on readers like you. Make a donation now to support independent Jewish journalism in New York.
That CV shows that after serving as rabbi of The Jewish Center from 2000 to 2007, Berman made aliyah in 2008 with his family — he and his wife, Anita, have five children — and earned a Ph.D. from Hebrew University in Jewish law during the Middle Ages. Since last year he has been CEO of Hechal Shlomo-Jewish Heritage Center in Jerusalem, and has taught at Herzog College and Midreshet Moriah (Israel College of Technology for Women).
Observers say he will need all of that experience, and perhaps more, to put YU back on solid financial ground and improve its image after years of serious setbacks. The school lost more than $100 million in the Madoff scandal of 2008, its bond rating sank and it was forced to sell some of its real estate. Two years ago YU gave over financial responsibility of its Albert Einstein Medical School to Montefiore Medical Center, saving millions of dollars.
Those and other efforts helped reduce YU's deficit from more than $125 million to an estimated $24 million.
When he assumes the presidency next summer, Berman will seek to energize donors and placate and engage a faculty that has grown restless and frustrated from cutbacks and frozen salaries. Richard Joel, the president, lost much of his popularity after the Madoff losses. Once heralded as a highly effective and visionary leader, he was subjected to a "no confidence" vote among undergraduate faculty members last year.
Berman said he is well aware of the problems at hand, but expressed optimism for the future, asserting that the university "has made great progress." He spoke of not just seeking "a turnaround" in addressing the problems facing the university, but "a transformation that is about mission and vision."
The YU campus. Rabbi Ari Berman will take the reins as the school is trying to dig its way out of a financial hole. Wikimedia Commons
Sustaining and growing YU "is one of the great Jewish endeavors of our generation," he said, "important and impactful not just for the Modern Orthodox community but for the Jewish community in general. We need to be clear-eyed and strategic but also more ambitious."
He stressed the importance of expanding enrollment by convincing parents and prospective students of the "value added" a YU education can provide. Facing competition from schools like Touro College and Ner Israel Rabbinical College on the religious right, and secular schools like prestigious New York University and more-modestly priced Queens College, Berman said that YU alone can provide both a high quality Judaic and secular education under one roof, and offer social networks and close friendships that can last a lifetime.
He stressed his emphasis on "collaboration" and "working as a team" to address "the serious challenges" of making a religiously observant life relevant in 21st-century America.
Berman was elusive on details about how he would achieve his goals, or in which direction he would like to lead Modern Orthodoxy. His remarks seemed scripted at times, perhaps the result of having held numerous meetings with the YU board and faculty members eager to meet and get to know him in recent weeks.
When it comes to resolving delicate issues of policy, "I'm more about having the conversation," and at times the debate, than in choosing "the direction," he said.
"After all," he added with a smile, "I've only been in this position for about 12 hours." 
Gary@jewishweek.org
Support the New York Jewish Week
Our nonprofit newsroom depends on readers like you. Make a donation now to support independent Jewish journalism in New York.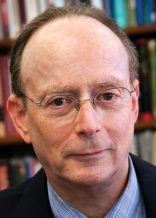 was editor and publisher of The Jewish Week from 1993 to 2019. Follow him at garyrosenblatt.substack.com.
The views and opinions expressed in this article are those of the author and do not necessarily reflect the views of NYJW or its parent company, 70 Faces Media.