When he was 15, Boris Drezner, a self-described "quiet kid" interested in electronics, heard an inspirational talk in school that transformed his life.
He was in class in Eilat, at the southern tip of Israel, listening to a representative of the local branch of Unistream, a project that provides leadership skills to teens from underprivileged communities throughout Israel, helping them to form their own start-ups and become confident, savvy entrepreneurs.
"He asked us, 'Who wants to succeed in life?'" Drezner recalled in a recent interview. "It made me listen very carefully to his words. I thought: 'Man, I want to be influential like him.' I still have the feeling that I carried away from that talk."
Drezner applied for and was accepted to the Unistream program, which offers three years of leadership training during the high school years — two three-hour sessions a week after school, meeting with successful business leaders who take an active and ongoing interest in the students. Each group of about 25-30 students is charged with coming up with an idea for a marketable product, and then raising funds to develop, produce and sell it.
Now 20, Drezner works for a web security company and says Unistream was instrumental in his landing the position. "Their contact with me didn't end when I finished high school," he said. "They are always with me, helping me a lot. Unistream doesn't end at 18 and the end of your project."
Since Unistream was launched in 2001, more than 2,000 youngsters have attended the program — about 75 percent are Jewish and the rest are Muslim, Druze and Christian. Ninety percent have earned full high school matriculation certificates and 66 percent continued on to higher education. Fifteen percent of Unistream alumni have founded independent businesses — about double the national average of 25-year-olds — 28 percent do volunteer work, 99 percent serve in the Israel Defense Forces (compared to the national average of 79 percent) and 10 percent serve as officers.
As Unistream has expanded, it currently has 2,000 students enrolled from 50 localities around the country, meeting in 13 different centers in communities like Safed, Acco, Haifa, Upper Nazareth, Afula Hadera and Netanya.
The person behind this national effort to help close Israel's socioeconomic gap, one of the widest in the developed world, is Rony Zarom, a serial entrepreneur who has homes in New York City and Israel and has founded, led and sold a number of successful Israeli high tech companies.
A self-made man who grew up in Ramle, a poor community, Zarom decided to "give back," he told me. He takes great pride in Unistream, which he started to not only help young people socioeconomically, but to deal with bias in Israeli society by bringing Jewish and Arab Israeli teens together in a way that fosters cooperation. "The program has become a driving force for change in the community," Zarom said. It has also received national attention as a recipient of the Presidential Volunteer Medal (2013) and through its sponsorship of an Entrepreneur of the Year competition that attracts a full house to Jerusalem's convention center each summer.
Last month the Jewish Federation of Greater Los Angeles announced a "multi-year, multimillion-dollar strategic partnership in Israel" with Unistream to dramatically increase the number of young people the program serves. Jay Sanderson, president and CEO of the Federation, said the L.A. charity hopes to help bridge Israel's economic gap "between those who are living the start-up dream and those who haven't even had the opportunity to dream at all."
Bat Sheva Moshe, CEO of Unistream, said her organization was excited to have the L.A. Federation as a partner, and hopes, in time, to establish similar arrangements with community federations, charities and companies in the U.S. and Europe committed to strengthening Israeli society. She noted that a new program sponsored by JP Morgan helps Unistream alumni find work in the ICT (information and communication technology) sector.
One key ingredient of Unistream's success is in having about 2,000 Israeli entrepreneurs and business leaders involved, with many serving as active mentors. Nir Hertzman, founder of several organic food companies, lives in Zichron Yakov and specializes in taking start-ups from design to production. In his seven years as a mentor in the Unistream program, he acknowledges that sometimes the teen groups have a hard time working together, like a cohort in Maalot, on Israel's northern border, that was made up of Jewish, Muslim, Christian and Lebanese teens. "It can be challenging," he said. "You need to invest a lot of energy to help them become a team."
Support the New York Jewish Week
Our nonprofit newsroom depends on readers like you. Make a donation now to support independent Jewish journalism in New York.
The experience is intense but rewarding, Hertzman noted, asserting that "there are many successful CEOs who don't have the practical knowledge these kids get in developing a product, complete with design and marketing. Unistream really trains these kids, and it gives me a lot of joy and insight to see their minds and skills developing."
While the intent of the team projects is to promote leadership skills through the exercise of creating, developing and marketing of actual products, some of those products have come to market. Success stories include a lunch box that can be heated without electricity, a bike helmet with a signaling system transferred from the handlebar, a stencil for professional eyeliner application, and the Tic-Tac Hijab, a headscarf with tic-tac pins to make it easy to put on and comfortable to wear.
Boris Drezner, the young man from Eilat, described the project he took part in, developing a product to cover car seat belts so they don't burn drivers or passengers when they return to cars parked in the hot Eilat sun. The first year was devoted to coming up with the concept, the second year was spent planning and developing it and the third-year goal was to raise the funds to produce it.
"We put on shows at some of the local hotels, half stand-up comedy and half music," he recalled. "I was the host, and I'd never stood before a crowd of hundreds of people, including the mayor and businessmen. They loved the idea of teens doing this. We raised 3,000 shekels (about $800), and sold some to hotels to give to their employees as a gift."
The problem, he noted, was that when the program ends, "we all join the army," and the project usually ends, too. "We had about 1,000 car covers left over so we gave them to the next Unistream group and they sold ours to help raise money for their product," Drezner said.
Bat Sheva Moshe, Unistream's CEO, started out as a social worker and headed two Unistream groups in Acco, an underdeveloped town with many immigrants, Jews and Arabs. She emphasized that the mission is not to create commercial companies through the team projects, but rather "to give the students the tools to succeed and be self-sufficient. Many come from poor families and see no bright future for themselves. We teach them how to talk to each other. We give them knowledge and we give them dreams."
She said Unistream is continually working to expand, including new populations in the mix, like young charedim and foreign workers, and placing alumni in productive jobs.
Founder Rony Zarom, who serves as chair, said Unistream seeks "to convince young people they can change their future." The program accepts only about 20 percent of those who apply. "It's not their grades we are looking for," he said. "It's about motivation, the look in their eyes.
"The big challenge," he added, "is to help them make the transformation from Unistream, which is like family for them, to the real world, with the prejudice and misconceptions they have to face. But we want them to know we are there for them because these will be our society's leaders in the future."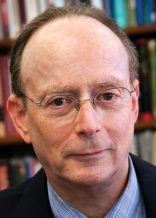 was editor and publisher of The Jewish Week from 1993 to 2019. Follow him at garyrosenblatt.substack.com.
The views and opinions expressed in this article are those of the author and do not necessarily reflect the views of NYJW or its parent company, 70 Faces Media.