Political correctness in the hallowed sanctuary of Temple Emanu-El took a night off last Wednesday for an evening with Mel Brooks, sponsored by the temple's Streicker Center. The adoring, sold-out crowd, including the priest who sat behind me, laughed throughout the introductory clips from some of the legendary comic's classic movies, including Moses dropping five of The 15 Commandments and the tasteless Inquisition dance number from "History Of The World, Part I" ("It's better to lose your skullcap than your skull").
When asked how it was possible, in 1974, to make a movie like "Blazing Saddles," with its hilarious vulgarity and outrageous take on racism in the Old West, Brooks, still sharp and spry at the age of 91, relished the opportunity to explain. He told the audience of 2,400 fans how he responded to the uptight movie execs who had just screened a rough cut of the film.
"They sat me down and told me 'no farting and no punching of old ladies and no punching a horse in the face' and I said 'yes, yes' and wrote it all down. And when they left, I crumpled up the piece of paper and threw it away," he said. "Otherwise, it would've been an 11-minute movie."
Interspersing reminiscences from his long career with a few jokes, back stories about his TV days and filmmaking, and a series of snappy responses to written questions from the audience, Brooks implicitly reminded us how he broke a cultural barrier in mainstream entertainment by satirizing racists and Nazis more than a half-century ago.
It's true that many Jews and others were outraged at the first film Brooks directed, "The Producers" (1967) — originally titled "Springtime For Hitler" — with its mocking of Der Fueherer as a buffoon. But Brooks' style of rebellious humor was widely accepted by the masses as well as the critics. The movie won him an Oscar for Best Original Screenplay, and the subsequent Broadway musical was a huge financial hit and took home a record-breaking 12 Tonys, including Best Musical.
Pretty remarkable for a Jewish kid from Brooklyn who sprinkled his comedy routines and films with offensive Yiddishisms like "schmuck" and "shvartze" and got away with it. Somehow, for many — but certainly not all — his earthy but puckish style has managed to ridicule conformity without seeming mean-spirited.
In our binary society today, obscenities and nudity are commonplace on cable TV while political correctness is pervasive on campus, where professors risk their jobs if they tell a joke that may offend students in the classroom. (And let's face it, most humor mocks something.)
Brooks has long maintained that if you can make people laugh at fascists and Nazis, even Hitler, "you've won the day."
There was no philosophizing at the Streicker program, though. Back by popular demand — Brooks had a sold-out crowd there last October — the comic may have been testing the waters at the outset of the evening with a gently subversive joke in the hallowed halls of the iconic Reform temple.
He told of a wealthy man who offered his rabbi $10,000 to give his new Cadillac a bracha. The rabbi refused, as did another, so the man made the offer to a Reform rabbi who said, "I'd be happy to, but what's a bracha?"
The crowd roared.
Seated in conversation with the interviewer/straight man he introduced as "Kevin, a goy" (his son's best friend), and at times springing to his feet and pacing the stage, Brooks recalled his childhood in the Williamsburg section of Brooklyn where his widowed mother — his father died when Brooks was two — raised four boys in a small apartment.
Support the New York Jewish Week
Our nonprofit newsroom depends on readers like you. Make a donation now to support independent Jewish journalism in New York.
He said that in 1935, at the age of nine, after attending the opening night of the Cole Porter classic "Anything Goes" on Broadway with his cab driver Uncle Joe, he decided on his life's pursuit. He told his uncle he was not going to work in the garment center, as so many did at that time, but that show business was for him.
Brooks shared stories about his early days as a tummler in the Catskills Borscht Belt and his time as a comedy writer (along with the likes of Neil Simon and Woody Allen) for Sid Caesar, whose television show in the early 1950s, "Your Show Of Shows," was a major hit and whose brute strength, cigar smoking and drinking habits were legendary. One night, Brooks said, he was writing jokes for Caesar in the star's smoke-filled hotel room, when he complained about the lack of air. Caesar picked him up by his belt, dangled him outside the hotel window, and bellowed, "Got enough air?"
The last segment of the program had Brooks responding to written questions from the audience. (Even if some of those were "planted" in advance, he proved that his Q and A timing, made famous in his 2,000-Year-Old Man routines with straight man Carl Reiner, is still impeccable.) A few examples:
Question: "How's your sex life?"
Brooks: "I can't remember … but I have some kids."
Question: "Boxers or briefs?"
Brooks: "Depends."
Question: "What's the secret to your longevity?"
Brooks: "Don't die."
Footnote: At a VIP reception after the program, Brooks, with a beefy security guard beside him, made his way through the crowd of about 100 people for a few minutes, shaking hands and posing for selfies. When I had a moment with him, I reminded him that I interviewed him in 2000 — it was on the occasion of the release of his 2013-Year-Old Man album — and had asked him to name the three most important Jews of the 20th century. At the time, I was amazed that he offered a serious response, naming Sigmund Freud, Albert Einstein and, to my surprise, Chaim Soutine, the French-Russian expressionist painter known for his use of bright colors (and currently the subject of a major exhibition at The Jewish Museum).
Standing in the noisy crowd, I asked Brooks if he remembered who he had cited besides Freud and Einstein 18 years ago.
"Sid Caesar?" he asked.
Support the New York Jewish Week
Our nonprofit newsroom depends on readers like you. Make a donation now to support independent Jewish journalism in New York.
"Soutine," I had told him. "You told me 'the man knew red!'"
"That's right, he knew red!" Brooks said, pinching my cheek with a smile and moving on.
A few moments later, he was gone, but the smiles on the faces in the crowd remained.
Gary@jewishweek.org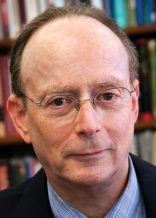 was editor and publisher of The Jewish Week from 1993 to 2019. Follow him at garyrosenblatt.substack.com.
The views and opinions expressed in this article are those of the author and do not necessarily reflect the views of NYJW or its parent company, 70 Faces Media.