A Jewish boy grows up poor. He goes to Hebrew school. Excels in academics and sports. Attends a prestigious college. He sees himself as a storyteller and an entertainer. After working hard, he tastes success in his 20s, and by his mid-30s he's a superstar.
We are familiar with this story. It applies to many of the 20th- century's "great Jewish men" in the arts. Men like Philip Roth or Woody Allen, whose legacies have been debated at length. Each grew up at a time when anti-Semitism was commonplace, often manifest in physical attacks. Each lived to experience the nearly complete integration of Jews into American life — schools, jobs, neighborhoods and bedrooms.
Fear and lust motivated the fictional characters they created. Death and sex were their favorite topics. Each embodied and shaped the public understanding of Jewish manhood and sexuality, and for marginalizing American Jewish women.
Today, the Jewish boy described in the opening paragraph is Daveed Diggs. You probably know him as the Grammy- and Tony Award-winning actor who played Marquis de Lafayette and Thomas Jefferson with the original cast of the musical "Hamilton." Diggs grew up in Oakland, the son of a white Jewish mother and African-American father. He attended Hebrew school. Was a track star and academic standout. Graduated from Brown University.
This summer, at age 36, Diggs released "Blindspotting," a feature film based in part on the people he knew growing up. He wrote the script, plays the lead role and serves as a producer. It is the story of a friendship between two lifelong residents of Oakland, one white, one black, who rage against their displacement from the city they love by wealthy outsiders intent on commodifying their hometown's gritty authenticity. Diggs' character is also trying to avoid being shot by the police.
The title of the film refers to a trick our brains play on us when looking at an image such as Rubin's vase. Some of us see the white vase while others see the black faces. Our difficulty or reluctance to see the second image reflects a kind of mental blind spot. Even after we see both, one is always secondary.
When most American Jews look at Diggs, we have a blind spot. We see his blackness but not his Jewishness. This is not simply a function of his absence of Jewish signifiers, like a kipa on his head or Jewish star around his neck. We identify people as Jews all the time despite the lack of sartorial identifiers. Even when we know Diggs is Jewish, we don't perceive his Jewishness. When we hear him tell a story about his experience fearing the police, we don't hear a Jewish story. And yet, if Jews like Diggs experience that fear, how is it not a Jewish story?
When I was in college in the '90s, I was aware of Jews of color, but they had almost no visibility in American Jewish life. It seemed like the only time they were acknowledged was when the community trotted out Ethiopian Jews to counter claims that Israel's treatment of Palestinians was racist. But in recent years, this invisibility is changing.
Led by Jews of color and supported by progressive organizations committed to cross-racial organizing and centering marginalized communities, it has become increasingly common to see Jews of color in positions of Jewish leadership and visibility. As a friend wrote recently on Facebook, "It feels like progress when my response to a headline about a female African-American rabbi is, 'Which one?'"
Since #BlackLivesMatter emerged following the murder of Trayvon Martin in Florida, Jews of color, particularly women, have helped lead the engagement of a number of organizations, including Jews for Racial and Economic Justice (JFREJ), Bend the Arc and the Union for Reform Judaism, around issues of racial justice.
"Jews say black lives matter not only because we know what it is to be oppressed, but also because policy violence against black people is deeply personal for black members of the Jewish community," JFREJ told the press after one rally.
Diggs is a storyteller and an American Jew. What would it mean if he were one of the artists who replace Roth and Allen as a communal chronicler? What would it mean for American Jews if he were to create new archetypes that reflect the true breadth of our experiences and backgrounds? Are we open to the idea that Diggs may have something important to tell us about the American Jewish experience? Or will we keep blindspotting him, Jews of color, non-gender-binary Jews and others outside of the norms bequeathed to us by these literary godfathers?
Support the New York Jewish Week
Our nonprofit newsroom depends on readers like you. Make a donation now to support independent Jewish journalism in New York.
Mik Moore is a principal at Moore + Associates, a boutique creative agency in New York City.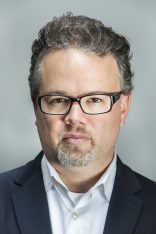 is the CEO of Moore+Associates, a creative agency based in New York City that works with political campaigns and non-profit organizations. He is the co-founder of Schlep Labs, a Jewish Super PAC, serves on the steering committee of The Jewish Vote and on the boards of several Jewish non-profits.
The views and opinions expressed in this article are those of the author and do not necessarily reflect the views of NYJW or its parent company, 70 Faces Media.