Today marks the opening day of the first ever Safety Respect Equity Coalition Summit. The coalition formed as a rapid response to #MeToo with a mission to address gender harassment and abuse in the Jewish world and is made up of influential Jewish foundations, heads of organizations, individual funders and activists who are committed to this sacred work. It is therefore a fitting day to reflect on what it means to be an ally and a partner which we recently explored through the book of Ruth on the heels of Shavuot (when we traditionally study this text). We are both committed partners to the work of SRE.
Ally: one that is associated with another as a helper: a person or group that provides assistance and support in an ongoing effort, activity, or struggle
As colleagues and educators, we had the good fortune to come upon one another in a professional training several months ago. After having the opportunity to learn in traditional chavruta (paired learning) there, we enjoyed it so much that we embarked upon a biweekly learning session. There is something magical that happens when you study with a partner. In our chavruta, whether studying Talmud or Torah, we bring our own knowledge and experience to our studies. It doesn't matter whether we lay our eyes on the text for the first or the hundredth time, we always peel away the layers and expose a new golden nugget to apply to our own lives and that is relevant to the work we are committed to doing. We come from very different Jewish experiences and upbringings, one of us a product of the Reform movement as a participant of the NFTY youth movement with a Reform rabbinic spouse, the other Orthodox with a deep background and literacy in text and commentary.
We parse the text, we debate, and we nurture and build each other's knowledge. It's a beautiful expression of partnership despite different backgrounds and experiences as we take on a shared goal.
As such, we studied the book of Ruth in preparation for Shavuot, and we focused on a powerful piece of the text that speaks directly to our work with JOFA and Ta'amod, the work of creating gender equity and respect.
We meet Naomi as she urges Ruth (and her other daughter in law, Orpah) to return to their ancestral homes. Orpah abides by the request but Ruth repeatedly insists on staying with Naomi, offering her now famous words, "Do not urge me to leave you, to turn back and not follow you. For wherever you go, I will go; wherever you lodge, I will lodge; your people shall be my people, and your God my God." (Ruth 1:16).
This moment is often considered the first conversion in Jewish tradition and while we do not need to take on another's faith to identify as an ally, the emphatic tone of Ruth's commitment indicates that she sees Naomi's causes as equal to her own. She transitions to functioning as her ally in this moment, to her partner.
This moment is just the beginning;as the story weaves the narrative, it offers a wealth of insights. There are life lessons to be gleaned in the text, from the suffering that comes from devastating loss, to the importance of family and people hood, to treatment of the most marginalized individuals in a community. As so many Jewish narrative texts do, the story provides many examples of the human condition, the importance of relationships and supporting one another and overcoming the trials that life brings.  
Upon returning to the Jewish people (in Judea), together they learn to live off the kindness of the community. The text introduces us to Boaz, a kinsman of Naomi's who provides shelter, sustenance, and work for the women. Already an ally in this way, he steps fully into the definition of allyship in chapter 2. As Boaz discovers her non-Jewish identity, rather than shun her, he proclaims, "Listen to me, daughter. Don't go to glean in another field. Don't go elsewhere but stay here close to my girls. Keep your eyes on the field they are reaping and follow them. I have ordered the men (ne'arim) not to molest you. And when you are thirsty, go to the jars and drink some of [the water] that the men have drawn." (Ruth 2:8-9). Boaz uses his power and position to secure Ruth's safety and sustenance. He also instructs the young men in the vicinity to leave her untouched and puts them in the position of being the provider of a basic human need – water. (We noted that this is an interesting deviation from the consistent representation of women as water bearers in our text.)
In Boaz's words and actions, we find a stunning demonstration of male allyship and role-modeling for the younger men who looked to him for leadership.
Today we continue to struggle with the fall-out of #MeToo. As a result we are more fully addressing systemic inequities and unconscious bias in the workplace and our communities – even as we see a growing trend of the erasure of women in mainstream Orthodox publications and experience a backlash against women in politics and social issues.
We must understand that progress will only happen when we see the need for gender equality as a human issue, not just a women's issue.
Boaz demonstrates an important step forward, but now in 2019, we must change the narrative from allyship to partnership just as Ruth did when chose to walk with Naomi toward something greater.
Partner: a person who shares with another in some action or endeavor.
If we want to see true gender equality, an end to gender harassment and abuse, a rise of women and all marginalized people in leadership roles, and a culture where all people are treated with the same inherent value, it is imperative that people of all genders partner in action. These lessons and mandates are foundational to Jewish identity and people hood. It is right there in the text. We all have the capacity to show up.
Nicole Nevarez is the inaugural National Director of Ta'amod: Stand Up! an initiative to end gender harassment and abuse in Jewish communal workplaces. She is also a coach, trainer, facilitator and consultant on healthy organizational culture.
Nicole is a member of JOFA's Speakers Bureau. For more information on the Speakers Bureau or to apply to join, please contact dani@jofa.org.
Support the New York Jewish Week
Our nonprofit newsroom depends on readers like you. Make a donation now to support independent Jewish journalism in New York.
Daphne Lazar-Price, is the executive director of JOFA, The Jewish Orthodox Feminist Alliance.
Posts are contributed by third parties. The opinions and facts in them are presented solely by the authors and JOFA assumes no responsibility for them.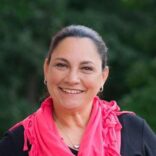 is Executive Director of Jofa, the Jewish Orthodox Feminist Alliance. She is also an adjunct professor of Jewish Law at the Georgetown University Law Center.
The views and opinions expressed in this article are those of the author and do not necessarily reflect the views of NYJW or its parent company, 70 Faces Media.