On Erev Tishah B'Av I chose to hear the somber recitation of Eichah, the Book of Lamentations, at the Spanish and Portuguese Synagogue on the Upper West Side of Manhattan. Given the incessant demonization and divisiveness that endangers our world, our nations, and the Jewish people, I wanted to begin my observance of this day of communal mourning by stretching myself in a congregation that is very different than those in our Reform Movement. I was drawn to this unique and historic Orthodox synagogue so I could recite the haunting prayer alongside fellow Jews who might pray and believe differently and hold different political views than I do and yet, at some fundamental level share a deep commonality with me.
Also known as Congregation Shearith Israel, it is American's first Jewish congregation, founded in 1654 by 23 Jews of Spanish and Portuguese descent. That history also provoked intense reflection, as I imagined the experiences of those Spanish-speaking refugees who, after initial attempts to keep them out failed, found a safe harbor here on these shores more than a century before the country declared its independence. It resounded powerfully with the challenges our nation and Spanish-speaking people seeking refuge face as they flee to America.
Upon entering the magnificent and historic sanctuary on Tishah B'Av evening, I felt the building itself was in mourning. Lit only by candles and small flashlights, the darkened space gave me pause, the holy ark, bimah and sacred symbols all draped in black cloth.  
The ritual is simple with kinot (elegies or lamentations) chanted by the hazzan and members of the congregation. The words of Lamentations are meant to evoke the horrific destruction in all of us who did not see it with our own eyes. 
Arise, cry out in the night
At the beginning of the watches,
Pour out your heart like water
In the presence of the Eternal!
Lift up your hands to God
For the life of your infants,
Who faint for hunger
At every street corner. 
Support the New York Jewish Week
Our nonprofit newsroom depends on readers like you. Make a donation now to support independent Jewish journalism in New York.
(Lam 2:19)
As with the other tragedies commemorated on the 9th of the Hebrew month of Av, regardless of the Jewish communities targeted, these were traumas for all Jews – then and now. The Jewish community, in the years before the destruction of the Second Temple in 70 C.E. was riven by sectarian divisions that were deep and destructive. The explanations our tradition provides as to the reason for these tragedies contain insights into our own responsibilities for conditions in which such tragedies occur. In particular, the Talmud teaches that the Second Temple was destroyed because of sinat chinam – gratuitous hatred between Jews. This condition, too, speaks to our own community today.
If we are to avoid our own tragedies, we must commit to build a more interconnected and respectful Jewish community, one that not only tolerates civil disagreement, but also encourages and even venerates that Talmudic model. This tolerance applies to those of us who are Reform Jews and how we speak of Orthodox Jews, neither learning about nor respecting the diversity, the learning, and the traditions of that community. So too, Orthodox Jews who have never been bothered to learn of the richness of non-Orthodox Jewish life nor to acquaint themselves with the theology and practice of those streams. It applies to those of us who are political liberals in how we talk about and engage political conservatives (so too, doves and hawks) in our synagogues and communities – and vice versa. I don't long for some superficial "we are one" mantra that deliberately aims to overlook the substantive differences among our Jewish communities but rather a more challenging exercise in communal leadership that honors and draws strength from those differences. 
This coming Shabbat is called Shabbat Nachamu after the prophetic reading from the 40th chapter of the Book of Isaiah. The opening words challenge all of us: "Comfort, comfort my people." The repetition of comfort intensifies the command, which can be read as a command to the prophet Isaiah to comfort the bereft people of Israel. But it also can be understood to direct us toward the obligation – "Ami" or "My people" – to comfort one another.  
On this Shabbat, one of seven that lead us to Rosh HaShanah and a new Jewish year, let's comfort one another by rejecting the ominous tendencies in Jewish history to vilify those Jews who do not live their Jewish commitments the way we do. Let us recognize and avoid the existential dangers that lurk beneath the ways we denigrate those whose Jewish practice or love of Israel or political affiliation takes forms different from our own.
In these days and weeks following Tishah B'Av, I will continue to work to build the Jewish community that is not yet – a kehilah in which we are known for our respectful diversity, even our profound yet civil disagreements, rather than the all too common demonization that threatens all we hold dear. And if we embrace a broader understanding of our tradition that eilu v'eilu – "these and these are the words of the living God" – perhaps we can model for our nations how people with deep differences can live in comity, side-by-side, joining, wherever we find common ground, to make a better world. It is a sacred calling and a path of hope to a better future. We can all walk it together.
Rabbi Rick Jacobs is the president of the Union for Reform Judaism.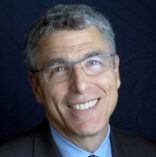 is the President of the Union for Reform Judaism, the largest Jewish movement in North America.
The views and opinions expressed in this article are those of the author and do not necessarily reflect the views of NYJW or its parent company, 70 Faces Media.