Generosity is a natural instinct. It usually begins close to home, or for the benefit of those the givers can see with their own eyes.
But amazing things happen when individuals turn challenges before their eyes into opportunities that take them far beyond the horizon.
Clara Barton, who had been a teacher in her native Massachusetts, was working in the U.S. Patent Office in Washington when the Civil War began. When wounded soldiers from a Massachusetts regiment — including some men she had grown up with and others she had taught — arrived in the nation's capital, she rushed to their side, and then to the side of others. Through her nursing, compassion, moral support, collection and organization of medical supplies, she was ultimately put in charge of all army field hospitals in Virginia and North Carolina. After the war, the "Angel of the Battlefield" founded the American Red Cross.
The organization to which I have devoted much of my life began in similar fashion. Visiting Jerusalem in 1909, Henrietta Szold was stunned by the many sick children she saw and the overall dismal state of public health. Back home in New York, she transformed her study circle into Hadassah, the Women's Zionist Organization of America. The first nursing mission the group dispatched to Jerusalem was the seed of the Hadassah Medical Organization — today the flagship of Israeli medical care, a pioneering research center renowned throughout the Middle East as an oasis where Arab and Jewish medical professionals, patients and families interact in peace 365 days a year.
Henrietta Szold eventually moved to Jerusalem to direct Hadassah's projects and in the 1930's accepted responsibility for Youth Aliyah, a program to house and educate refugee children fleeing Nazi-occupied Europe. Today, Youth Aliyah educates at-risk Jewish and Arab Israeli students, immigrants from Ethiopia and the former Soviet Union and refugees from African countries.
One of the philanthropists I am privileged to know is Jay Feinberg; he was a 22-year-old foreign exchange analyst in 1991 when he was diagnosed with leukemia and told that his survival depended on a bone marrow transplant. When no close matches were found among relatives, his family and friends — and Hadassah — launched a drive to register potential donors, identifying dozens of matches for other patients before they finally found one for Jay. After a successful transplant in 1995, Feinberg transformed the effort started on his behalf into Gift of Life, a bone marrow and stem cell registry which to date has tested more than 350,000 people worldwide as prospective donors and identified more than 16,000 matches.
Clara Barton, Henrietta Szold and Jay Feinberg demonstrated that we never know in advance when giving locally will ultimately have a global impact. But every local act of kindness has the potential to help repair the world. Often all they need is reinforcement.
One of the most recent — and welcome — additions to an already crowded holiday-season calendar is Giving Tuesday, five days after Thanksgiving. Started in 2012 by New York's 92nd Street Y and the United Nations Foundation, Giving Tuesday fills a void created by the commercialization and consumerism of the shopping season. At this time of year, sometimes the best opportunity for giving is the collection box — virtual or physical.
The genius of Giving Tuesday, which this year falls on December 3, enables charitable organizations and corporations to use technology to channel small donations. Though large contributions make an enormous difference in many philanthropic endeavors, a wide base of volunteers and small donations often have a greater impact on the cumulative generosity of a society. The person who gives $10 may be making a greater personal sacrifice than the million-dollar donor. And bear in mind that most large givers started small.
"Shutting one's eye to charity," says the Talmud, "is like worshipping idols." Giving Tuesday, an antidote to materialism, is also a day for turning small gifts into huge opportunities.
Ellen Hershkin is National President of Hadassah, The Women's Zionist Organization of America.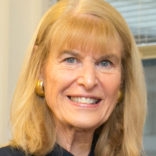 is the National President of Hadassah, the Women's Zionist Organization of America.
The views and opinions expressed in this article are those of the author and do not necessarily reflect the views of NYJW or its parent company, 70 Faces Media.