The Washington Post keeps a tally of President Trump's false or misleading claims (nearly 14,000 and counting). The White House tracks administration accomplishments (almost 60, from economic growth to moving the U.S. embassy to Jerusalem to the appointment of Brett Kavanaugh to the Supreme Court). The Trump Twitter Archive is just that: all of Donald Trump's tweets since he joined Twitter on May 4, 2009.
What you won't find is an archive of
Donald Trump jokes. As I've noted before, Trump knows how to get laughs in front of sympathetic audiences, but he is still no comedian. His laugh-lines take the form of jokes, but they rarely have the wit, turns of phrase or unexpected twists that define an actual joke.
In this, Trump is sort of the Michael Scott of presidents: Like "The Office" character, he appears to crave an audience's laughter and mimics actual comedians, but his one-liners are joke-like at best. Just last week, after the Canadian prime minister was caught apparently mocking the president in front of other world leaders, Trump called Justin Trudeau "two-faced." The president was later caught in his own hot-mic moment, telling a dinner guest, "That was funny when I said the guy's two-faced."
Actually, it wasn't funny at all, just like nicknaming an opponent "Shifty" or "Sleepy" or "Horseface" isn't really a joke, even though it draws on a history of insult humor — and even though his audiences may laugh.
A sense of humor is not a prerequisite for higher office, although it can go a long way toward building trust, creating empathy and suggesting humility. However, Trump's tone-deaf approach to humor leads him and his supporters to mistake cruelty for wit, and bigotry for honesty.
These qualities were on display during Trump's remarks over the weekend to the Israeli-American Council, a friendly audience that gathered in Hollywood, Fla. The IAC itself shows two faces: one as a national support group for Israelis living in the United States, the other as a right-of-center pro-Israel lobby largely bankrolled by mega-donor and Trump supporter Sheldon Adelson. In his remarks, the president described the accomplishments that led one member of the crowd to call it "one of the most pro-Israel speeches ever delivered by an American president": pulling out of the Iran nuclear deal in 2017, moving the embassy and eliminating funding for the Palestinian Authority.
Those scripted moments were largely overlooked in the coverage of the speech, which focused on the Jewish groups that accused Trump of using anti-Semitic tropes in the same speech.
Here's what he said: "A lot of you are in the real estate business, because I know you very well. You're brutal killers, not nice people at all. But you have to vote for me — you have no choice. You're not gonna vote for Pocahontas, I can tell you that. You're not gonna vote for the wealth tax. Yeah, let's take 100 percent of your wealth away!"
The remarks carry all the hallmarks of a Trump "joke": the bigoted insult aimed at Sen. Elizabeth Warren, the sarcastic, witless (and inaccurate) punchline about the "wealth tax." And some people in the audience did laugh: Don't we Jews also joke about our business acumen? ("Jesus saves, Moses invests.")
But as the American Jewish Committee pointed out, the money references "feed age-old and ugly stereotypes." It's one thing to tell a roomful of businesspeople that they only vote with their own wallets; it's quite another to say that before a roomful of Jews, however sympathetic. The AJC urged Trump to "stay off that mine-infested road."
I think Trump genuinely thinks he has license to joke this way in front of Jews, as he did when he spoke to the Republican Jewish Coalition in 2015, saying, "Is there anyone in this room who doesn't negotiate deals? Probably more than any room I've ever spoken" and "I'm a negotiator, like you folks."
Such jokes turn especially sour in the context of the times, when reports of anti-Semitic attacks are soaring, when bigots and conspiracy theorists feel emboldened to share their acid on the web, and when white supremacists have carried out deadly attacks on two American synagogues. It's not enough to condemn anti-Semitism on the far left, as Trump did in his Florida speech. We need a president who doesn't simultaneously, wittingly or not, encourage anti-Semitism on the far right by sharing jokes, tweets and web memes that traffic in stereotypes and slander.
Support the New York Jewish Week
Our nonprofit newsroom depends on readers like you. Make a donation now to support independent Jewish journalism in New York.
Maybe we shouldn't take it personally. Trump and his supporters insist he doesn't have a bigoted bone in his body when it comes to Mexicans, Muslims, veterans or women. And that may certainly be. But he has a talent for the word or image that slots nicely into the bigots' reductionist world view. Mexicans as rapists, drug dealers and animals. Women as dogs and pigs. Black people as "lowlifes" and "low I.Q." The best defense his supporters can muster is that he says these kinds of things about everyone he doesn't like. But that doesn't account for the weird precision of his invective.
I don't know if Trump is anti-Semitic. He may certainly be a doting grandpa to his Jewish grandchildren. He is popular among Israelis and has done things that are objectively good for Israel. The question is not, "Is Donald Trump anti-Semitic?" The question is, "Is he good for anti-Semitism?" And the answer is yes. Trump may be "the least anti-Semitic person that you've ever seen in your entire life," as he assured us in February 2017. But he sure has a knack for saying the kinds of things that anti-Semites love to hear and share.
A Catskills comedian's joke about Jewish money might be amusing; a president's joke about Jewish money is kindling.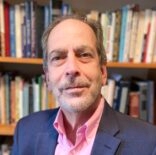 is is Editor at Large of the New York Jewish Week and Managing Editor for Ideas for the Jewish Telegraphic Agency.
The views and opinions expressed in this article are those of the author and do not necessarily reflect the views of NYJW or its parent company, 70 Faces Media.