Something extraordinary happened this weekend. Let's take a moment to savor it.
If you took part in Sunday's #NoHateNoFear rally, you might have shared the thrill in the sheer numbers: the sea of parkas and banners and strollers that filled Foley Square in Lower Manhattan and streamed across the Brooklyn Bridge for the speeches at Cadman Plaza.
The march was diverse and organic as no other Jewish gathering has been in recent years. (Unlike New York's Celebrate Israel Parade, a mandatory outing for day schools, the march was quickly planned and markedly grassroots.) By tapping into feelings of vulnerability and solidarity, the main organizers — UJA-Federation of New York and the Jewish Community Relations Council of New York — drew a cross-section of engaged, concerned Jews, and the event should be celebrated on these terms.
Of course, this being a Jewish event, there was carping, online and on the march. Why weren't more charedim taking part? (It's complicated. I spoke with an organizer who said, reasonably, that there are all sorts of cultural and religious reasons that would prevent a charedi man from joining men and women on a crowded march. And there were certainly plenty of charedi leaders on the rally stage.)
Why did it take bloody attacks on Orthodox Jews in Jersey City and Monsey to move people to action when there had been less devastating but still violent assaults and incidents for months? That's fair — although it's the rare political or social justice movement that flares into wide public attention without dire, defining events that serve as a spark.
Will this show of solidarity do a damn thing to stop the anti-Semitic attacks? Who knows. It certainly demonstrated to the elected officials taking part that Jews remain a political force to be reckoned with, and that they will hold their leaders accountable if they don't live up to their promises in fighting hate crimes. It grabbed the attention of media, shaping headlines about the spike in anti-Semitic attacks, especially against the area's charedi Orthodox. It prompted leaders like Gov. Cuomo to announce new measures to monitor and prosecute hate crimes.
But its bigger impact may be on the sense of community that it created at a fractious time. Like the speaker lineup, the crowd reflected the diversity of American Jewry: Within minutes of arriving I chatted with a Chabad leader, a Modern Orthodox educator, Reform and Conservative rabbis and members of the National Council of Jewish Women, Young Judaea, JFREJ and a delegation from Boston.
These kinds of pluralist gatherings have been increasingly rare. Israel, once a great binding force for American Jewry, is as likely to divide as unite us these days. The era of Jewish rescue is over. And while it is a pity that it takes an epidemic of anti-Semitism to create a sense of solidarity, we should appreciate it when we get it. Before the focus on anti-Semitism in Brooklyn and Jersey City, non-Orthodox Jews tended to view the charedim as exotics, reactionaries or, when it comes to the push for pluralism in Israel, adversaries. The march instilled a new sense of empathy. Charedi leaders, who have their own issues with the Jewish "mainstream," welcomed the support.
Something else happened. Certainly if you were part of the crowd, the event seemed buoyant — not flip or festive, but conveying a sense that, after a number of dark weeks, Jewishness was something to be celebrated, in bright sunshine, in happy defiance of whatever forces are conspiring to push us behind locked doors. It was a feeling felt by 25,000 in the crowd and amplified across social media.
Will it last? Can we sustain a sense of Jewish pride and purpose without outside threats? And can we do it without withdrawing into our own little enclaves, and insisting that if someone is not doing Jewish your way, there's not much to talk about?
Judaism is lived in community — communities of prayer, of action, of culture. Communities that create a sense of common purpose, not just built on why "they" hate us, but what we love about ourselves, our literature, our history, our ways of making a difference in the world. If nothing else, communities come together around meals.
I for one am drawn to communities of learners. On New Year's Day, tens of thousands of mostly charedi Jews packed MetLife Stadium to celebrate the conclusion of a 7-and-a-half-year cycle of daily Talmud study known as Daf Yomi. No, I didn't go (there's nothing that would make me want to sit in MetLife Stadium on a winter's day, and I am including Giants games). And I didn't immediately pledge to the next cycle of Daf Yomi.
Support the New York Jewish Week
Our nonprofit newsroom depends on readers like you. Make a donation now to support independent Jewish journalism in New York.
But I did sign up for My Jewish Learning's daily Daf Yomi email, figuring I could spend a few minutes a day reviewing what more serious learners are studying in depth. If I make it a habit for the next seven years, great. If I don't, I'll still be in a community of learners from different backgrounds and time zones.
Sunday's rally was a pop-up pilgrimage meant to declare Jewish pride and a sense of solidarity, disdain for our enemies and faith in a country that knows better and can do better. It was an unfortunate occasion for community-building, but it is an opportunity for connection that shouldn't be squandered.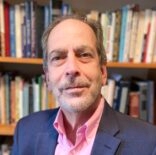 is editor in chief of the New York Jewish Week and senior editor of the Jewish Telegraphic Agency. He previously served as JTA's editor in chief and as editor in chief and CEO of the New Jersey Jewish News. @SilowCarroll
The views and opinions expressed in this article are those of the author and do not necessarily reflect the views of NYJW or its parent company, 70 Faces Media.