For all the good spirits that came out of this month's #NoHateNoFear march against anti-Semitism, there was some grumbling that the media, the marchers and even the organizers had missed an important point.
Some Orthodox leaders in particular blame activists and the press for inviting anti-Semitism by demonizing their community, pointing to public scrutiny of the recent measles epidemic and criticism of the lack of secular education at yeshivas.
City Councilman Kalman Yeger, a Democrat who represents the neighborhoods of Borough Park and Midwood in Brooklyn, made these charges quite publicly last week. He told fellow council members, "For far too long, too many who hold public office, and those who pretend themselves to be members of the media, have tinkered at the fringes of anti-semitism. You market an 'us vs. them' message against Orthodox Jews. You did this. When you deliberately paint a portrait of Orthodox Jews as backwards members of society, who don't vote how you like, don't do what you want, don't educate our children how you wish, you did this." (Hat tip to Jewish Insider, which reported Yeger's remarks.)
Yeger has a point, especially when political adversaries express their differences in anti-Semitic terms. There was the Rockland County (N.Y.) Republican Party, which produced a video warning about a county takeover by chasidic Jews and borrowed its tone and language from "Jew Süss," the vicious Nazi propaganda film. There's the Facebook group in Lakewood, N.J., ostensibly set up to warn about "over-development" in the heavily Orthodox community, but whose comments section quickly devolves into base anti-Semitism. (The page was taken down this month, but later returned, to the chagrin of New Jersey's attorney general.)
And there was the NAACP leader in Montclair, N.J., who last month said that African Americans in Jersey City and Montclair live in "fear of being replaced by these strangers who really aren't friendly." Coming on the heels of the deadly shooting at a kosher grocery in Jersey City, his remarks sounded like victim-blaming and worse. His chapter stripped him temporarily of some duties.
Bigots and demagogues make it easy to spot anti-Semitism. What's harder is reporting and commenting on real issues involving growing Orthodox communities without: a) giving ammunition to the haters, and b) suggesting that the Jews deserve what they get. In our newsroom we've even had a debate over a phrase like "black-Jewish tensions" to describe the atmosphere in neighborhoods where charedi Orthodox Jews are often the victims of black and Hispanic assailants, in that it suggests that the blame should be spread around.
In truth, there has been tension in many of these communities. In Rockland County, the NAACP is suing the East Ramapo school district because it thinks the school board's Orthodox majority is the result of a racist election system (see page 6). In Lakewood, there have been similar showdowns over school funding (inevitable, perhaps, when few Orthodox Jews use the public schools and, in the grand American tradition, resent the high taxes that they must pay for them). The inequities of gentrification often fall hardest on communities of color; it would be dishonest to chart the growth of Orthodox communities — of any community — without also describing the impact on low-income neighbors.
As for the quality of yeshiva education or the spread of measles in the charedi world — these are issues of legitimate public interest, and reporting on them or even taking a side is not incitement. It's also important to point out that there are charedi Orthodox voices on both sides of these issues — urging stronger secular studies in the yeshivot, for example, and warning about the dangers of not vaccinating children. That doesn't mean there hasn't been hysterical or misguided reporting about these issues. But just as no group deserves to be demonized, no group should get a free pass either.
Getting this right means taking care with language, hearing all sides and resisting the framing of "us" and "them." It means recognizing the diversity in a community that sometimes appears monolithic. Reporters shouldn't just parachute in when communities are in crisis, but report on the everyday life in these places and the extraordinary efforts that are bringing sometimes estranged neighbors together. It means telling the truth, but also seeking it.
I'll leave the last word to Rabbi Chaim Rottenberg, whose Monsey, N.Y., home was the site of that horrific machete attack on the seventh night of Chanukah. "It is not our norm to interact with the media or the world at large, which is why I have not spoken until today," he told reporters Jan. 8, in a rare public statement. "Today is neither the time nor the place to dwell on any negativity. … Together, we must leave the past behind and work towards a peaceful future. I implore you, please, do not politicize this tragic event. Do not attach the horrors that took place to any political agendas. This horrifying event is a divine call for soul searching rather than finger-pointing and accusations."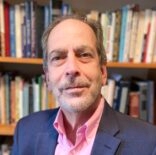 is editor in chief of the New York Jewish Week and senior editor of the Jewish Telegraphic Agency. He previously served as JTA's editor in chief and as editor in chief and CEO of the New Jersey Jewish News. @SilowCarroll
The views and opinions expressed in this article are those of the author and do not necessarily reflect the views of NYJW or its parent company, 70 Faces Media.