Every year on Martin Luther King, Jr. Day, progressive Jews recall with pride our long record of fighting for equality. The Civil Rights Act of 1964 was largely drafted in the conference room of the Religious Action Center of Reform Judaism, and our rabbis proudly marched on the frontlines with Dr. King. From voting rights to criminal justice reform and beyond, we have long advocated for fair, equitable treatment of all individuals under the law.
Despite our historical commitment to pursue justice, however, we cannot rest on these laurels. Racism is still as alive as ever, and we as Jews cannot afford to ignore or downplay this reality.
In his powerful book "How to Be an Antiracist," historian Ibram X. Kendi tells us that it is not enough to call ourselves "not racist." To do so, he says, is to effectively signify neutrality. To say, "I'm not racist" is to say, "It's not my problem."
But racism is our problem — yours, mine, and the Jewish community's. If we want to do better, if we truly want to be "antiracist," we must fully and honestly assess our positions, our privileges, and our power, and take decisive action to become antiracist.
We must do this, in part, because fighting racism and fighting antisemitism go hand in hand. We live in a time when the scourge of antisemitism has been reinvigorated by white nationalists, and just as leaders from marginalized racial and ethnic groups have time and again come to our defense to combat antisemitism, we must show the same fervor in combating racism.
This also requires that we acknowledge the harsh reality that racism exists not just outside of Jewish communities, but also within — and allowing our own racial biases to go unchecked prevents us from dismantling the entrenched structures of racism.
Six years ago, the Union for Reform Judaism launched Audacious Hospitality, an ongoing initiative that commands us to move beyond "welcoming" and to actively address issues such as racism, ableism, and classism in our communities. At its core, Audacious Hospitality recognizes our rich diversity and asks us to challenge our unchecked preconceptions of who we are as Jews.
An estimated 10-20 percent of North American Jews are People of Color. Yet despite these proven statistics, some within our community question their validity because they don't personally see Jews of Color in their congregations and institutions.
I wonder: Have they considered why that is? It's not because, as they argue, the statistics are wrong. It's because, too often, Jews of Color are aggressively questioned, invalidated and treated as threats in our largely white-dominated Jewish communities. Understandably, they choose not to show up, and when we don't see them, we pass them over and sometimes even refuse to believe they exist at all.
Kelly Whitehead, a rabbinical student and Jewish summer camp alumna, says she loves being Jewish but hates "when people assume that I am a member of … a custodial staff or help staff … like I don't have a right to be there."
Bryant Heinzelman, a military veteran and Jewish youth director, says, "When someone asks me, 'Are you really Jewish?' [it's almost as if] their disbelief won't let them believe that this black man is a member of this community."
However, despite these heartbreaking and infuriating words, these Jews of Color still choose to be active members of our communities. Imagine how many more Jews like Kelly and Bryant are out there, waiting for us to first prove that we respect and honor them; that we acknowledge that our communities are incomplete without their presence?
Support the New York Jewish Week
Our nonprofit newsroom depends on readers like you. Make a donation now to support independent Jewish journalism in New York.
This week, as we recall the Jewish community's storied history of fighting for civil rights and equality, we must ask: Despite everything we've done to repair our world, how much are we doing to repair ourselves?
We can no longer speak about "black/Jewish relations" as though being a Person of Color and being a Jew are mutually exclusive. We can no longer joke about what it means to "look" Jewish when so many Jews feel alienated by a narrow, "Ashke-normative" view of who we are. We can no longer disregard and isolate Jews of Color, who are such a large part of who we are, yet often feel othered and separate.
What we can and must do is take an active part in addressing racism, both in broader society and within our own communities. We must hold ourselves accountable. We must be comfortable with discomfort. We must challenge our implicit biases and assess whether our communities are truly the places of belonging we say they are.
You can start by scheduling or attending an antiracism or allyship training in your community. When marginalized members of your community speak up, listen to them, including and especially when their words make you uncomfortable. Take time to reflect and account for your own actions so you know what to do moving forward.
Our sages had a blessing for diversity: Baruch chacham ha'razeem she'ein da'atam domah zeh l'zeh v'ein partzufayhen domeem zeh l'zeh. "Blessed are You, the Sage of all secret things, for their minds are not similar to each other and their faces are all unique." (Babylonian Talmud, Berachot 58a)
This MLK Day, let us take these words to heart and combat hate and ignorance in all its forms — within our world, within our own communities, and within ourselves. In doing so, we will live up to our vision of creating a kehila k'dosha, a holy community, and change our Jewish world — and each of us within it — for the better.
Rabbi Rick Jacobs is the president of the Union for Reform Judaism. Follow him on Twitter at: @URJPresident.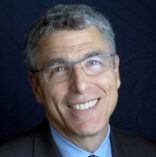 is the President of the Union for Reform Judaism, the largest Jewish movement in North America.
The views and opinions expressed in this article are those of the author and do not necessarily reflect the views of NYJW or its parent company, 70 Faces Media.