While we are still social distancing yet simultaneously beginning to explore and implement measures to safely reopen the country, synagogues face a particular set of challenges. How do they emerge from our state of quarantine to a new version of connectedness and "normalcy" while enacting all of the available safety measures?
Synagogues, rabbis, lay leaders and other Jewish professionals are meeting with each other and with the appropriate health officials in order to understand the risks that will determine the questions of when and how services may resume within our synagogue walls.
We at JOFA (Jewish Orthodox Feminist Alliance) believe it is also imperative that women remain an integral part of the conversation, especially in these early phases. Since 1997, JOFA has been advocating for meaningful participation and equality for women in family life, synagogues, houses of learning and Jewish communal organizations to the full extent possible within halacha (the complex set of Jewish laws that govern many aspects of daily living for a religious life).
While social distancing, technology has served as a great equalizer when it comes to accessing various communal spaces. Those who haven't previously been comfortable in public settings may now attend from the privacy of their own homes. Children who may have been otherwise disruptive can tune in without causing distraction. In religious settings, we have seen more entry points to lead and participate in prayer. "Zoom services" have proven to be particularly beneficial for marginalized segments of the population who hadn't previously been physically able to attend services in their local synagogues. This includes those who are elderly, ill, disabled or overburdened with other responsibilities.
This has also been the case for so many women who are charged with child-care responsibilities, which may preclude them from attending communal services and gatherings.
One thing is certain: This pandemic has forced Jewish professionals to think quickly and creatively in order to support the communities they serve, including those who were previously hard to reach. As we take steps to enter a new "normal," many of these innovations should continue to be incorporated into post-Covid Jewish life.
Of course there have been halachic (Jewish legal) queries and ramifications as to virtual prayer. In the Orthodox community, most rabbis and spiritual leaders have determined that although public prayer services can be conducted online, regardless of the number of attendees, these virtual gatherings do not count as a minyan (quorum of 10 men). Although some Conservative, Reconstructiing Judaism and Reform congregations have been streaming tefillah services for several years now, weekday online Shacharit and Mincha is a first for so many Orthodox congregations.
As part of our current programs, JOFA has organized several women-led tefillah services that have been open to all, which have benefited hundreds of women and men. By the time the holiday of Shavuot begins at the end of May, we will have coordinated a number of prayer services including one specifically geared towards Gen-Z participants. As a result, we — both men and women — have benefited from the innovations of unprecedented online community engagement.
Just like their male counterparts, women are eager to return to their synagogues. Whether it is because they are reciting Kaddish after the passing of a loved one, marking a yahrzeit, because they find it important to pray with a minyan or simply that they experience comfort and connection of praying in and being with community, synagogue attendance is a vital part of women's spiritual well-being.
Some Orthodox umbrella organizations have issued guidance recommendations about how to safely resume public prayer services in our synagogues. Of note, the Orthodox Union and the Rabbinical Council of America have not suggested a maximum number of attendees, signaling and creating space to allow for women to also return to synagogues in the earliest phases when services resume. By contrast, Agudath Israel of America's recommendations may well prevent women from attending at all. Their guidelines dictate that prayer services "should be limited to those halachically required to daven [pray]." (Women are required to pray but are exempt from doing so with a minyan.) Agudah's language, even though their policy would allow for up to 14 individuals to attend and would make space for more than the 10 men required for a minyan, could serve to exclude women.
Women may not count in a minyan, but women do  count and must be considered when discussing synagogue services and their restrictions. Because sanctuaries in Orthodox synagogues are already structured with mechitzot (partitions) separating women and men, there should be no barrier to allowing women's attendance while maintaining social distancing practices.
Some Orthodox clergy have indicated they will not reopen their doors unless the safe maximum limit reaches 20-25 people in order to allow for women's attendance while still maintaining a minyan. This is the kind of leadership and spiritual guidance that models inclusion and equity. It will surely take patience and creativity to enact safe and inclusive practices but it is incumbent on individuals and our rabbis and leaders to ensure that women are not precluded from attending synagogue services.
Support the New York Jewish Week
Our nonprofit newsroom depends on readers like you. Make a donation now to support independent Jewish journalism in New York.
If you belong to an Orthodox synagogue, now is the time to remind the leadership of your shul that they should be considering the spiritual and ritual needs of both the men and women in their communities. As synagogues are preparing to hit the "reset" button, ensuring that women are part of the decision-making process and the decisions themselves will help to create a path forward for a vibrant and flourishing Orthodoxy.
Daphne Lazar Price is executive director of the Jewish Orthodox Feminist Alliance.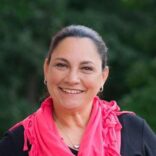 is Executive Director of Jofa, the Jewish Orthodox Feminist Alliance. She is also an adjunct professor of Jewish Law at the Georgetown University Law Center.
The views and opinions expressed in this article are those of the author and do not necessarily reflect the views of NYJW or its parent company, 70 Faces Media.