I don't have the time or the sitzfleisch for binge-viewing, so I have been working my way slowly through the big Israeli TV series. We started with "Srugim," the gentle dramedy about young Modern Orthodox Jews trying to find love in their claustrophobic Jerusalem neighborhood. We allowed ourselves to be traumatized by "Fauda," about an Israeli commando team that works undercover in the occupied territories. And we're engrossed in "Shtisel" and its wry, melancholy examination of the lives of haredi Orthodox Jews.
Each show is a window into Jewish life in Israel, but a narrow window. The characters in the shows all live in the same country at about the same time but might as well live on separate planets. That's not necessarily a distortion: Although Israel is a small country, its religious and secular populations are often segregated by choice. Even the religious community is divided between the haredi, or ultra-Orthodox, population and the Modern, or "religious Zionist," Orthodox seen in "Srugim." All the cohorts send their kids to separate schools and tend to live in distinct neighborhoods.
Which is why I dream of a supercut of all the Israeli shows. Imagine the accurate mosaic of Israeli society that would emerge if "Fauda," "Srugim," "Shtisel" and "Unorthodox" were edited into one long series, or the artistic possibilities of a single Israeli television multiverse:
Episode One:
The show opens in Jerusalem's Katamon neighborhood, where gentle Amir, a schoolteacher at a Modern Orthodox yeshiva, shares an apartment with the sardonic Nati, a physician. Amir tells Nati that he plans on asking their mutual friend Yifat to marry him as soon as he gets back from his Army reserve duty.
While on duty, Amir is mistakenly assigned to the Mista'arvim unit, and is immediately sent undercover into the Palestinian city of Ramallah. His partner is Doron, the fanatical commando who looks like a cross between Don Rickles and a trash can. After a fierce gunfight with Hamas, the two escape back across the Green Line in time for Shabbat, where Amir shares a tense dinner with Yifat, Nati and Hodaya where much is left unsaid.
Episode Two:
Akiva Shtisel, a moony young haredi Orthodox man living in Jerusalem's Geula neighborhood, dreams of being an artist, despite the disapproval of his loving but overbearing father, Rabbi Shulem. On a visit to the Jerusalem Zoo, he runs into Yifat, who has paused outside the monkey cages to consider Amir's marriage proposal. The attraction between Akiva and Yifat is obvious, even though Akiva's father would never approve of him marrying a Modern Orthodox girl. Yifat, meanwhile, still has feelings for Nati, even though he has commitment problems and still shares an apartment with Amir despite his doctor's salary.
Episode Three:
While interrogating a Palestinian terror suspect, Doron remembers the lovely young woman he met while working undercover as an Arab custodian at Hebrew University. Hodaya clearly grew up Modern Orthodox but has left the religious life. Doron plans on giving her a call, as soon as he smokes a few dozen cigarettes and stares moodily into space.
Episode Four:
Despite his father's disapproval, Akiva Shtisel plans on asking Yifat to join him on a shidduch date in the lobby of a Jerusalem hotel – as soon as he finishes smoking a few dozen cigarettes and staring moodily into space. His thoughts are interrupted by a phone call from his sister, who explains that her teenaged daughter Ruchami is missing and may have run away to Germany.
Episode Five:
A young woman who looks suspiciously like a shaven-headed Ruchami – that is, like a cross between Scarlett Johansson and a tennis ball — is seen at a music school in Berlin, where only a few new friends know that she has run away from her strictly Orthodox life back in Israel. Her hopes for surviving outside of her former life rely entirely on her getting into the prestigious music school — as opposed to, say, working in a coffee shop. Her thoughts are interrupted when she spots Akiva Shtisel and his hapless friend Farshlufen getting out of a taxi – obviously sent by her grandfather to bring her home.
Episode Six:
Back in Israel, the "Srugim" crowd is having another tense Shabbat dinner when Nati gets a call from the hospital saying that he must come in and treat an Israeli commando who was injured in a botched mission in a Palestinian village. When he gets to the hospital we see the patient is Doron, who is sitting at the window moodily smoking a cigarette. "You can't smoke in a hospital," Nati tells Doron, who immediately snaps and puts Nati in a chokehold. Just then Yifat walks in carrying a covered casserole dish, the leftovers from dinner. She is humiliated for Nati's sake, but is strangely attracted to the bullet-headed stranger who is strangling him.
Season Finale:
On a crowded bus, we see all the cast members: Amir and Yifat are headed into town to look at wedding rings, Akiva Shtisel and his father are smoking cigarettes, Nati is refusing to commit to yet another lovely young woman, and Doron and Hodaya are sharing meaningful looks while Doron holds the bus driver in a chokehold.
Andrew Silow-Carroll (@SilowCarroll) is the editor in chief of The Jewish Week. Subscribe to his Sunday newsletter here.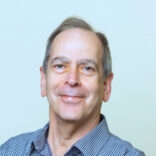 is editor at large of the New York Jewish Week and managing editor for Ideas for the Jewish Telegraphic Agency.
The views and opinions expressed in this article are those of the author and do not necessarily reflect the views of NYJW or its parent company, 70 Faces Media.