Whether you're a sports fan or not, it's been hard to resist the seemingly endless coverage of the Summer Olympics from Beijing. And NBC, which has spent a fortune to broadcast the Games, has pulled out all the stops in trying to tie us in emotionally to many of the athletes the network features, few of whom seem to come from intact families free of tragedy.
But after a few nights, I'd had enough of the windsurfing highlights in slo-mo and trying to determine if any of the Chinese girl gymnasts had reached the age of bat mitzvah. I was even beginning to question my motives for spending hour after hour watching beach volleyball.
I decided I needed a break.
And so it was
that the other night, while clicking through the channels on my TV, I was amazed to chance upon coverage of the little-known Jewish Educational Olympics, broadcast on PUN (Parallel Universe Network).
No one I've talked to seems to have seen it, though, so I am proud to share my findings with you…
It seems that the highly touted featured performer at this year's Jewish Games is the pride of the American team, Michael Phelpstein, a soft-spoken and slightly goofy young man whose specialty is scanning Jewish texts at break-neck speed. Indeed, he is a world-class skimmer.
And he lived up to all of the pre-Games hype, winning gold medals in both the sprint and distance events.
As I watched in awe, Phelpstein first skimmed the Bentching, or Grace After Meals, in an astounding 6.2 seconds — including the additional prayers for Shabbat and Festivals — shaving a full second off the previous world record, held by Al Hanissim of Persia.
The replay of this exciting event, shown repeatedly, confirmed that Phelpstein, swaying swiftly, managed to edge out Nissim by less than a tenth of a syllable in va-shalom, at the conclusion of the prayer.
Then, with hardly time to compose himself, Phelpstein was entered in the grueling and legendary marathon, The Talmud Skim, comprised of riffling through both the Babylonian and Jerusalem tomes and then recounting to the judges bits and pieces of information gleaned from these weighty works.
Somehow Phelpstein broke away from the field and managed another world record, completing all of the Talmud in 22 minutes flat, including time to make a siyum (or party) after the completion of each tractate.
A distant second in the event was Rabbi Shalom Shukkler of Bnai Brak, Israel, who had been in intensive training for the event by learning in the same kollel since the '84 Olympic Games in Los Angeles.
Support the New York Jewish Week
Our nonprofit newsroom depends on readers like you. Make a donation now to support independent Jewish journalism in New York.
"I have to tip my [black] hat to Phelpstein," said an out-of-breath Rabbi Shukkler, who finished just under three months behind the champ.
"I thought I was a great skimmer," he said, "but this guy blew me out of the water."
All eyes were on Phelpstein when he was interviewed by NBC's Bob Kotchkes, following his feat, and the young man from Baltimore did not disappoint. A model of modesty, he said he learned to skim in Hebrew school as a youngster, and became adroit at it quite quickly.
"By my bar mitzvah, I could skim any Haftorah in a couple of seconds, and not understand a word of it," he said, humbly paying tribute to his local rabbi, who "taught me everything I barely know."
When it came to Talmud study, though, Phelpstein said he trained at several Baltimore yeshivas before moving on to Daf Yomi (a worldwide project of learning a page of Talmud a day), where he perfected the ancient art of reading and reciting without comprehension.
"I found that the secret was in my knees," Phelpstein said, explaining that in watching other students, he soon learned to shake one knee at a time rapidly while sitting in the Beit Midrash [study hall], a practice he now incorporates into his warm-up before each skim.
"And Hank Aaron taught me that it's all in the wrists," the young phenom said of turning the tall pages of the Talmud rapidly.
He told Kotchkes that he trains by listening to his iPod at least eight hours a day, playing Talmud shiurim [classes] at 10 times the normal speed.
Then, with a wave to his mother and sisters, Phelpstein disappeared into a frenzied crowd of well-wishers while making his way to the other major event of the day at the track and field stadium. He said he wanted to be there to see if the Israeli team could set yet another record (though it has no competition) in the Palestinian Prisoner Release Relay.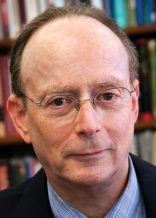 was editor and publisher of The Jewish Week from 1993 to 2019. Follow him at garyrosenblatt.substack.com.
The views and opinions expressed in this article are those of the author and do not necessarily reflect the views of NYJW or its parent company, 70 Faces Media.