For all the talk and legitimate concern about the future of journalism, it's heartening when one realizes the continuing impact, and reach, of the written word.
Case in point: I wrote a column this past week about a little-known "hidden synagogue" found in the barracks of the Terezin concentration camp near Prague. The piece mentioned that, though forbidden, a German Jew named Arthur Berlinger sought to sanctify the space for prayer by inscribing the walls with passages from the Hebrew prayers and drawing Shabbat candles and Jewish stars.
Berlinger and his wife perished in Auschwitz, but I was told that the couple's two daughters were sent on kindertransports to England and survived the war. Our guide did not know any other details about them.
Imagine my surprise, then, when I received an e-mail last night from one of the daughters, now a grandmother in Southfield, Michigan. Rosie Baum, nee Berlinger, thanked me for the article, and wrote that she has been blessed with a large family – children and grandchildren – all following in her father's footsteps. "So in the end," she wrote, "Hitler did not succeed in destroying Jewry, just as no one ever will."
Moved by her letter, I called her this morning – she had included her phone number – and learned that she came to England at the age of 10 in April 1938, and her sister arrived that July. The sister remained in England and died several years ago.
Mrs. Baum married and moved to the U.S. She explained that her daughter had seen and sent her my article.
Mrs Baum said she and her parents were in touch on a daily basis by mail from April to September 3,1938, and that she even received several letters from her parents from Terezin.
Since the war's end, Terezin has been associated with children's drawings done there, many of which are on display, and with the phrase, drawing and theatrical play, "I Never Saw Another Butterfly."
Mrs. Baum noted that her father was an artist and teacher, and that while she cannot prove it, "I know in my bones" that he encouraged children at Terezin to draw butterflies since they were among his favorite images, because "they are free to fly where they want."
I am grateful to have been in touch with her, making my recent visit to Terezin all the more poignant, and real.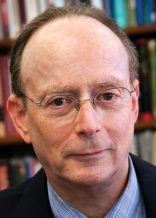 was editor and publisher of The Jewish Week from 1993 to 2019. Follow him at garyrosenblatt.substack.com.
The views and opinions expressed in this article are those of the author and do not necessarily reflect the views of NYJW or its parent company, 70 Faces Media.