The newspaper business in America is in deep decline, bordering on a deathwatch in some cities, and, alas, Jewish newspapers are no exception to this troubling trend.
The combination of the national economic meltdown, the trend among younger people away from print journalism and the "original sin" of news organizations making content available for free online, where more and more people go for information, has created a perfect storm for the news industry in general.
Almost daily we read (those of us who still read the news) dire predictions of newspapers going the way of the dodo bird, on the fast track toward extinction.
When it comes to Jewish newspapers, though they are targeted at a niche audience, a plus these days, they 
 continue to suffer from the fallout of the Madoff scandal's impact on Jewish wealth and the resulting steep decline in advertising from Jewish organizations. What's more, the fact that younger people are less interested in Israel, synagogues and Jewish organizational activities, the backbone of most of the Jewish press for decades, portends a bleak future. 
In that light it was heartening to meet this past week at Brandeis University with 14 journalists, most of them in their 20s, who work for Jewish newspapers around the country, and hear them say that despite serious difficulties, they love their work and are committed to using their skills to improve their work and their papers' efforts to survive and grow.
The forum for our meeting was the Gralla Fellows Program, now in its 12th year, a weeklong seminar for journalists in early or middle stages of their career, focusing on Judaism, American Jewish life and trends in reporting on religion. The program is directed by Jonathan Sarna, a highly respected and oft-quoted professor of American Jewish history at Brandeis, and funded by Milton Gralla, a creator and editor of trade publications for 30 years. 
Support the New York Jewish Week
Our nonprofit newsroom depends on readers like you. Make a donation now to support independent Jewish journalism in New York.
(Gralla is a former board member of The Jewish Week, and I am a member of the Gralla Fellows board.)
This year's seminar dealt with a wide range of topics, from the Jewish community's relationship with Islam to changing trends in technology. But the backdrop to every discussion was the economic crisis and the precarious state of news organizations as they devote more resources to their enhanced online sites, even though none of these sites have proven economically viable.
This year's fellows did not have to be reminded of the seriousness of the situation; two lost their jobs in the weeks leading up to the program that started last Sunday. But they came anyway.
Time and again, discussions meant to address journalistic goals or ethics ended up in the cul-de-sac of the financial crisis. Michael Paulson, the Boston Globe's religion reporter who was part of an eight-person team to win a Pulitzer Prize for coverage of the sex abuse scandals in the Catholic Church in Boston, spoke of the decline in religion coverage at his paper and other dailies around the country, the result of "journalistic priorities and financial realities."
He said he is worried about the future of long-form journalism, including investigative reporting and narrative storytelling, in a society that prefers short, entertainment-oriented items.
A session on changing trends in journalism soon turned to efforts to "monetize" editorial content, and there was talk of alternative revenue streams, search engine optimization, viral and guerilla marketing, and the prospect of micro-payments for news online. The new media lingo was a far cry from the Five Ws of old-school journalism techniques  — who, what, when, where and why — but necessary in today's struggle to sustain the viability of the profession.
Support the New York Jewish Week
Our nonprofit newsroom depends on readers like you. Make a donation now to support independent Jewish journalism in New York.
Advice to the fellows from colleagues in the field emphasized the increasing need to focus on local news, share resources to cut costs, and to think of the journalist's role as keeping the community connected as well as informed. "Put the readers' needs first," asserted Mark Joffe, executive editor and publisher of JTA, the international Jewish news service. That translates into making sure the newspapers' Web sites include information on social activities, kosher restaurants and communal services as well as news about the Mideast, he said.
I posed that editors today have acquired an added sense of humility and are looking to learn from young journalists, not just instruct them, particularly when it comes to new media skills, making use of blogs, video reporting, Facebook, Twitter and other technologies that close the gap between writer and reader.
But all the tech advances in the world won't increase readership for Jewish news providers unless American Jews have a strong enough identity to care about the fate of the Jewish people, here and in Israel. There is no overarching cause today like Zionism, Holocaust remembrances or Soviet Jewry were in decades past. The closest we have is a growing commitment among young people to social justice, or tikkun olam, and reporting in these areas should be deepened and expanded.
The job of the Jewish newspaper (or, more accurately, Jewish news organization, given the increasing emphasis on one's online presence) is not to bemoan the difficult economic climate and diminishing commitment to old traditions but to make itself relevant to today's audience, and tomorrow's.
Sarna drove home that challenge at the end of the seminar. "Remind American Jews that their future is not yet determined," he told the Gralla Fellows. "The future remains to be shaped, and you have a huge role to play."
Let's hope the community cares enough about that opportunity — and that Jewish journalists are up to the task of reaching, informing and inspiring, to help ensure that future.
Support the New York Jewish Week
Our nonprofit newsroom depends on readers like you. Make a donation now to support independent Jewish journalism in New York.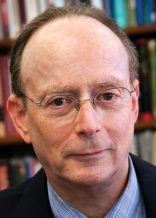 was editor and publisher of The Jewish Week from 1993 to 2019. Follow him at garyrosenblatt.substack.com.
The views and opinions expressed in this article are those of the author and do not necessarily reflect the views of NYJW or its parent company, 70 Faces Media.