Not again, I thought, as I saw police gathering on 40th Street and Seventh Avenue yesterday afternoon, less than 48 hours after the bungled (fortunately) car bomb on Times Square, a block from my office.
I was on my way to afternoon services at the Garment Center Synagogue, and noticed the rabbi signalling congregants he recognized, telling us the front entrance of the shul, on 40th between Seventh and Eighth Avenues, was closed. A manhole cover on the street had blown three stories high several hours earlier, and we could smell the acrid smoke as police and firefighters had closed off the street and were investigating the incident. The rabbi ushered a few of us into a back entrance of the shul, then went out the front to look for more would-be worshippers.
I followed the rabbi and spotted one familiar face behind the police barricade, so I walked toward him to tell him how to get into the synagogue. Along the way a cop approached and pointed to the rabbi, who was gesturing and calling out to the same regular shul-goer.
"Who is that guy?" the cop asked me. I explained it was the rabbi of the synagogue on the closed-off block and he was looking for members for the afternoon service.
The cop nodded and told me, "Tell him baruch Hashem everything's fine," and turned away.
Only in New York, I thought, a city of daily miracles — including the fact that, despite the heavy smoke and closed off street, we had a minyan.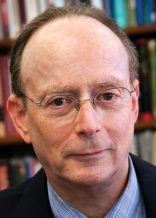 was editor and publisher of The Jewish Week from 1993 to 2019. Follow him at garyrosenblatt.substack.com.
The views and opinions expressed in this article are those of the author and do not necessarily reflect the views of NYJW or its parent company, 70 Faces Media.