Walking along the route of the Israel Day Parade yesterday, from 72nd Street down to 59th Street along Fifth Avenue, I was reminded once again, and in dramatic fashion, how the expression of Zionism in American has become increasingly the purview of the Modern Orthodox community.
The crowd appeared to be made up primarily of relatives and friends of the marchers – many of the large contingents were day school children – and other observant Jews.
This is consistent with the turnout at protest rallies at or near the United Nations over the last few years when Iranian President Ahmadinejad comes to town, only bigger in size, and with marching bands.
The good news is that the Modern Orthodox continue to inspire enthusiasm and solid support for Israel from within their community, including taking pride in the IDF and remembering kidnapped soldier Gilad Shalit, now almost four years in enemy hands.
The disturbing news is that much of the rest of the Jewish community – including the haredim and chasidim within Orthodoxy — for a multitude of reasons, lacks the conviction and/or energy to stand up and literally show the flag for Israel.
One friend who belongs to a large Conservative synagogue in northern New Jersey lamented the fact that the congregation could not even put together one busload of participants for the parade.
Some folks may be disillusioned with Israel. More, I suspect, remain supportive, but not enough to walk the walk.
Much has been written about former New Republic editor Peter Beinart's stinging critique of the American Jewish establishment (see our Editorial), published in the current New York Review of Books.
There is plenty to debate about it, but one observation seems indisputable: that the Orthodox community is growing in numbers and becoming increasingly parochial and conservative politically. And as liberal Jews "drift away from American Zionist institutions," Beinart writes, "their Orthodox counterparts will likely step into the breach."
It's happening already, and if visual proof was needed, yesterday's parade was a vivid example.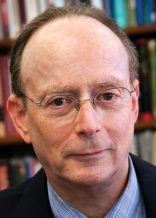 was editor and publisher of The Jewish Week from 1993 to 2019. Follow him at garyrosenblatt.substack.com.
The views and opinions expressed in this article are those of the author and do not necessarily reflect the views of NYJW or its parent company, 70 Faces Media.