Rabbi Joshua Hammerman contends that we can be optimistic that Israelis and Palestinians can find peace soon ("Optimism Now, Apocalypse Later," Opinion, Nov. 30).
If only that were true. But it would be self-deceiving to think that such a moment has arrived. The truth is that there is no Arab/Israeli war: there is an Arab war on Israel. This war is not defined by land, Jerusalem or Palestinian statehood. Rather it's a war to eliminate the Jewish state grounded in Arab and Muslim supremacism and anti-Semitism. A recent American Jewish Committee poll shows 75 percent of American Jews conclude the same.
As Yasser Arafat told a January 1996 secret meeting of Arab diplomats in Stockholm, reported by Arutz Sheva and later confirmed by Norwegian journalists: "[We intend] to eliminate the State of Israel and establish a purely Palestinian State … I have no use for Jews; they are and remain Jews! We now need all the help we can get from you in our battle for a united Palestine under total Arab-Muslim domination!"
When Palestinian Authority clerics preach that Jews are "the enemies of humanity," "a virus resembling AIDS" and "descendants of monkeys and pigs," and when Mahmoud Abbas honors Jew-killers like Munich massacre mastermind Abu Daoud, and Dalal Mughrabi, who led the murder of 37 Israelis in a bus hijacking, we are talking of anti-Semitic dehumanization of Jews, not a territorial dispute.
Sadly, to use Rabbi Hammerman's phrase, this is not one of those "feuds" that are "melting away."
National President
Zionist Organization of America
Manhattan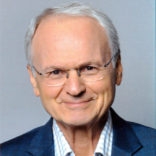 is the National President of the Zionist Organization of America.
The views and opinions expressed in this article are those of the author and do not necessarily reflect the views of NYJW or its parent company, 70 Faces Media.