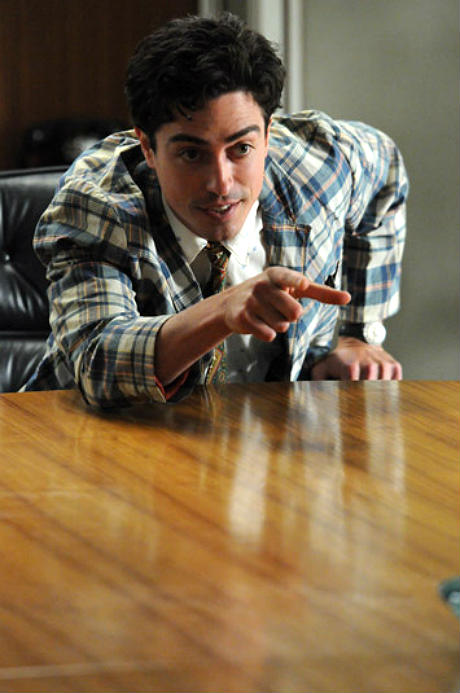 Last night's episode of "Mad Men" introduced the world to Michael Ginsburg, Sterling Cooper Draper Price's first-ever Jewish copywriter. This is a far cry from Season One, in which Roger Sterling, forced to pull from the accounting to show a potential client they employ fellow tribe members as copywriters, observers: "Jewish businesses usually go to the Jewish agencies, who have Jewish copywriters."
Ginsberg, played by Ben Feldman, fills the first-generation Brooklyn Jewish stereotype: He is a quick-talking, disrespectful, creatively gifted joker who intimidates Peggy and charms Don Draper into getting the position. Later, he returns to his tiny apartment where his father, with a comically thick Yiddish accent, says the blessing over the children usually reserved for Friday nights in a voice required only for a professional cantor.  All of this played out in the same episode in which the company hires its first African-American employee, though zero character development occurred there.
It is evident that Michael Ginsberg will be around for awhile. There is already tension brewing between him and the talented (and Catholic) Peggy, and a glimpse into his home life suggests that his Yiddish father will make an appearance again.  The question is, will he be Sterling Cooper Draper Price's newest copywriter or their newest Jew?