There is much to commend in Rabbi Richard Jacobs' letter celebrating the Reform movement's policy of "reaching out to non-Jewish spouses who increasingly were within our families and congregations" (Letters, June 1). 
Rabbi Jacobs rightly attributes this policy to Rabbi Alexander Schindler, who was the professional head of the Union of American Hebrew Congregations during a period of significant change within Reform movement.
But with all due respect to Rabbi Schindler, who was a leader, there was a touch of disingenuousness involved in his inviting potential converts into the ranks. It was, after all, Rabbi Schindler who visited patrilineal descent upon the Reform movement, creating deep divisions within his own movement and indeed upon the Jewish polity, rifts that endure to the present day.
Manhattan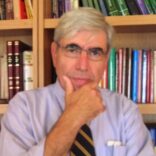 is co-editor with Mark Silk of "The Future of Judaism in America" and the author or editor of four previous books and more than 100 articles, reviews, book-chapters and encyclopedia entries on Jewish public affairs, history, and arts and letters. Forthcoming is a book setting a historical and societal context for 100 years of Israeli theater.
The views and opinions expressed in this article are those of the author and do not necessarily reflect the views of NYJW or its parent company, 70 Faces Media.