Ein Prat (in the Judean desert between Jerusalem and the Dead Sea) — How do you encourage young Israeli Jews, both secular and observant, to deepen their "Israeli-ness," exploring their Jewish and national identities in a way that is serious, thoughtful and open?
Micah Goodman, 38, a popular and respected Religious Zionist thinker, author and lecturer here on Zionism, Judaism, the Bible and contemporary Jewish life, has come up with a creative model that could have a profound impact on Israeli life. And his approach seems almost the opposite of that of Birthright Israel's founders, who sought to encourage young diaspora Jews to strengthen their Jewish identity.
Each society has its own needs and challenges.
While Birthright offers a 10-day experience for large groups, at no cost to the participants, Goodman's Mabua program is an intensive, 24-7 four-month course in Jewish and secular texts from Talmud to Kant, plus a healthy dose of yoga. What's more, the 50 or so participants — young men and women who recently completed military or national service — pay their way, and it's not cheap. (Goodman believes that the more you invest in a program, the more you'll commit to it.)
Most of Goodman's graduates have gone on to become active alumni, helping to create and extend a vision of young Israelis who are committed to a deepened level of Jewish life, not necessarily becoming more religious — that's not the goal — but more educated and engaged.
"Our graduates are building a living community," Goodman said with pride during a visit Monday morning to this remote, bare-bones trailer camp in the West Bank settlement of Kfar Adumim where the young people live and study.
Mabua (Hebrew for wellspring) is but one part of Goodman's Ein Prat: The Academy for Leadership, which has been praised by many for its combination of classical text study (Jewish and Western) and joyful expression of mind, body and spirit.
Its overall goal, he says, is to create a national movement of young people who are fervently Jewish without necessarily being ritually observant; in love with their country even if they may be critical of particular government policies; passionate about views that are moderate rather than extreme; and strongly individualistic while caring about others.
To date, 1,400 young people have completed the various Ein Prat programs (which include a five-week study program in the summer, and a summer "Tikvah" course for top American college students). More than 1,000 are still involved, to varying degrees, from active volunteers based in one of three locations — Tel Aviv, Beersheba and Jerusalem — to those who attend lectures, classes or social events planned by the alumni themselves.
Ein Prat's staff of 26 is made up mostly of graduates of the program and they take pride in the fact that the alumni are creating their own events and projects, including a singing group and prayer services with both separate and mixed-gender seating.
At a meeting on Monday, staff members were discussing a planned new app that would give graduates information on upcoming Ein Prat events.
Support the New York Jewish Week
Our nonprofit newsroom depends on readers like you. Make a donation now to support independent Jewish journalism in New York.
Fantasy Yeshiva
"I wanted to create the fantasy yeshiva I never learned in," Goodman said with a smile as he took a break from his classes.
A big, friendly man with an easy laugh, he said his ideal house of study would be a co-ed place that combined the passion of traditional yeshiva study halls with the rigor of university inquiry and debate.
A student of the late Rabbi David Hartman, Goodman started the Mabua program seven years ago with six students. The next year, he recalled, the small staff celebrated when the program's enrollment grew to seven. By now, more than 100 a year complete the four-month curriculum, with two sessions given each year, and its reputation is growing, entirely through word of mouth.
"We're helping to empower this generation of Israelis to radiate" their qualities of openness and curiosity about what it means to live in Israel today. "They need a language, they need heroes. We want to cultivate their idealism through reading great books and discussing what they learn through chavruta (study partners)."
What's the appeal of paying to study from 6:30 in the morning to late at night all week, for no university credit?
Tommy Gelbart, 23, took a break from a chavruta session to tell us that she "wanted to be a person who knows more about Israel" and "to confront" what it means to be Israeli, including how to deal with the political conflict.
"This has been very meaningful," she said of the program, which attracts students from all backgrounds and levels of interest in, and observance of, Judaism, from completely secular to observant.
She had studied Talmud in high school in Jerusalem "but this is a totally different experience," she said, crediting her teacher, Rabbi Daniel Segal, for making the ancient text come alive, prompting discussions relevant today.
A look at the day's schedule on the blackboard reveals the eclectic nature of the program: a 6:30 a.m. class in Zionist literature, followed by the current class on "The Jewish Bookshelf." Then comes a philosophy class on Kant's ethics, a meal (all the meals are prepared by the students themselves), a yoga session, a class on the writing of Edgar Allan Poe (in English), dinner, and evening studies that includes courses on classical music, economics and the writings of Rav Kook, Israel's first chief rabbi.
There is an emphasis on Bible and Talmud, and each night the last session is a chavruta-style review of all that was learned that day.
"I get energy from everyone here," said an enthusiastic Gelbart.
Support the New York Jewish Week
Our nonprofit newsroom depends on readers like you. Make a donation now to support independent Jewish journalism in New York.
I also spoke with a young man from Beersheba wearing a kipa (kippot are optional), who recently completed his army service in an elite unit of paratroopers. Speaking softly he said he grew up observant but had turned away from that life.
"I came here because I wanted to start loving again the Jewish sources," he said.
His study partner for that session was Tamar, a young Sephardic woman from Rishon L'Tzion. She said she came to Ein Prat "to learn who I am and where I came from, and because I want my children to know where they come from."
She acknowledged that three months into the program, she is less concerned now about matters like separating meat and milk in her eating habits, which she had done out of habit.
Was Goodman, an observant Jew, bothered to hear that?
"Not at all," he said, explaining that Tamar and others like her are finding new avenues to express their Judaism based on knowledge and reflection, and noted that patterns of observance often fluctuate.
Non-Judgmental Approach
Rabbi Benny Lau, a prominent Religious Zionist rabbi in Jerusalem who teaches at Ein Prat one day a week, believes that part of the reason why Goodman has been so successful is precisely because Ein Prat does not make ritual demands on its students.
"He has found the key to open the gates for young Israelis without judging them," Rabbi Lau says.
"For most Israelis, when they hear about programs that teach Torah, they assume the goal is to make them frum [observant], but this program takes people where they are." Though Ein Prat follows halacha, or Jewish law, in its practice, the rabbi said Goodman cares most that participants "come away with a language of the spiritual life and [a sense of] the Jewish people.
Rabbi Lau said Goodman is breaking down "the walls of hate" that separate the religious and secular in Israeli society, and he is optimistic that the program, as it grows, can attract thousands of young Israelis in the hopes that they will become leaders in their various fields and transmit a feeling of understanding toward others.
"We'll know in the next five or 10 years" about the impact of Ein Prat, he said, noting with regret that few of his rabbinic colleagues are aware of or appreciate its work.
Support the New York Jewish Week
Our nonprofit newsroom depends on readers like you. Make a donation now to support independent Jewish journalism in New York.
Can a program like Ein Prat be effective in America?
Goodman points out the uniqueness of the Israeli experience as a key to its success so far.
"We are focusing on young people at a critical moment in their lives, after their national service and before they start university —before they become ambitious," he adds with a smile, adding that Americans never seem to have a period of life when they are not ambitious.
The young Israelis leave Ein Prat "with great ideas, great books and best friends," says Goodman, who believes Israeli society is undergoing a reformation of secularism.
"Something is happening now with Judaism in Israel. In the past secular Zionism replaced religion" for many Israelis, "but now there's more interest in Judaism." It's not about becoming observant but about connecting their Israeli and Jewish identities in a meaningful way, he says.
"And we want to be at the front of that movement."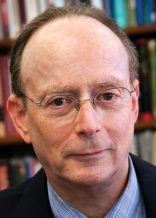 was editor and publisher of The Jewish Week from 1993 to 2019. Follow him at garyrosenblatt.substack.com.
The views and opinions expressed in this article are those of the author and do not necessarily reflect the views of NYJW or its parent company, 70 Faces Media.