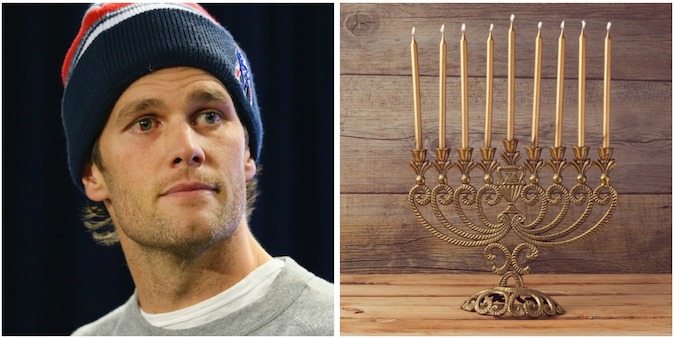 Celebrated New England Patriots quarterback Tom Brady has a couple of Jewish connections.
Since 2012, his brother-in-law has been Kevin Youkilis, the former all-star third baseman for the Boston Red Sox who's now retired from baseball. The owner of the Patriots, the only team Brady has played for in his 15 years in the NFL, is Robert Kraft, a Jewish business magnate and philanthropist who also owns the New England Revolution soccer team.
But who can explain why Brady has a menorah?
In a New York Times profile published Monday, Mark Leibovich writes that he noticed a Jewish candelabra standing in Brady's house:
He marched me back into the house, through the kitchen and past a shelf that displayed a large glass menorah. "We're not Jewish," Brady said when I asked him about this. "But I think we're into everything. … I don't know what I believe. I think there's a belief system, I'm just not sure what it is."
Have there been other Jewish clues in Brady's past that might explain this intriguing find? Leibovich goes on to explain that Brady was sent several Bibles in 2005 after he said "God, [there's] got to be more than this" on "60 Minutes" in reference to winning his third Super Bowl. Brady was raised Catholic, and his wife, supermodel Gisele Bundchen, is a sixth-generation non-Jewish Brazilian.
Maybe he was inspired by Cameron Diaz's decision to have a Jewish wedding? Or perhaps he is hoping a menorah will bring him some old-fashioned mazel for the big game on Sunday?
Your guess is as good as ours.