People like to say that living in New York transforms us into creatures who are cut from the toughest cloth, but I have Israel to thank for my most fortifying experiences. I've lived and worked there during a time of war, have felt and seen rockets explode overhead, have hiked through miles of hidden villages and have gotten thoroughly lost in the crevices of her old cities. The most transformative night I've had in the country, however, happened not at the Kotel or Masada, but on a still December evening in an unassuming village near Dimona.
Our group arrived in Dimona expecting to comfort and console a people in mourning, and instead left humbled, profoundly inspired, and full of hope. The night before our group of 40-some AIPAC student leaders and professionals were scheduled to meet with the prophet Ben Ammi of the Hebrew Israelites (commonly referred to as the Black Hebrews) as a part of AIPAC's Advanced Advocacy Mission, he had tragically and unexpectedly passed away. In spite of this, the Hebrew Israelites insisted we still come and speak with them; we didn't quite know what to expect. By the end of the evening, we were all in tears, but tears of joy, not of suffering.
Despite just having experienced a profound loss, the Hebrew Israelites proclaimed a message of hope. They emphasized the importance of a healthy lifestyle and of the State of Israel, but even more importantly, the message of listening to one another, of finding our unique purpose in life, and of amplifying the voice of our people. As one friend remarked to our host, "I've never felt so much at home before; thank you for welcoming us into your community and opening our eyes to one another." Together, we learned to imagine.
The AIPAC on Campus movement is anything but homogenous; amongst us are Democrats and Republicans, Progressives and Conservatives, Jews and non-Jews, African Americans and Hispanics. We span a radically pluralistic gamut of views on Israel; during every bus ride and mealtime even a casual observer would've been impressed by the breadth and depth of our group's perspectives. We not only spent a week together intensely exploring challenging parts of Israel, but also exploring challenging parts of ourselves.
Most people know AIPAC as a powerful pro-Israel lobbying organization and on college campuses as a group who encourages students to support a strong US- Israel relationship. While this is true, and is vital work, to confine AIPAC to this definition would be akin to defining America as "that place where they make Fords." During our time in Israel, we spoke not only with the leading plurality of voices in Israel, but among Palestinians as well: we were exposed to half a dozen diverse Palestinian perspectives, including a Palestinian professor at Al Quds university on "the other side" of the security barrier, visited crossing points into the West Bank and Gaza, and explored the Nakba narrative. During these experiences, AIPAC encouraged us with a frustratingly complex slogan: "No unanswered questions, no unquestioned answers." The staff treated us not as students who needed to be educated, but as leaders to be empowered. We delighted in how AIPAC embraces complexity and nuance, and defies all attempts to over-simplify.
The trip was not designed as a one-off experience, but as the catalyst for building meaningful relationships. Though the 40-some of us are spread throughout the country, we share articles, opinions, insights, and inside-jokes daily, as if we'd never left one another. And in truth, we haven't; we not only share with one another, but with one another's communities; we bounce ideas off one another for pro-Israel events and responses to detractor activity, and work with one another () to make a positive impact for the US-Israel relationship. At the AIPAC Policy Conference in March we'll have our first official reunion, but many of us who are closer in geographic proximity have already attended events with one another and taken part in experiences on each other's campuses.
Just as the Advanced Advocacy Mission was not the end of the story, my experiences with AIPAC on Campus are not the end, but only the beginning of my advocacy work. As a mentor of mine once wisely quipped, the Dead Sea is dead because it is stagnant, and the Mediterranean is alive because it flows; one cannot simply absorb — one must act and continuously work towards growth.
Because of AIPAC, I've become a better leader, a better listener, a better advocate. But more importantly, I've had my eyes opened to the unique perspectives, views, and experiences that only working with others can bring. Because of that, I am continuously inspired to ensure that those on my campus at New York University can have a taste of what that sort of experience with Israel entails, and work hard through my organization TorchPAC to bring all parts of the NYU community together through thought provoking events and conversations.
Long after my fellow trip-mates and I graduate from college, the memory and vision of AIPAC Advanced Advocacy will remain alive. Not only will we retain our commitment to the US-Israel alliance but our desire to work toward a better future for Israelis and Palestinians. As we emerge as the future thought leaders in our respective fields, the central theme of our mission will ring true. We will have the courage and conviction to hope and ascend to new heights; optimistically shaping our future.
Laura Adkins is active in TorchPAC, a pro-Israel campus group, and a student at New York University.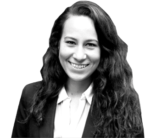 Laura E. Adkins is the former JTA's Opinion Editor. She is an adjunct professor of journalism at Yeshiva University. She was previously Deputy Opinion Editor at the Forward, where she wrote about data, orthodoxy, kosher wine, and built interactive maps. Laura has also served as the editor of Jewish Insider and an assistant blogs editor at The Times of Israel. Her writing has appeared in the New York Times, the Washington Post, SELF, Glamour and elsewhere.
The views and opinions expressed in this article are those of the author and do not necessarily reflect the views of NYJW or its parent company, 70 Faces Media.