If you're just tuning in, Benjamin Netanyahu will be Israel's next prime minister. Again.
But who will be in his coalition? What will be Kulanu chief Moshe Kachlon's price for entering the government? What does Zionist Union leader Isaac Herzog do now?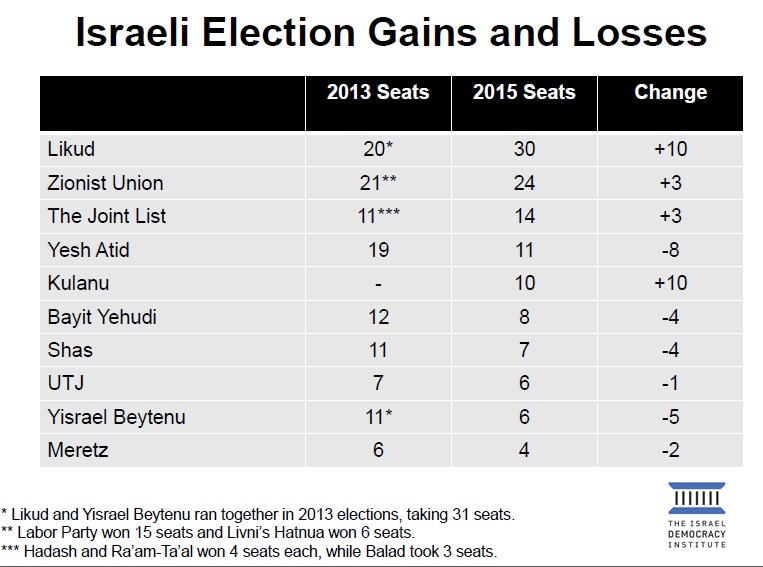 Stay up to date with JTA's Israel Election updates:
Netanyahu comeback propelled by hardline rhetoric, calls for unity on right
The Israeli prime minister now has what he said he wanted when he called for new elections: a relatively easy path to forming a coalition with his "natural partners."
What Israel's next government might look like
Here are some options for Netanyahu's next coalition.
5 takeaways from the Israeli election
Who will join forces with Netanyahu this time around?
Abbas: Will talk to any Israeli gov't that backs Palestinian state
Palestinian Authority President Mahmoud Abbas said through a spokesman that he will talk to any Israeli government that accepts a two-state solution as the basis for negotiations.
Herzog: I won't join a national unity gov't
The Zionist Union leader said he will lead the opposition rather than join an "extreme right government" with Benjamin Netanyahu's Likud Party.
How Israel's cities voted: Likud in Jerusalem, Zionist Union in Tel Aviv
The Zionist Union party did better in Tel Aviv than Likud did in Jerusalem.
Record number of women elected to Knesset in race with high voter turnout
In an election with the highest voter turnout since 1999, a record 28 women were chosen for the parliament.
Zionist Union head Isaac Herzog calls Netanyahu to concede
As Netanyahu's Likud Party surged to 30 seats with 99 percent of precinct reporting, Herzog called the prime minister to concede defeat.
Saeb Erekat: Palestinians will press at ICC
After Netanyahu's decisive victory, the chief Palestinian negotiator declared that the Palestinians will "accelerate, continue and intensify" legal efforts at the Hague.
After divisive campaign, Israelis deliver clear victory for Netanyahu
Trailing in the polls for several weeks, Netanyahu effected a dramatic turnaround to soundly defeat his principle challenger.