Editor's Note: At the suggestion of educator and Jewish Week columnist, Erica Brown, a number of leading voices in the Jewish community were asked to write a letter reflecting their post-election thoughts. See more letters from other leaders in the Jewish community below, and look out for part two of this issue below.
We used to boast of having a range of friends with different opinions – and learning from disagreements. What happened to us? When did we stop tolerating opposing viewpoints? When did we decide that competing partisans were racist, unpatriotic, evil? Why are we so quick to condemn those who disagree with us?
Both our Jewish and American traditions encourage openness, acceptance, mutual respect — and the ability to laugh at ourselves and question ourselves. The Talmud encourages debate. The occasional cry of "taiku," impasse, doesn't express anger or frustration. "Taiku" celebrates both sides for honing arguments, disputing honorably.
Similarly, George Washington assumed that if his reason led him to certain conclusions, someone else's reason could yield an opposing position. As president, he fostered "a spirit of accommodation" to advance our "common cause."
Healthy communities need cross-cutting loyalties. In the 1890s, ethnic and religious allegiances undermined class solidarity, saving Gilded Age America from becoming radicalized Europe.
Let's learn from New York's legendary Mayor Ed Koch. He challenged constituents: "If you agree with me on nine of 12 issues, vote for me. If you agree with me on 12 of 12 issues, see a psychiatrist."
Traditionally, presidential transitions are magical democratic moments, emphasizing the patriotic bonds that unite despite partisan differences that divide. Even now, amid disagreements about Donald Trump's suitability to be president, can we start modeling the civil patriotism we hope our children will learn from us, rejecting the angry, abusive, behavior many mimic from the blogosphere? 
---
Read More From This Section
Next Week: Check back here for responses from Rabbi David Wolpe of Sinai Temple in Los Angeles, Rabbie Ellie Kaunfer co-founder and director of Machon Hada; Steven Bayme, national director of the contemporary Jewish life department at the American Jewish Committee; Erica Brown of the Mayberg Center for Jewish Education and Leadership at George Washington University; and Dov S. Zakheim, former undersecretary of defense (2001-2004)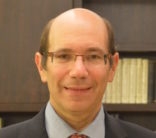 is a Distinguished Scholar of North American History at McGill University, and the author of nine books on American History and three books on Zionism, including "Never Alone: Prison, Politics and My People," co-authored with Natan Sharansky.
The views and opinions expressed in this article are those of the author and do not necessarily reflect the views of NYJW or its parent company, 70 Faces Media.