(JTA) — Andrew Kleinerman says he and his wife Amy share a "West Coast brand of Judaism."
The Kleinermans live in San Francisco, attend services about once a month and have traveled to Israel. Andrew is Jewish, Amy is not. Amy, who is Chinese-American, is thinking about converting to Judaism. One of the congregations where they've felt most welcome is The Kitchen, a Jewish group that calls itself a "religious startup."
Increasingly, families like the Kleinermans are the face of the Jewish community in the Bay Area, the fourth largest in the country. According to a major new study, a third of Bay Area Jews are between the ages of 18 to 34. The rate of interfaith marriage among the group is nearly two-thirds, and nearly 40 percent of these Northern California Jewish millennials live in a household with a person of color.
The study, funded by San Francisco's Jewish Community Federation and published Tuesday, shows a community that is diverse, transient, educated, relatively unengaged with traditional institutions and economically divided. The Jewish population of 350,000 — out of a total area population of some 8 million — is the country's fourth-largest Jewish community behind the New York area, southeast Florida and metropolitan Los Angeles.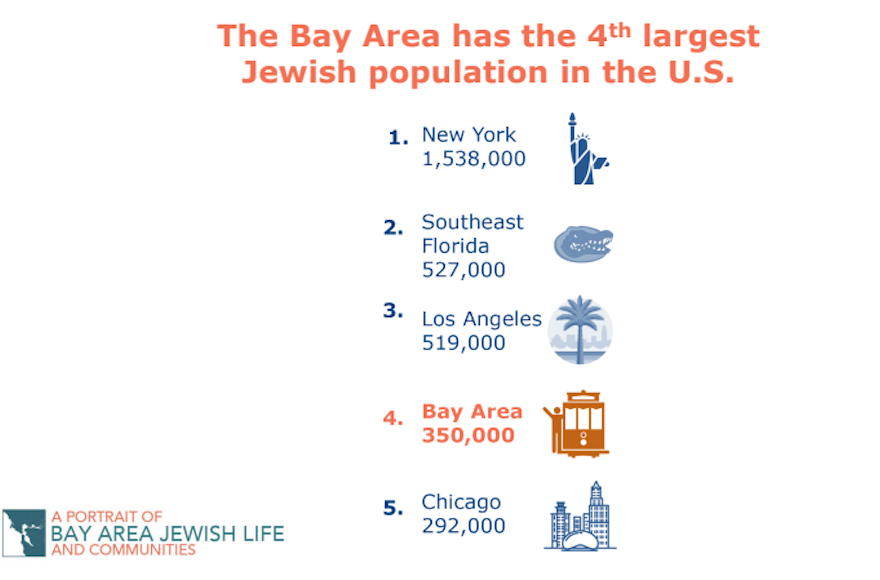 Kleinerman said he and Amy have found that that religious and ethnic diversity contributes to a Judaism that feels open and flexible.
"It's your choice to believe in God, your relationship with God is really up to you, and you get to make Judaism what you want it to be," he said. "There are plenty of things in organized religion we both disagree with, and this allows the flexibility to make it work."
Compared to the rest of American Jews, Bay Area Jews are less engaged Jewishly. Only half attend a Passover seder, as opposed to three-quarters of Jews nationally per the 2013 Pew Research Center's study on Jewish Americans. Just over a third attend High Holiday services, compared to about 60 percent of American Jews, and a lower percentage say they are "very emotionally attached to Israel."
Three percent of Bay Area Jews are Orthodox, 16 percent are Conservative or Reconstructionist, 37 percent are Reform and 41 percent don't belong to a denomination. Nationwide, the corresponding numbers are 10 percent Orthodox, 18 percent Conservative, 35 percent Reform and 30 percent of no denomination.
"Many of the results are like American Jewry, only more so," said Steven M. Cohen, a Jewish sociologist who served as one of the two principal investigators for the study, along with Jack Ukeles. "More young adults, more liberals, more non-married, more intermarried, more disengaged with Israel, more socioeconomically diverse, more social class divisions, with highly affluent and economically needy."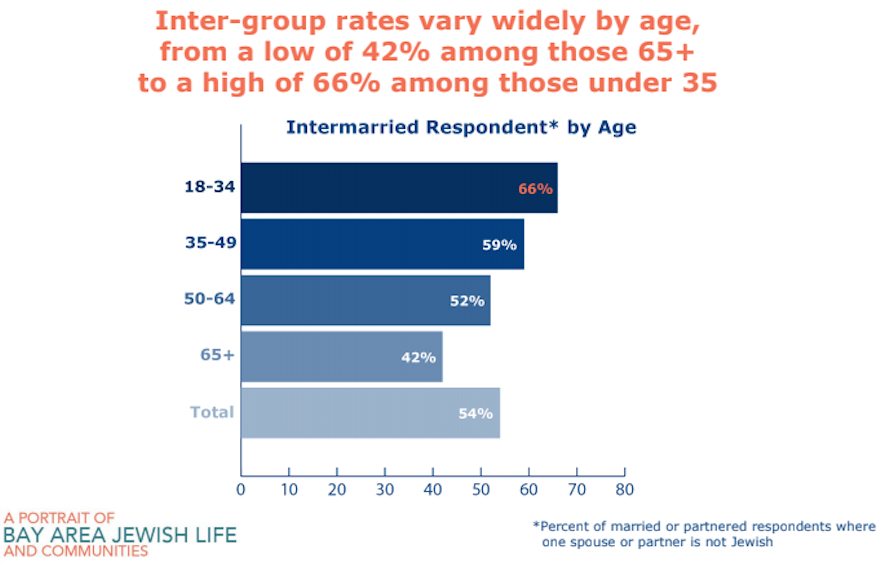 The study was conducted in 2017 between June and November with about 3,500 respondents. It covers San Francisco and its surrounding counties, which include the Oakland area, the East Bay and the Silicon Valley area to the south. It has a margin of error of 5.2 percent.
A quarter of Bay Area Jews overall live with someone who isn't white, and one in 10 with someone who is gay, lesbian or bisexual. In total, more than a third of couples are intermarried. But Diane Tobin, the director of Be'chol Lashon, a San Francisco-based group that advocates for Jews of color, said that sensitivity work still needs to be done within the local Jewish community.
"Bay Area Jews are enthusiastically engaged in racial justice work, and they should be commended for this, but race is too often seen as an external issue, rather than one that impacts us as a community," Tobin wrote JTA in an email. "Until we prioritize diversity and inclusion in our own community, we cannot be effective partners in the national and global struggle for racial justice."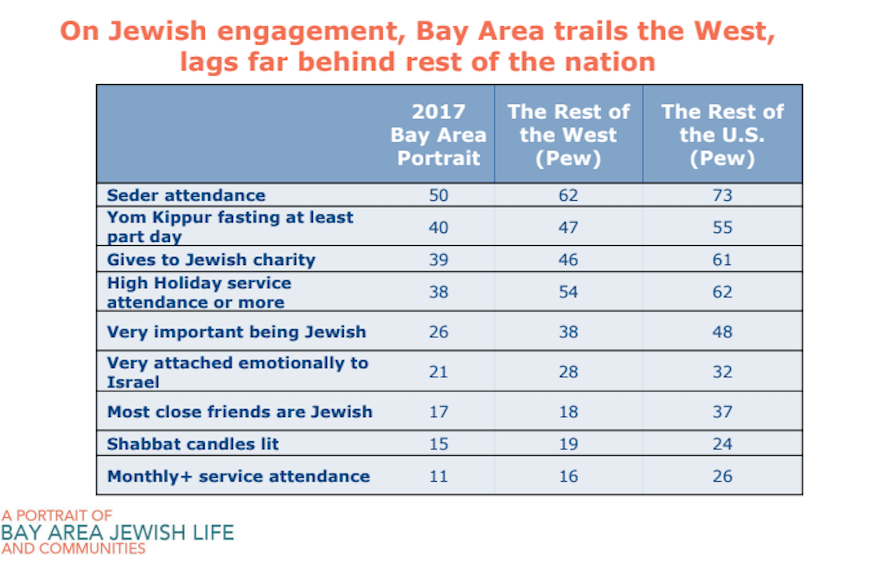 Kim Carter Martinez, who is Jewish and African-American, told JTA that she frequently feels discriminated against in Bay Area Jewish spaces. She recently left her Conservative synagogue after a decade because she felt unwelcome there.
"I experience a lot of racism in the Jewish community," she said. "In the Bay Area it often manifests itself in people questioning how I can possibly be Jewish, in many different kinds of ways. I've been asked how I'm Jewish, what's my background. At the synagogue I used to go to, I was asked if I was there to do the catering. It's really pervasive."
Amy Kleinerman also said that even though she feels welcome overall in the Jewish community, being an Asian-American gives her pause when she thinks about converting.
"Even if I decide to convert, am I going to decide that I fit in?" she said. "Because every single marker says 'you are different, you look different.'"
The CEO of San Francisco's Jewish Community Federation, Danny Grossman, said he is proud of the spectrum of identities in the community, and that he takes intermarriage and racial diversity as givens when crafting Jewish programs.
"We know that about our community; we're a post-inter-group community," he told JTA. "We sort of assume that any institution, any programming [we do], we want to be welcoming, we want to be inclusive."
Cohen noted that the survey shows young Jews in the area are more engaged than their elders in certain ways. Young Jews do tend to have fewer Jewish friends, are less attached to Israel and don't place as much importance on being Jewish as their elders. But Jews aged 18 to 34 attend services and Shabbat meals more than Jews older than 50, and more of them attend Jewish cultural events.
The survey also found that, across demographics, few Jews feel unwelcome in Jewish spaces.
"It counters the narrative that people are seeking Jewish engagement, but they're not finding it because we don't know how to welcome them," Cohen said. "There are chickens and eggs floating around here: People who are engaged in being Jewish seek out situations where they connect with other Jews. People who connect with other Jews have stronger engagement."
The survey also did not find significant opposition to Israel among Jews in the area, despite what the study's architects called the area's left-wing reputation. Forty percent of Jews overall have been to Israel, and most of the respondents said they are attached to the country. A similar percentage said they sympathized with Israel over the Palestinians, and half sympathized with both sides or are not sure. Only 8 percent sympathized more with the Palestinians.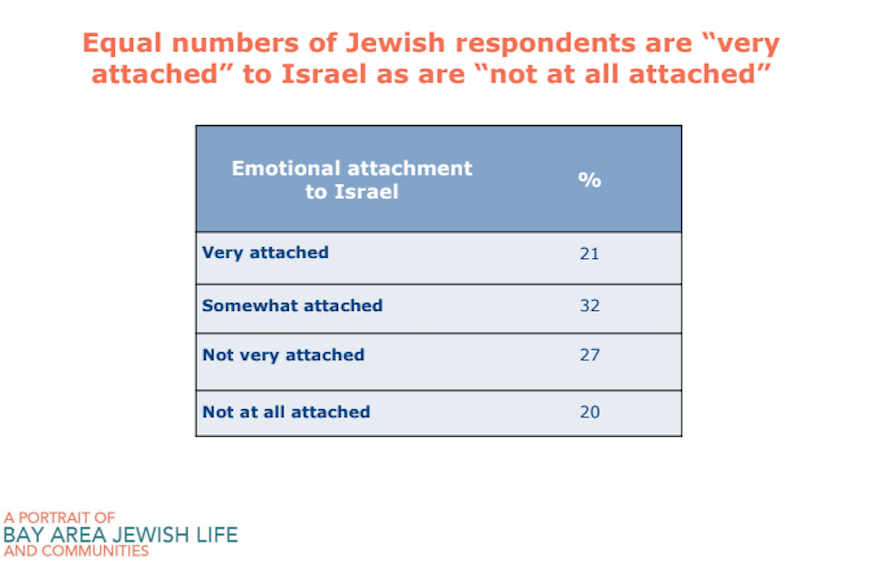 "We need to at least divide the Jewish people regarding Israel into three main categories: Israel engaged, Israel disengaged and Israel opposed," Cohen said. "Most of the people, in broad terms, who do not persist as Israel engaged, they become Israel disengaged, not Israel opposed."
Nearly half of Jewish adults in the area have a graduate degree. The median income of Jewish households is $115,000, which tracks with overall figures in San Francisco, but 20 percent of Jews said they were just making ends meet. The Bay Area has a very high cost of living: While median household income in the U.S. is about $60,000, that would qualify as "very low income" in San Francisco. Ten percent of local Jewish households make less than $50,000.
The study found that 30 percent of respondents, and more than 40 percent of young adults, sought assistance for human service needs — housing, health care, employment and related areas.
"We were not surprised that young adults in this community are reaching out for help with housing," Grossman said. "It's a widely acknowledged crisis that's well beyond the Jewish community and we're trying to tackle that, despite massive macroeconomic forces that we're dealing with."
Cohen said human services could be a way for legacy institutions to attract Jews who thus far have not entered their doors for religious or cultural programming. For Cohen, this is something of a shift: In 1970, he took part in a protest urging Jewish institutions to focus more on Jewish identity building and less on funding Jewish but nonsectarian places like hospitals.
But funding social services by Jews and primarily for Jews nowadays, he said, could be a way to answer the most pressing concerns of young Jews.
"We need to address felt human needs and the ways people actually approach being Jewish," Cohen said. "The finding that people are looking for help in finding jobs and housing is an area where the Jewish community can make a connection."